Sleep is overrated: Highlights from Dale Earnhardt Jr.'s marathon Twitter Q&A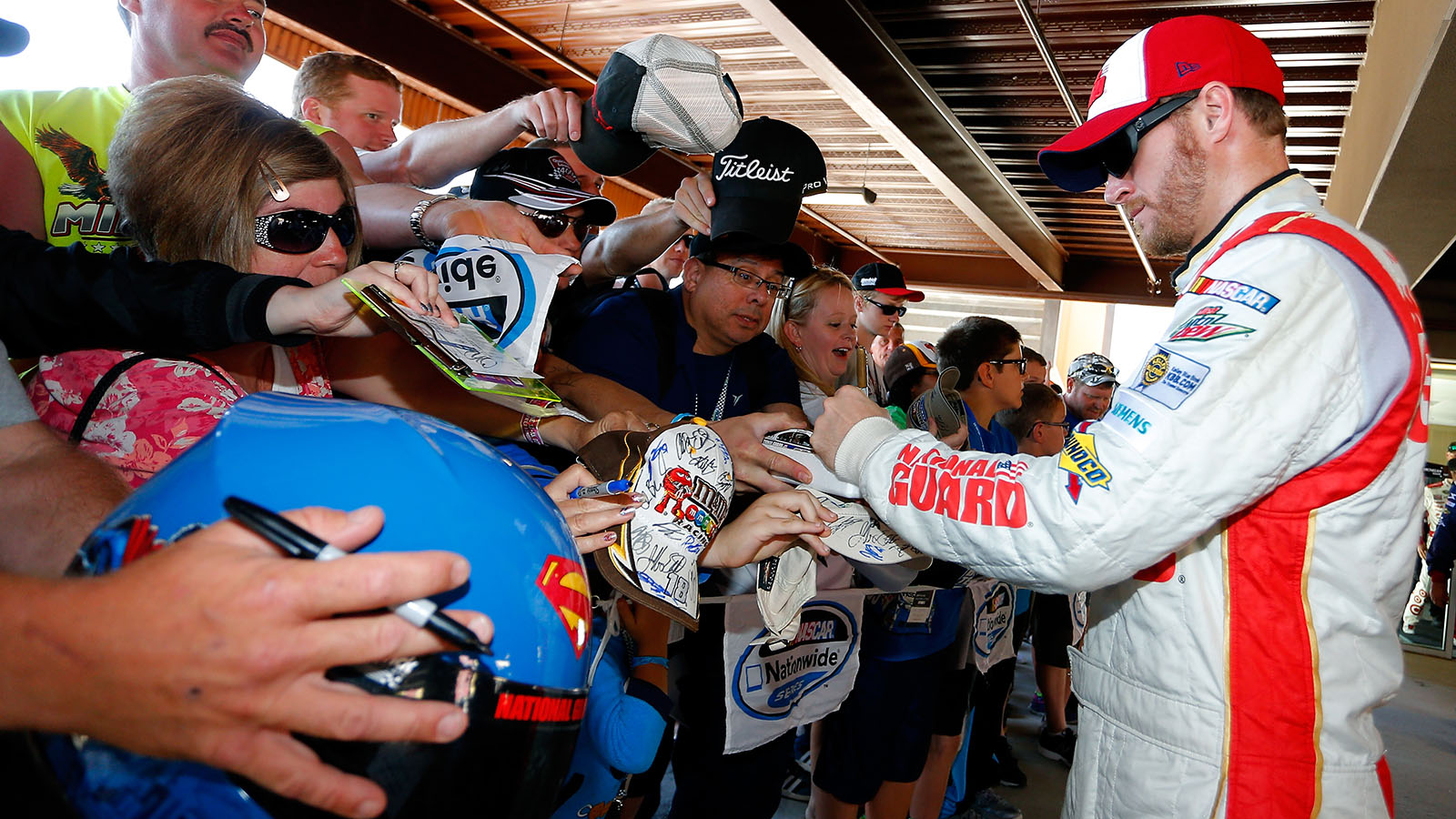 Dale Earnhardt Jr. pulled an all-nighter on Sunday.
Following his seventh place finish at Michigan International Speedway, Junior treated fans to a Twitter Q&A on Sunday night that lasted into the wee hours of Monday morning.
Would his dad have been a big Tweeter? What's his all-time favorite paint scheme for the No. 88? What celebrity would make him starstruck? Junior answers these questions and more … and even throws in a paint scheme preview. Here are some highlights from the nearly four-and-a-half hour session.
"@ChrisZurcher: What do U think of road course racing?@DaleJr" It's fun like mud boggin with your buddies. Don't get emotionally invested.

— Dale Earnhardt Jr. (@DaleJr) June 16, 2014
"@windVOW8820: @DaleJr If u weren't a driver, who would b your favorite @NASCAR driver?" Cale, @DaleJarrett, @Bobby_Labonte, @MeansRacing52

— Dale Earnhardt Jr. (@DaleJr) June 16, 2014
"@Blake_42: @DaleJr What is your thoughts on my driver @KyleLarsonRacin this far" He's a straight badass.

— Dale Earnhardt Jr. (@DaleJr) June 16, 2014
"@BigNick5253: @DaleJr when did you realize you wanted to become a NASCAR Driver?" When I realized dealership mechanic didn't pay as much.

— Dale Earnhardt Jr. (@DaleJr) June 16, 2014
"@Richardson354: @DaleJr Duke or North Carolina?" Hahah wth! Tarheels all day @NCAA basketball. Duke?!?! #Pttf

— Dale Earnhardt Jr. (@DaleJr) June 16, 2014
"@Mr_Deason: @DaleJr If you could compete against any driver who would it be?" My Ol Man. I missed the chance to give him hell.

— Dale Earnhardt Jr. (@DaleJr) June 16, 2014
"@ohhaimegan: @DaleJr I know you're a big fan of @tomhanks, have you ever met him?" Never. Talk about star struck. I'd lock up.

— Dale Earnhardt Jr. (@DaleJr) June 16, 2014
"@halo2battle: @DaleJr Will we see a camo @NationalGuard @Chevy for the Firecracker 400?" Yes you will pic.twitter.com/mSyo44YbTS

— Dale Earnhardt Jr. (@DaleJr) June 16, 2014
"@Johnnyruts: @DaleJr How many brews you think you could throw back if you ever won the ship? Ball park it…" Case.5 easy

— Dale Earnhardt Jr. (@DaleJr) June 16, 2014
"@Chillie_Mo: @DaleJr How was it the first time in a stock car ever? Were you nervous?" You crazy! I still get nervous. 💩s insane out there

— Dale Earnhardt Jr. (@DaleJr) June 16, 2014
"@HawksFanDenver: @DaleJr what do you think your Dad would think about twitter?" Don't think he'd like it much. Hated the Internet (AOL).

— Dale Earnhardt Jr. (@DaleJr) June 16, 2014
"@A1CReedW: @DaleJr favorite paint scheme you've ever run?" pic.twitter.com/8Gipyb3avX

— Dale Earnhardt Jr. (@DaleJr) June 16, 2014