Sights & Sounds: Charlotte Night Race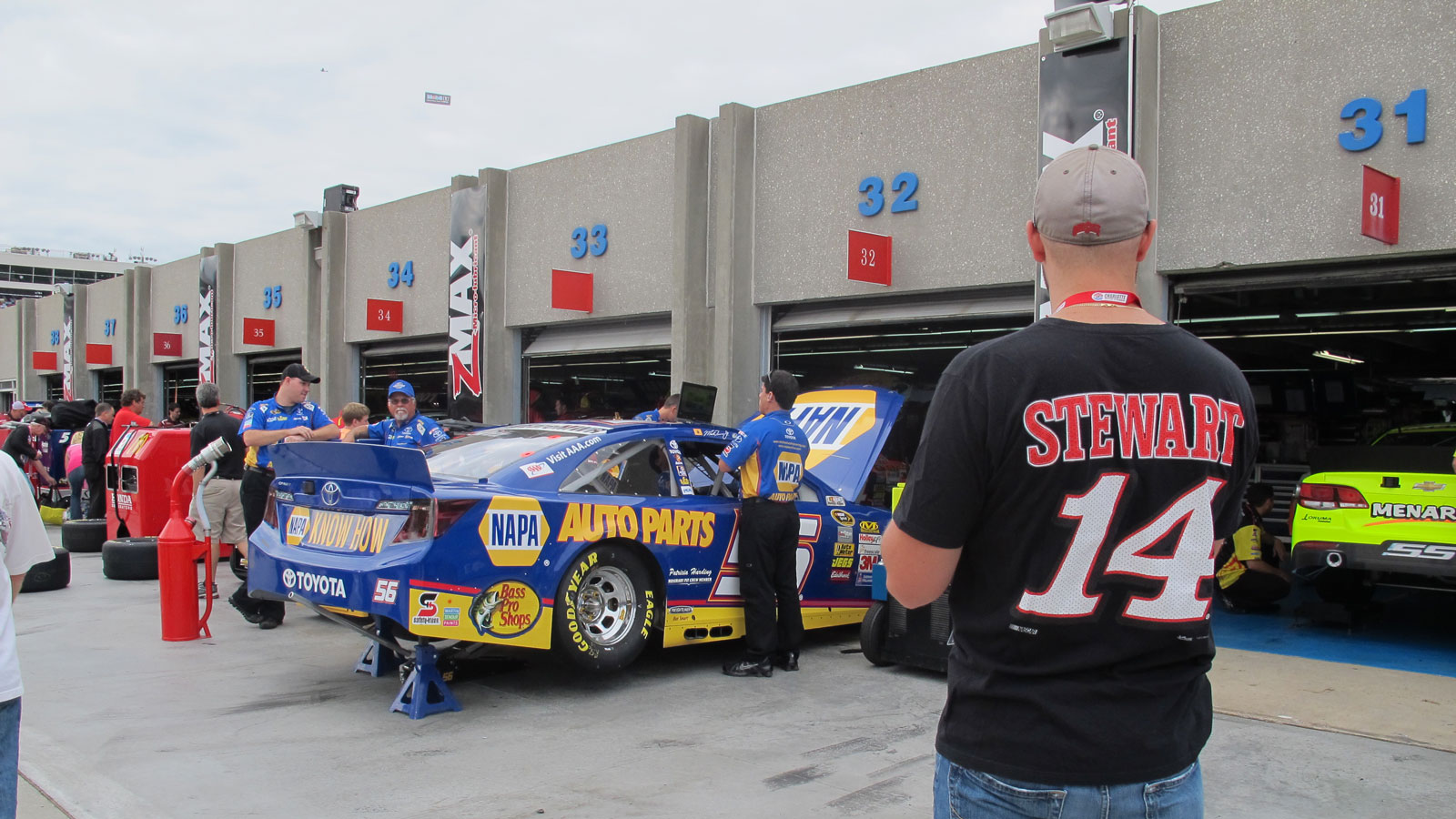 Editor's Note: Scroll down for updates…
It's time for the only night race in the Chase! A home race for nearly every Sprint Cup Series team, the atmosphere is already electric at Charlotte Motor Speedway, just ask Clint Bowyer.
Just pulling into the track. Looks like the party has started. Liking what I see!!!!

— Clint Bowyer (@ClintBowyer) October 12, 2013
4:15 p.m. ET — The garage is abuzz as teams are hard at working running through their final check lists, going through NASCAR technical inspection and setting up their pit stalls.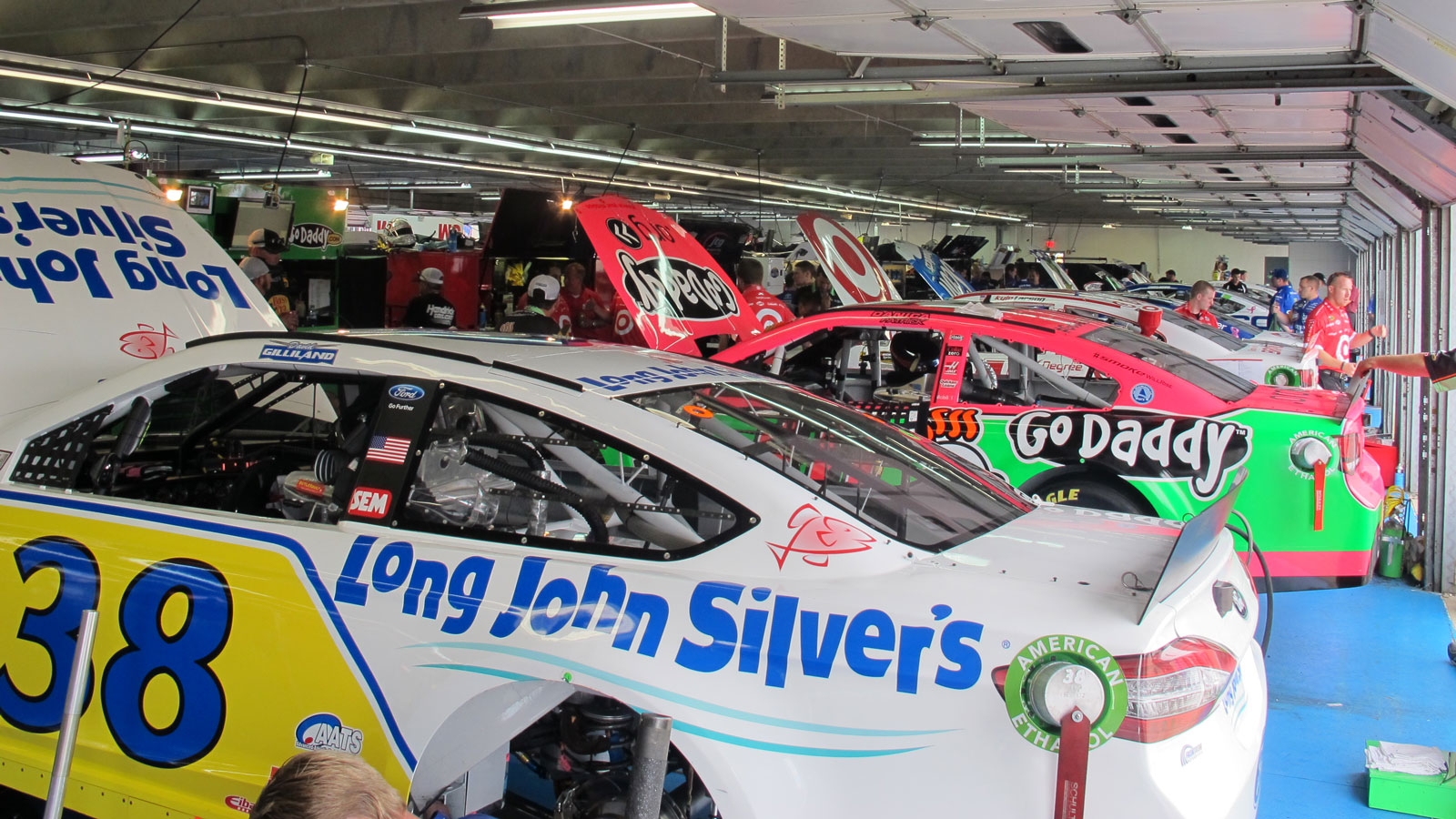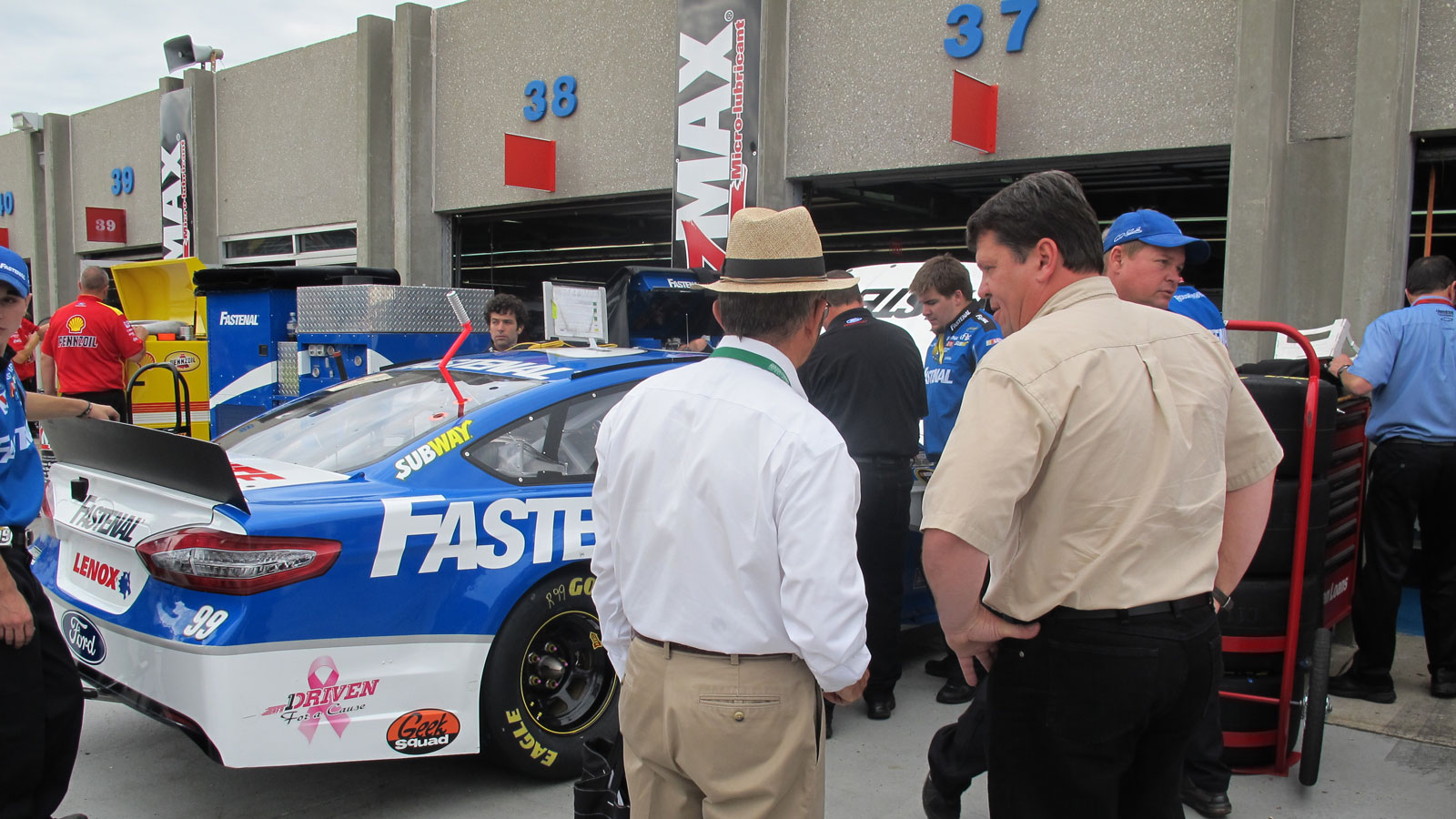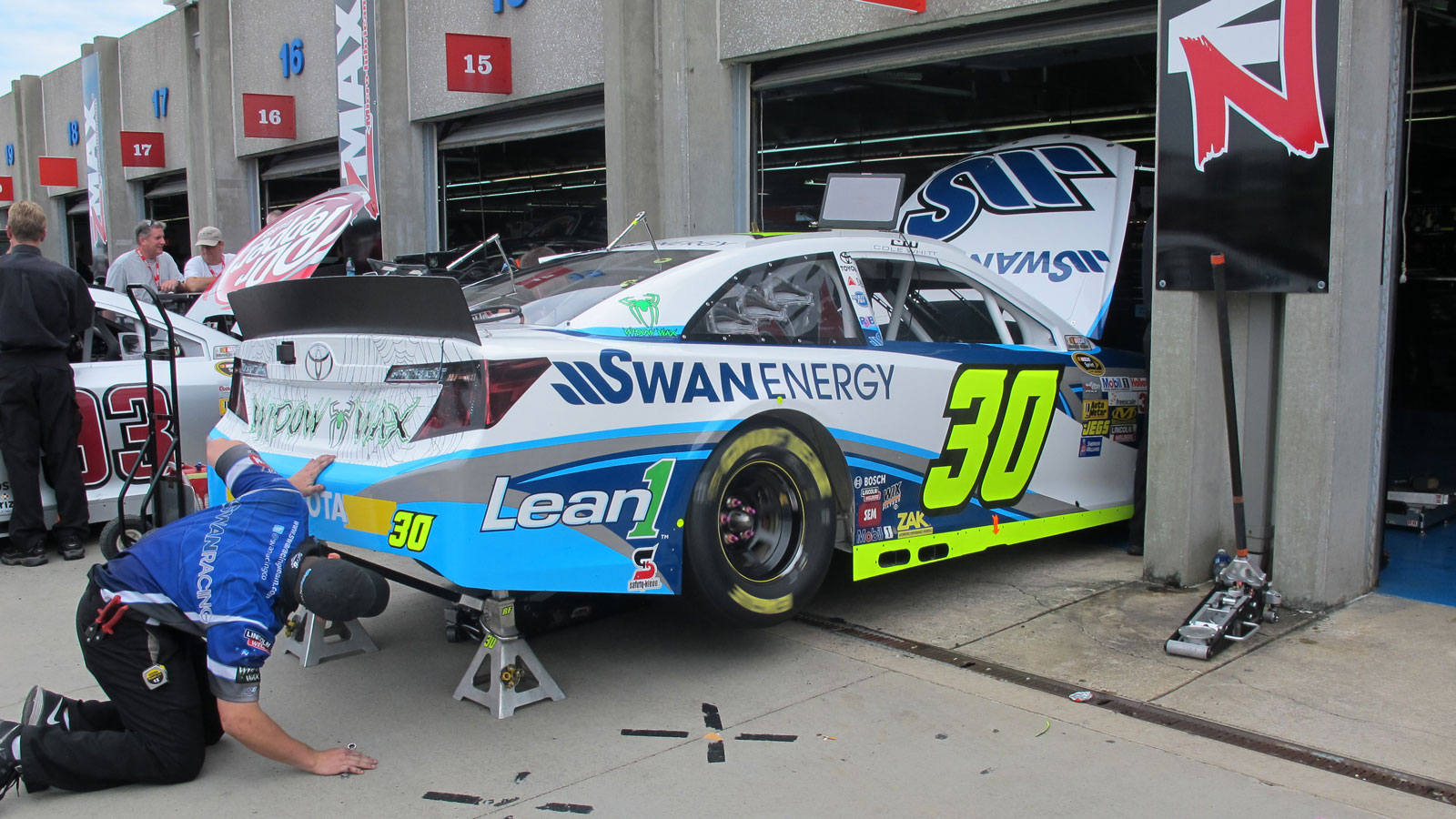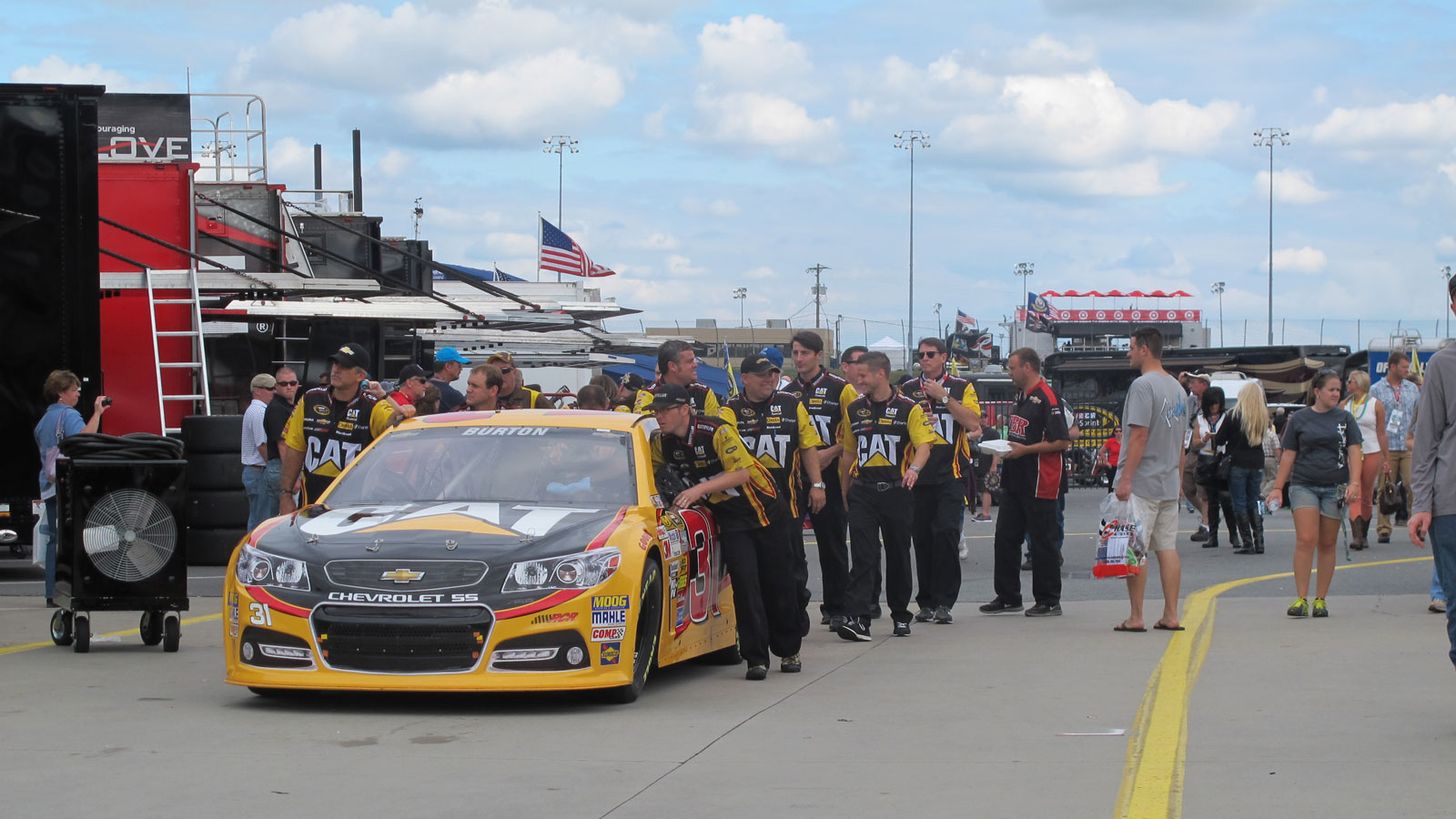 While crew members work hard, fans get the chance of a lifetime as they watch their favorite teams prepare for 500 miles around the 1.5-mile speedway.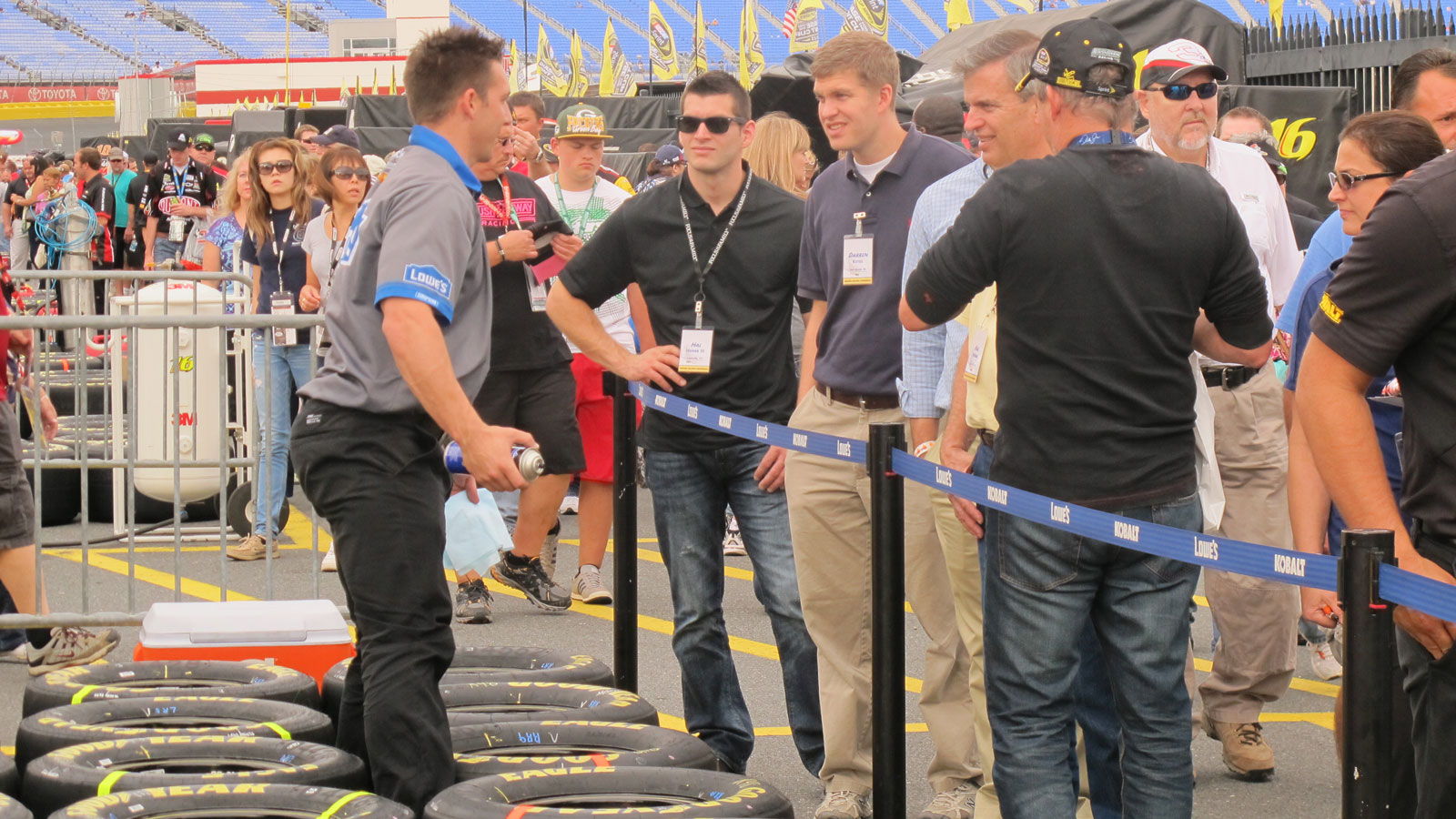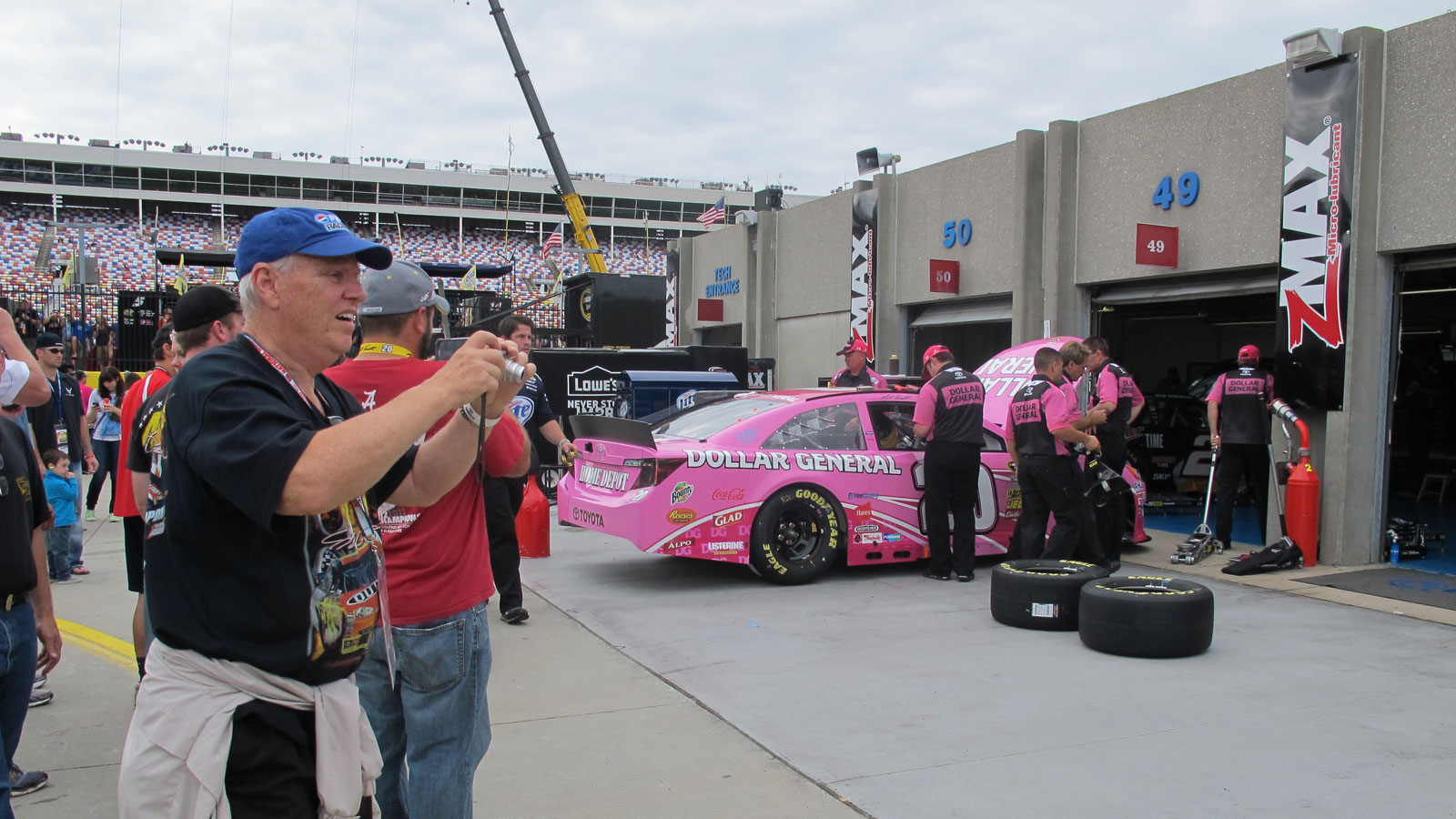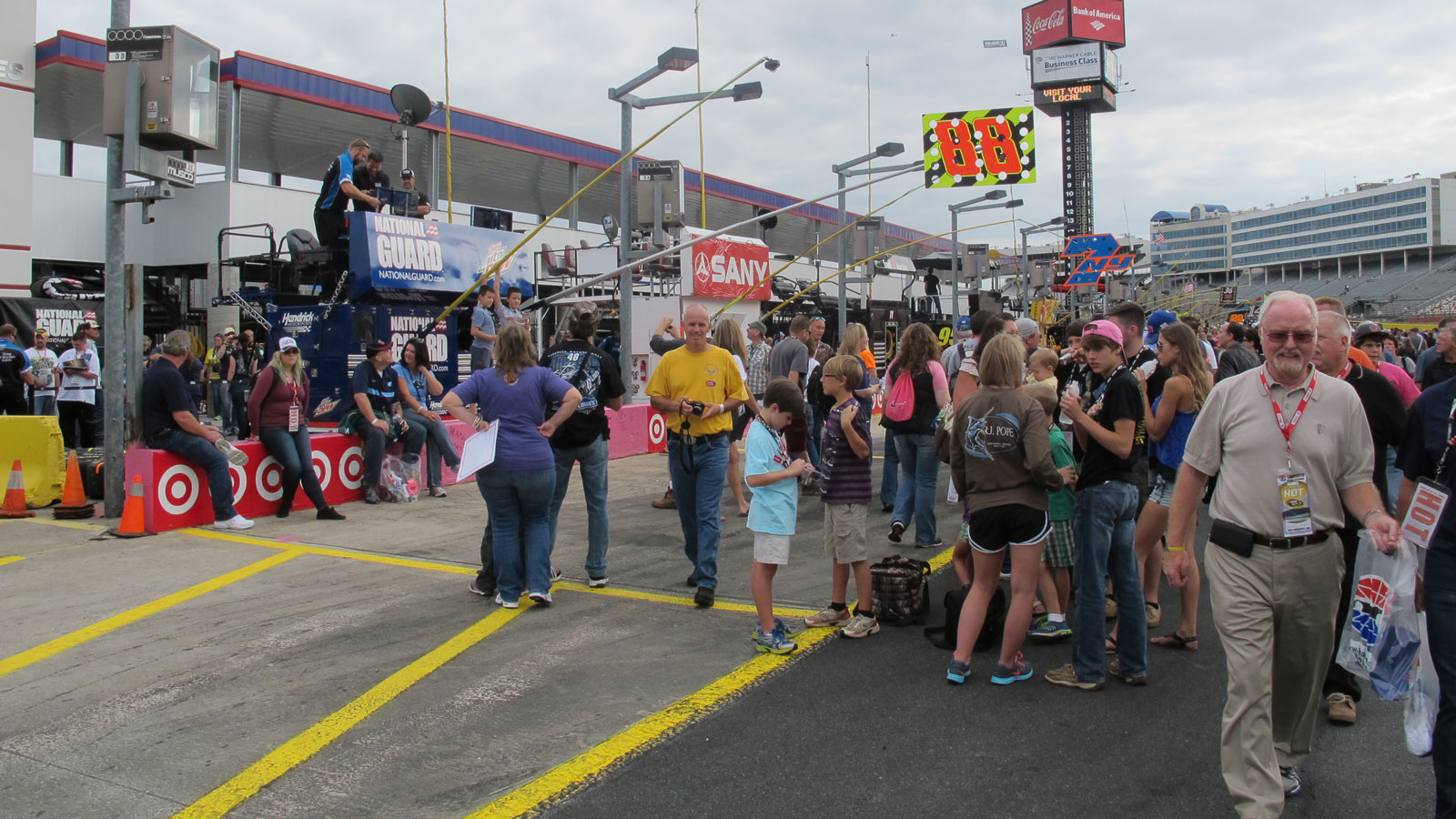 If you're at the track and smell something delicious coming from Aric Almirola's No. 43, it's probably because he's fueled by bacon. That can't be in the NASCAR rule book, can it?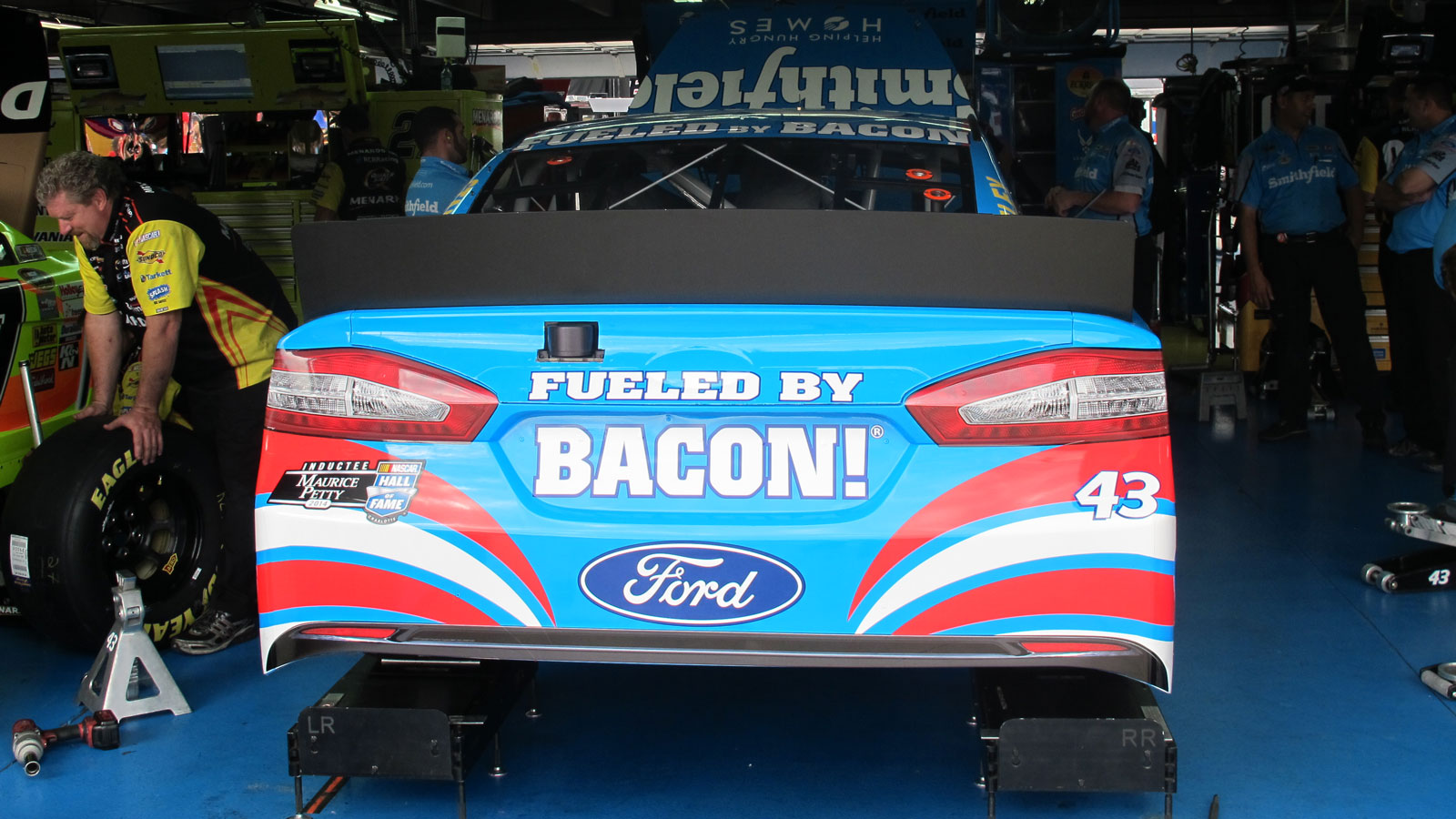 The Michael Waltrip Racing crew members are letting Breast Cancer Awareness Month go to their head…
Really getting into Breast Cancer Awareness month is Mike Mccarville shock specialist for @mwr55 #nascar pic.twitter.com/RuRJvBXR6p

— Lee Spencer (@CandiceSpencer) October 12, 2013
5:00 p.m. ET — The band Paper Tongues gets the crowd going with a pre-race concert on the frontstretch.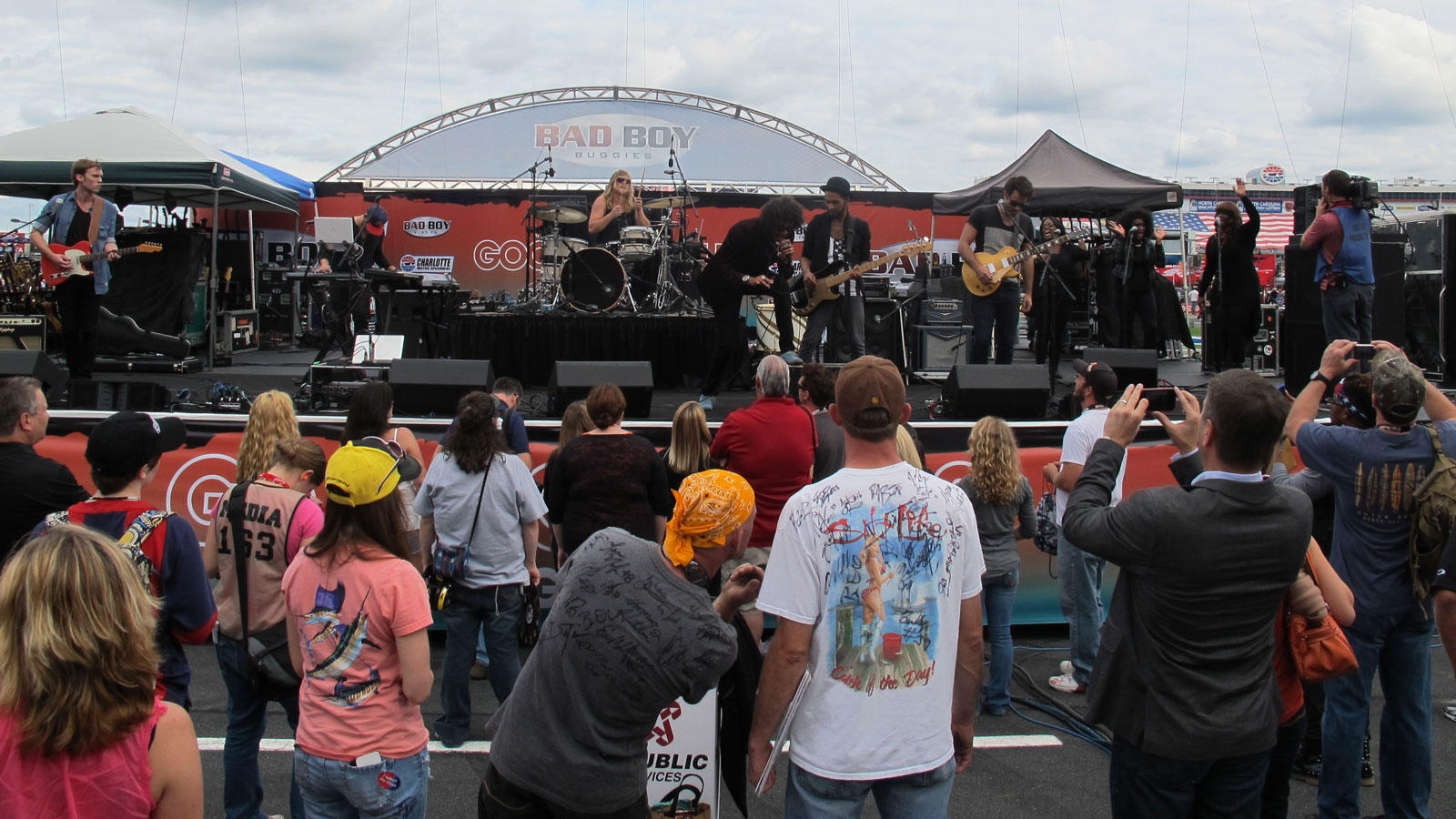 Later this evening Nic Wallenda will perform a skywalk across this tightrope…without a net!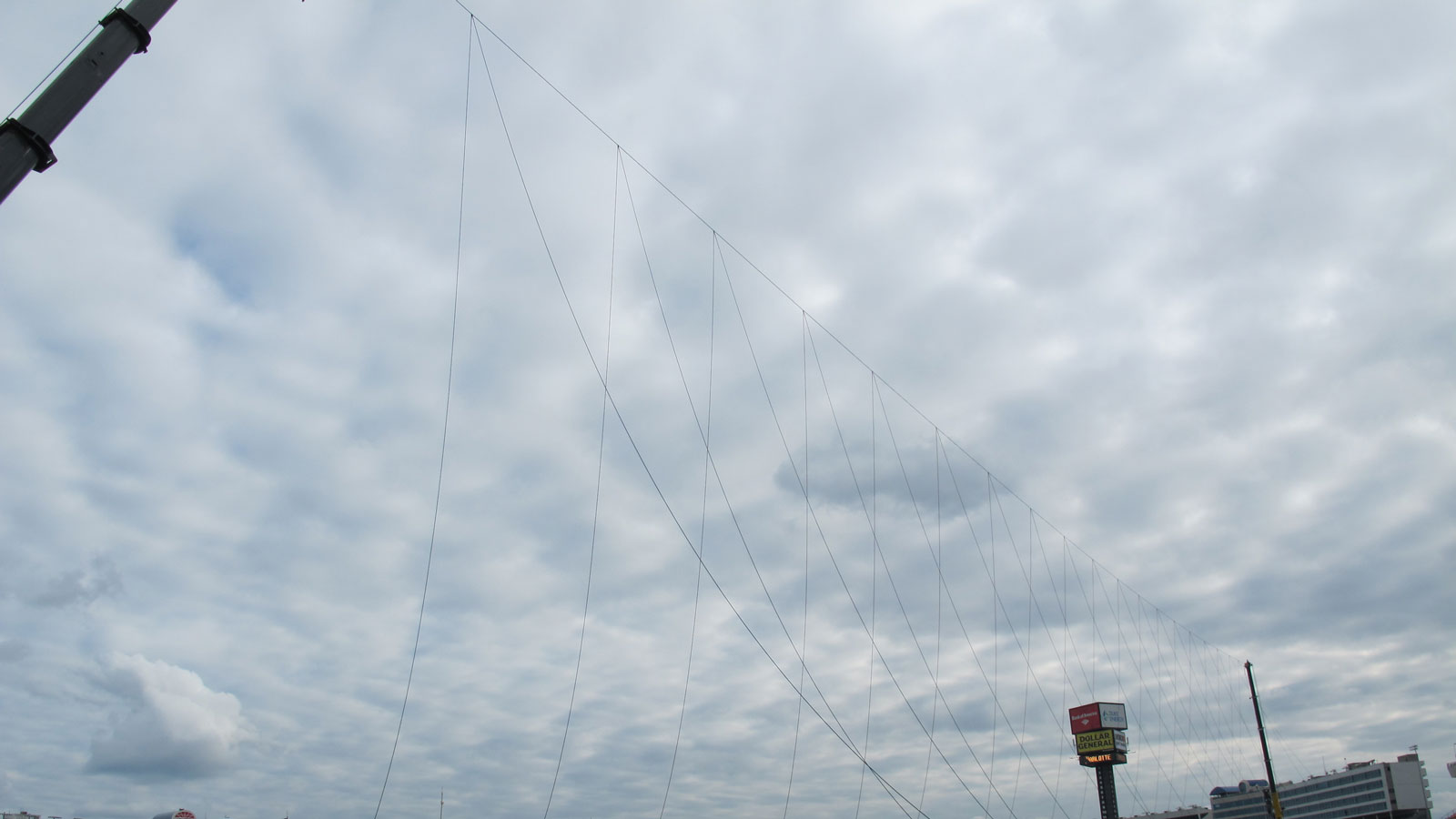 Did you know Charlotte Motor Speedway has an HD-TV screen the size of the White House on the backstretch?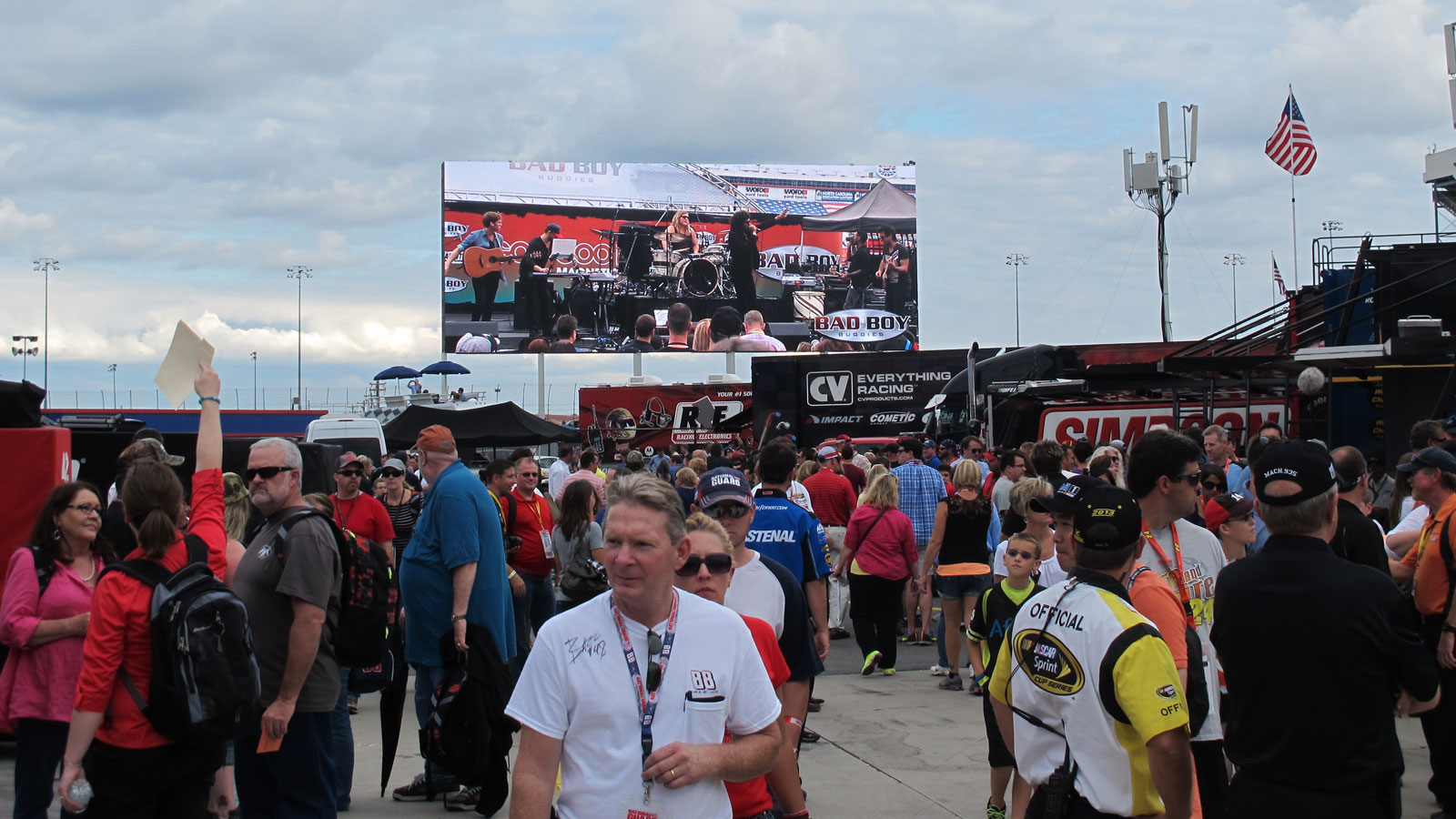 Ever wonder what NASCAR technical inspection looks like? Brad Keselowski's No. 2 goes through one of the many stages of the process, while Casey Mears' No. 13 goes through another.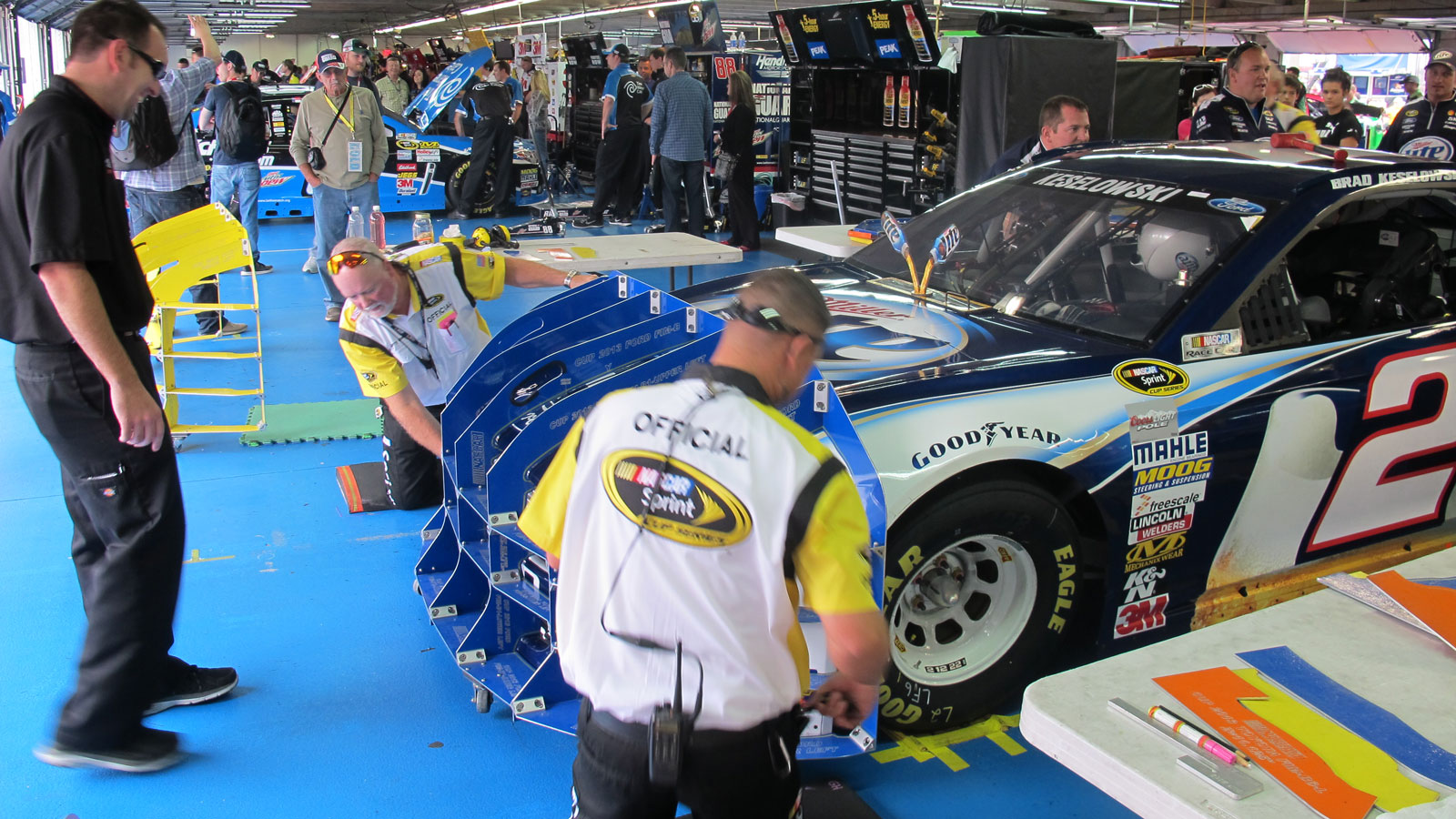 5:10 p.m. ET — While teams are preparing the cars for action, many of the drivers are visiting with fans before the driver's meeting.
.@MartinTruexJr56 meets 1 of his biggest fans, Vaughn. The 8 yr old is @LevineChildrens patient @napaknowhow #nascar pic.twitter.com/RGZ36KBASH

— M. Waltrip Racing (@MWRteam) October 12, 2013
Meet and greet time with @bobby_labonte at the 47 hauler. pic.twitter.com/NV8ypsWYTp

— JTG Daugherty Racing (@NASCAR47) October 12, 2013
5:15 p.m. ET — Tonight's race even brought out the likes of Miss Charlotte USA!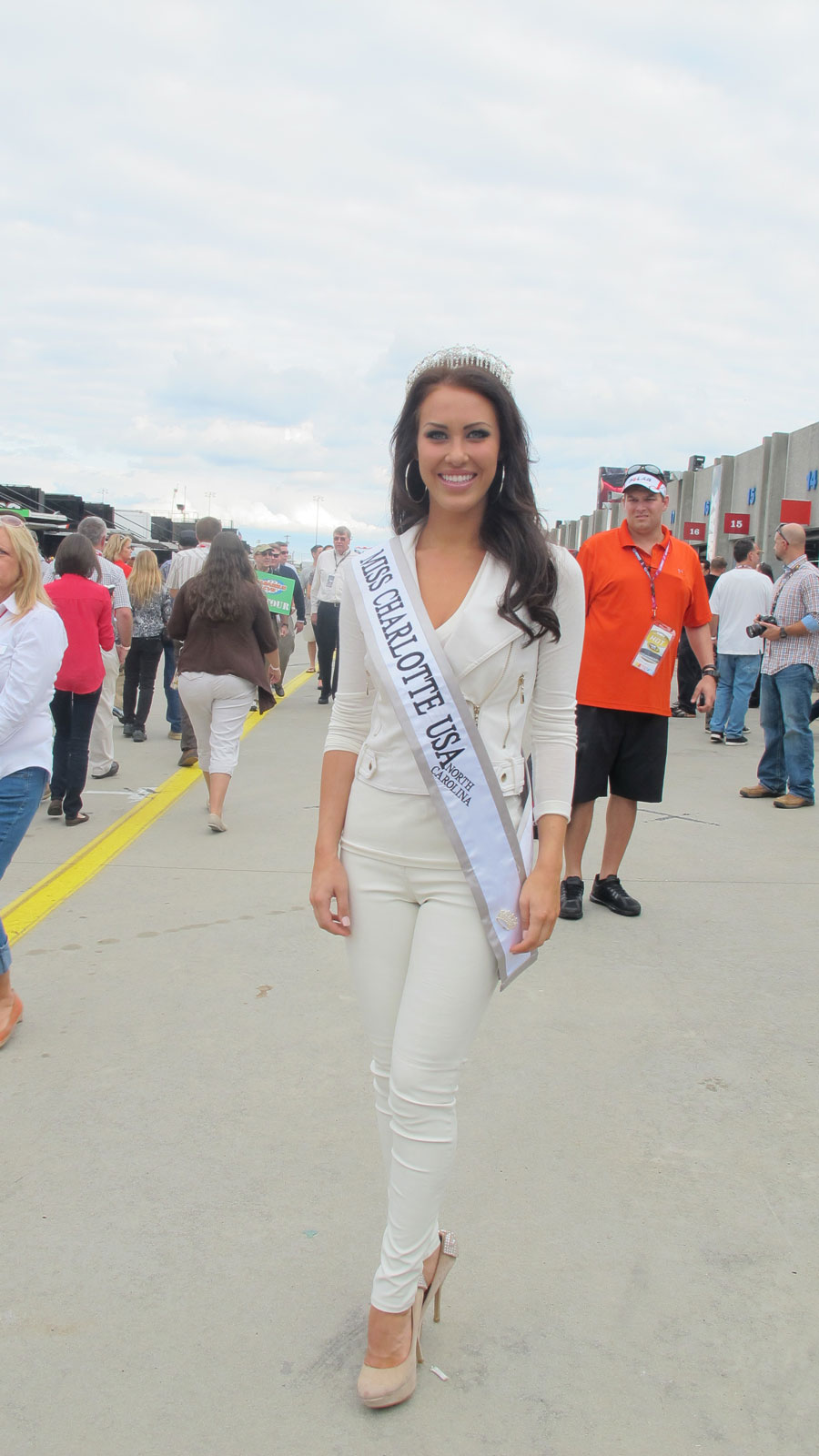 Fans that don't have access to the garage area clamor for a space to grab a picture and maybe see their favorite driver.
5:25 p.m. ET — The NASCAR community is one of the most giving in all of sports. Penske Racing and Pennzoil gave away two vans to Paralyzed Veterans of America members.
Very cool: @pennzoil & @penskeracing give away two vans to @pva1946 members @cltmotorspdwy http://t.co/1k7G10Dw97

— tom jensen (@tomjensen100) October 12, 2013
5:30 p.m. ET — The fans at Charlotte Motor Speedway are pumped up for NASCAR RaceDay!
These FANS LOve #Nascar and the #Raceday TV show. https://t.co/2ueVq3cXm2

— Kenny Wallace (@Kenny_Wallace) October 12, 2013
6:00 p.m. ET — The Goo Goo Dolls are rocking the Charlotte Motor Speedway before tonight's race.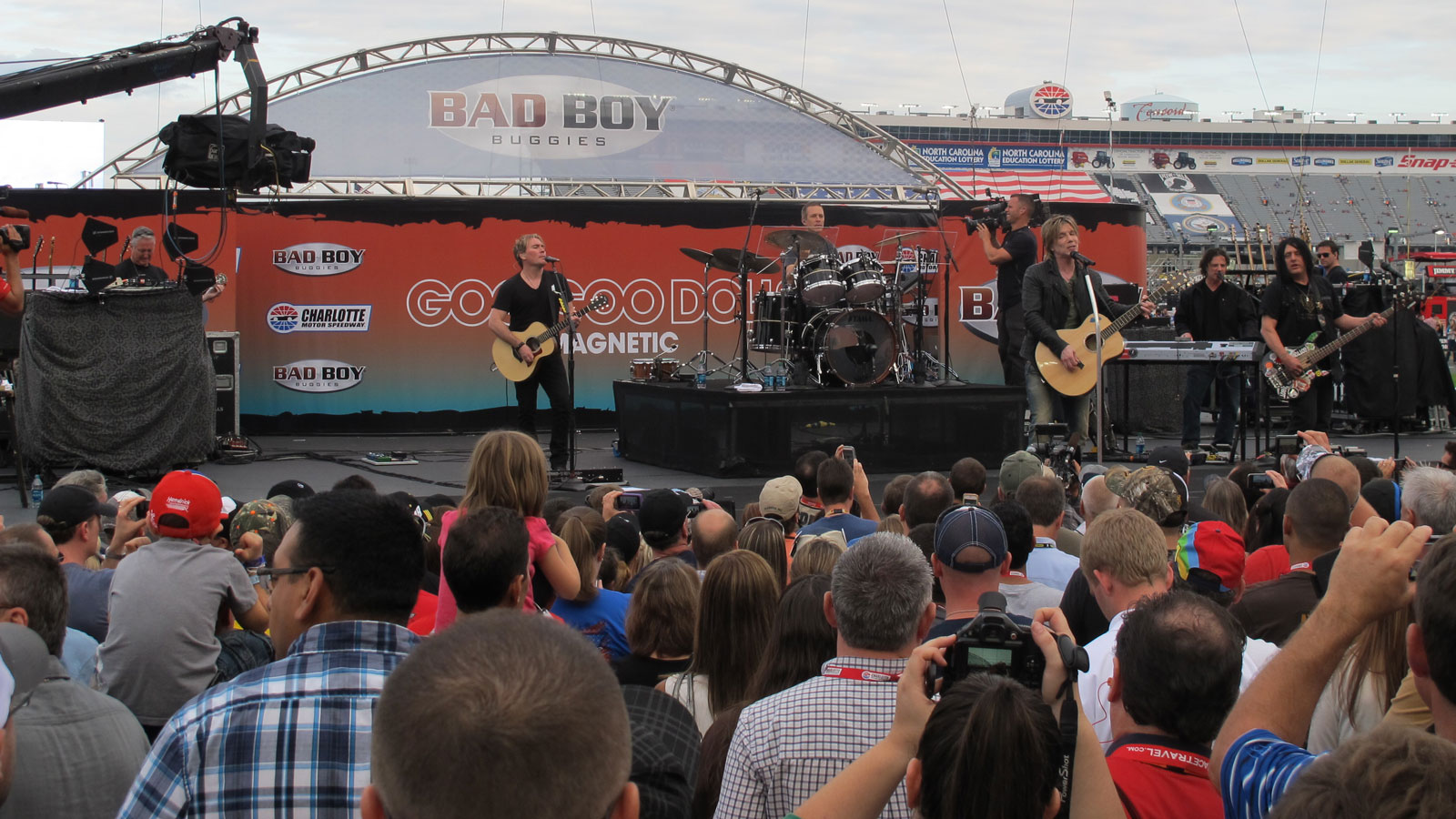 The work on these cars is all done except the racing! We're getting closer and closer to race time.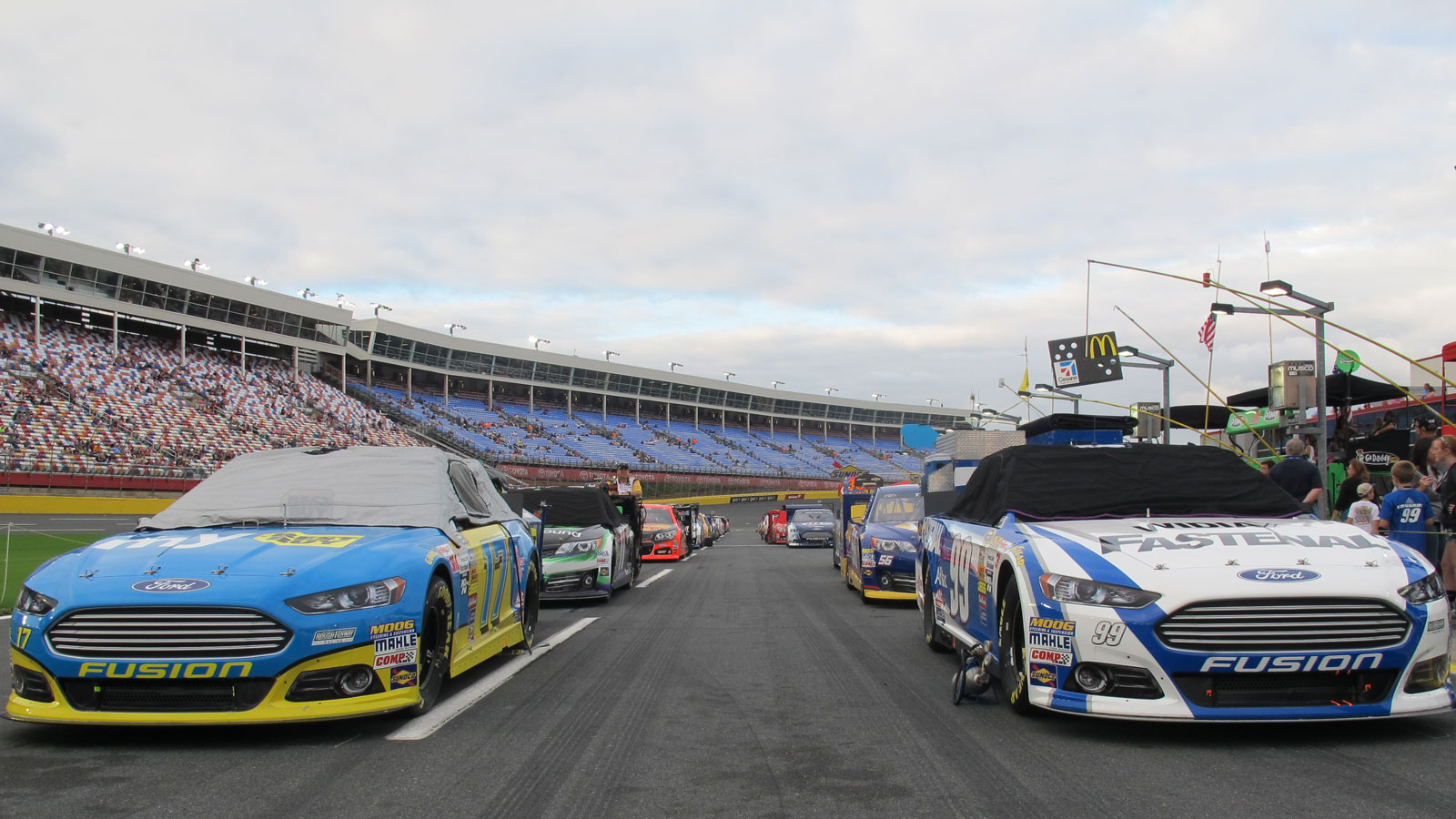 7:00 p.m. ET — Tightrope walkers Nic and Lijana Wallenda just performed a dual skywalk about Charlotte Motor Speedway with no nets or support cables!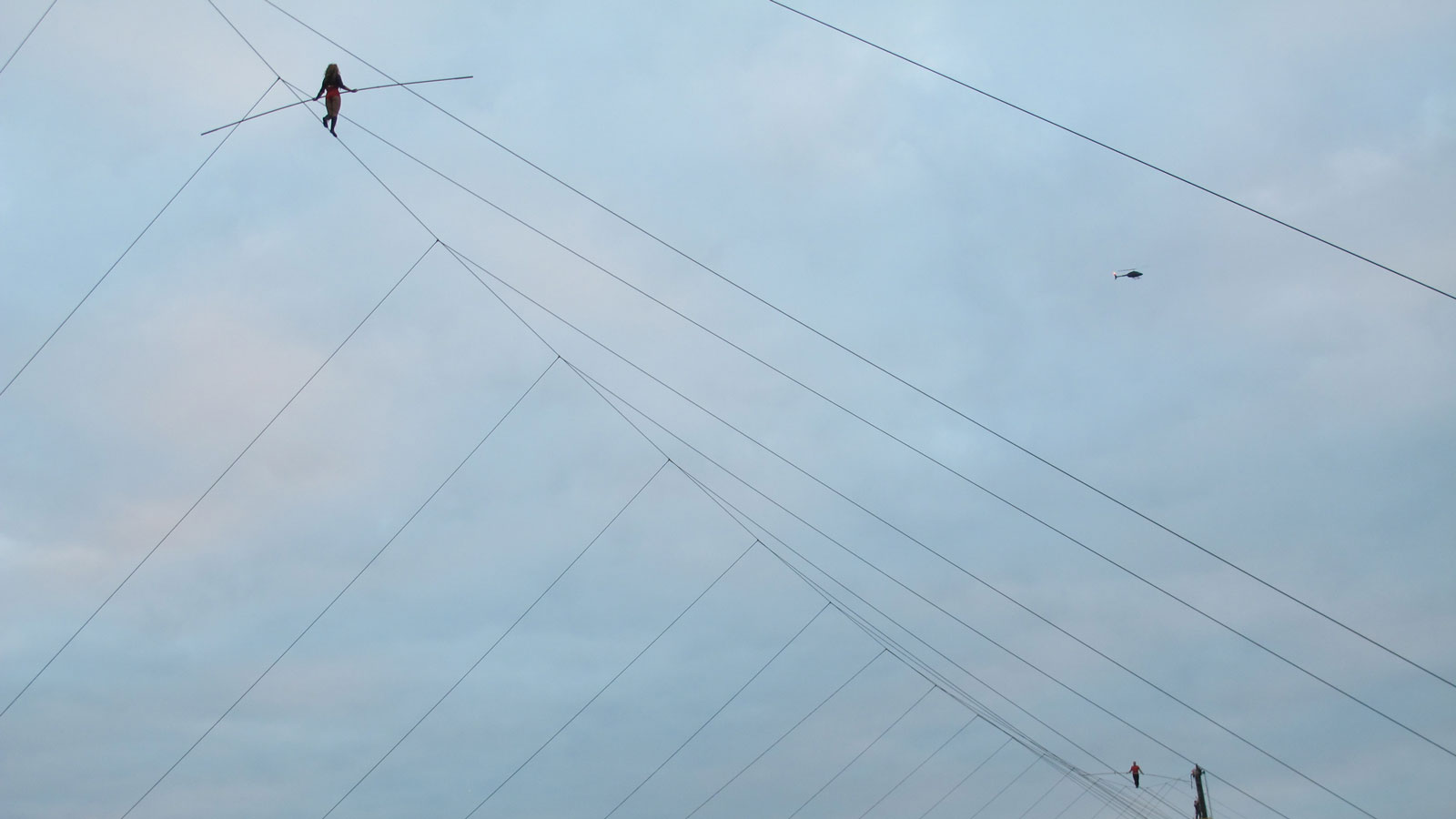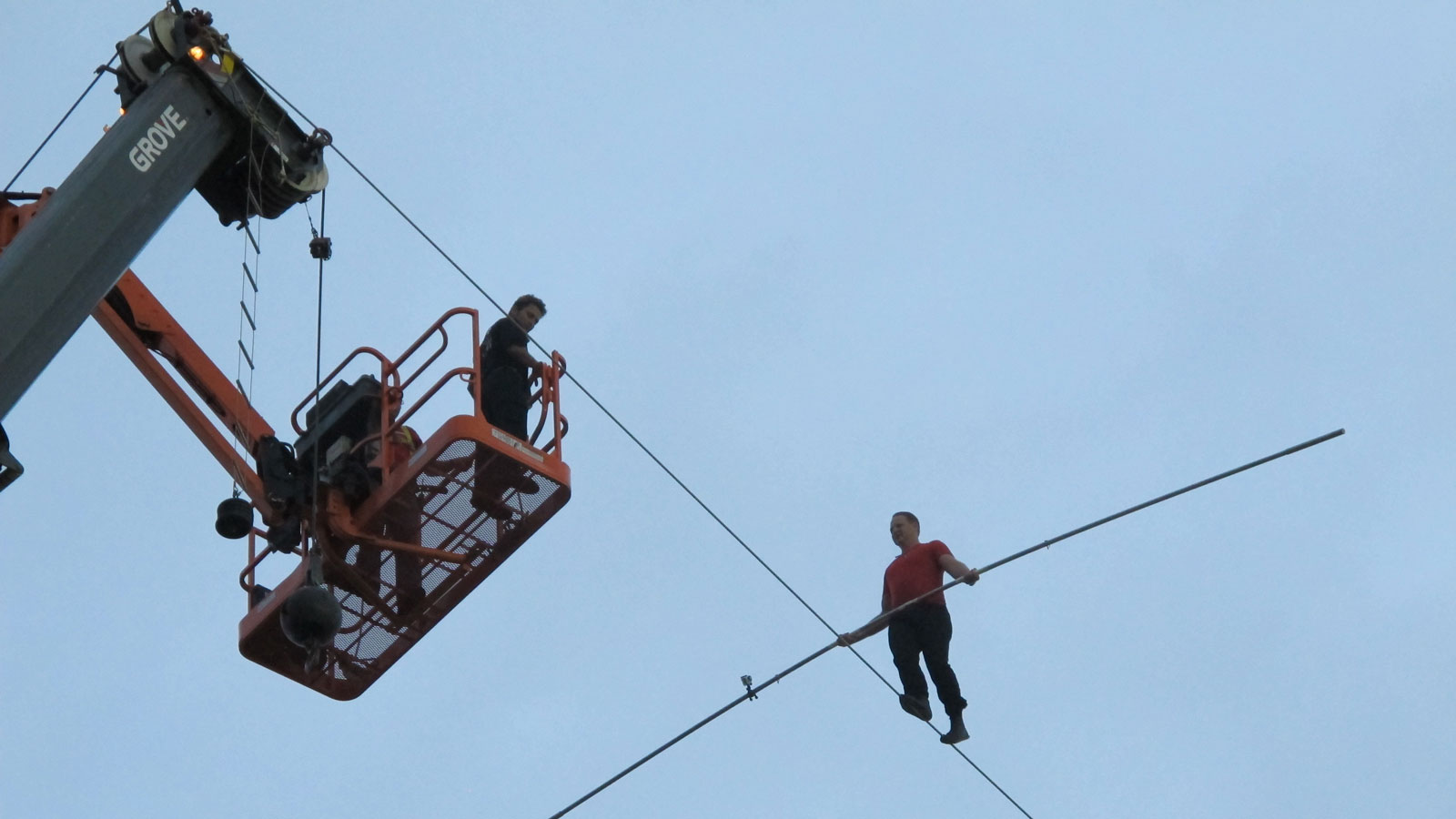 7:30 p.m. ET — With so many family and friends in attendance, pit road is packed before tonight's race.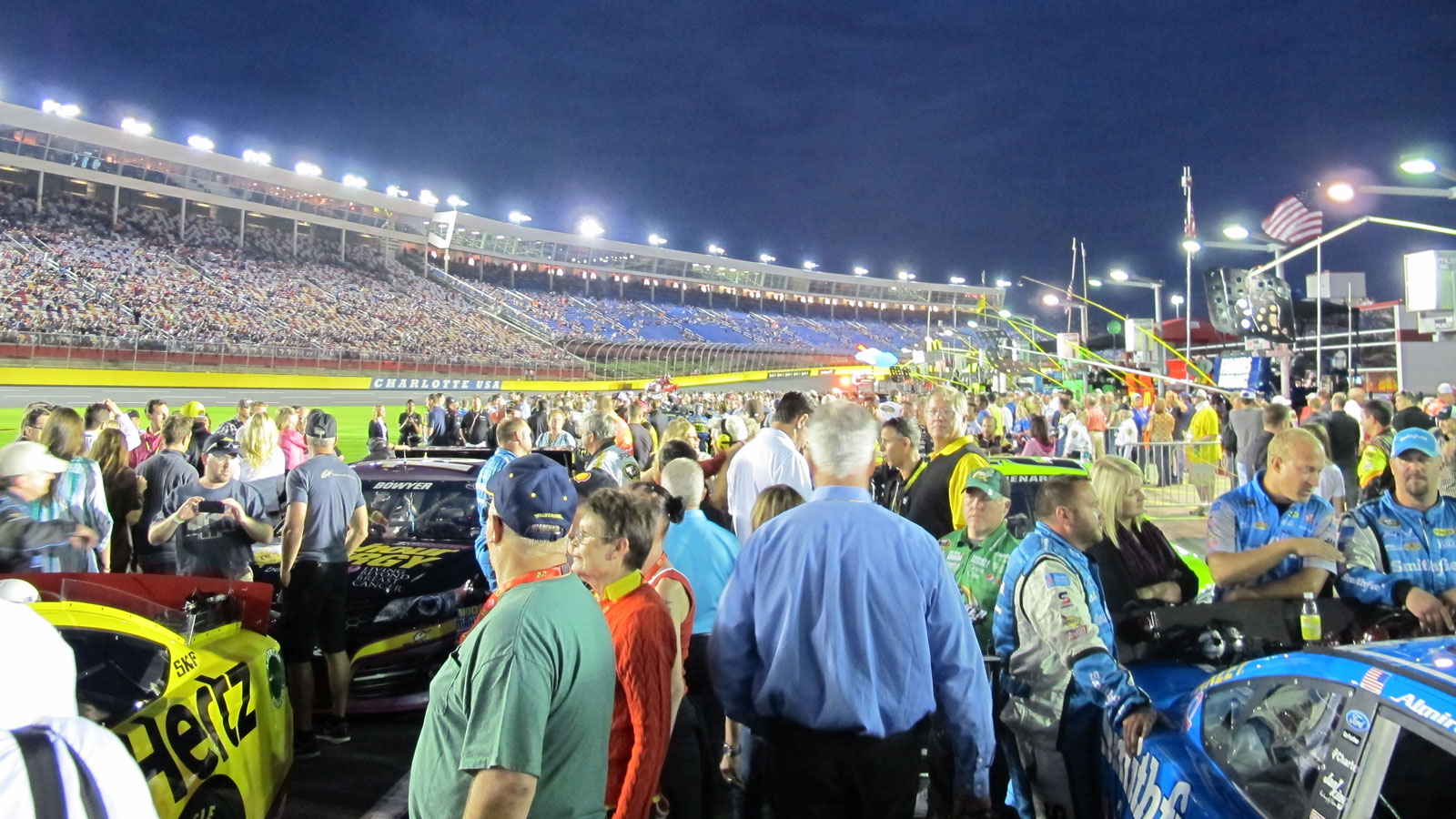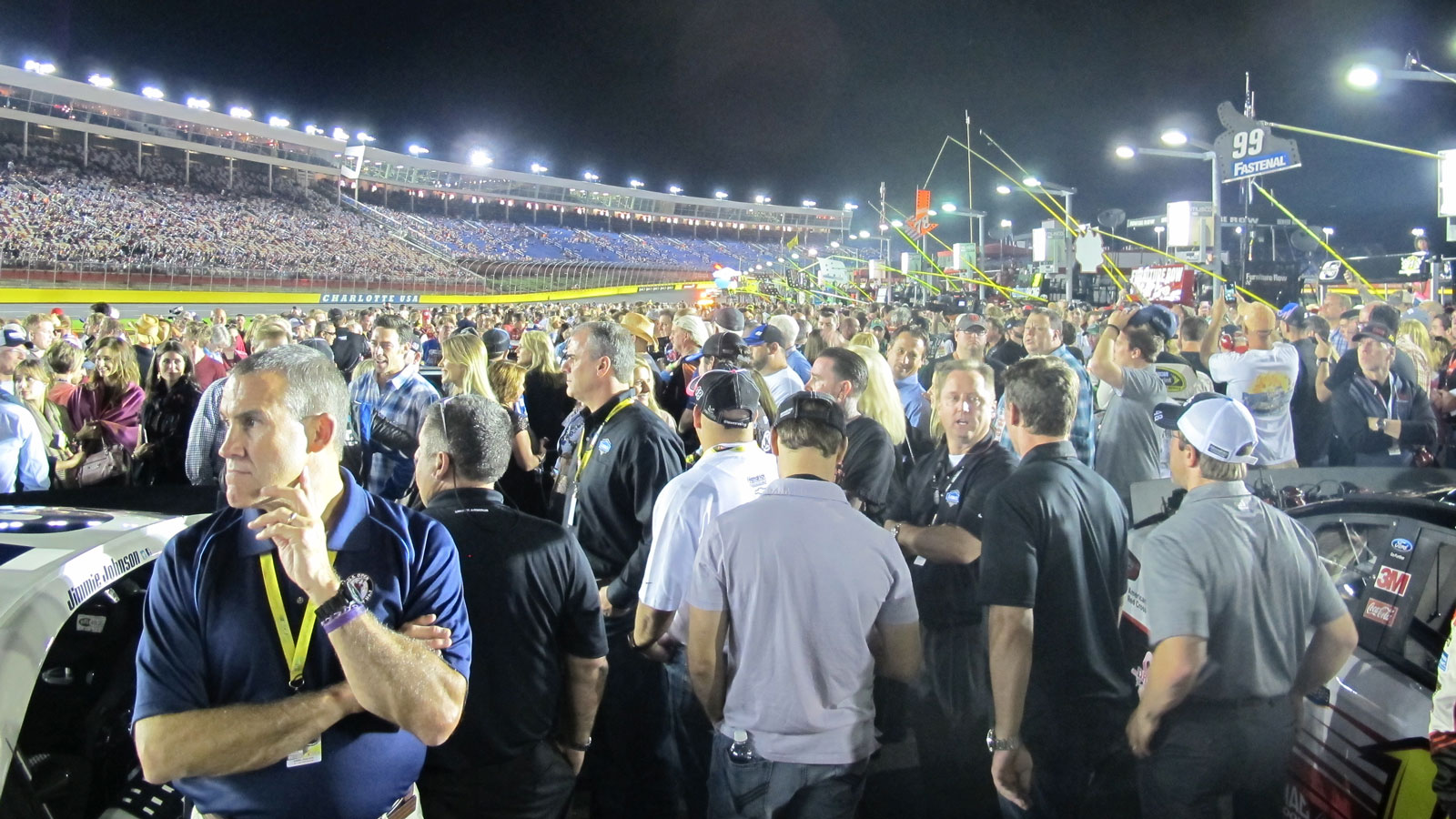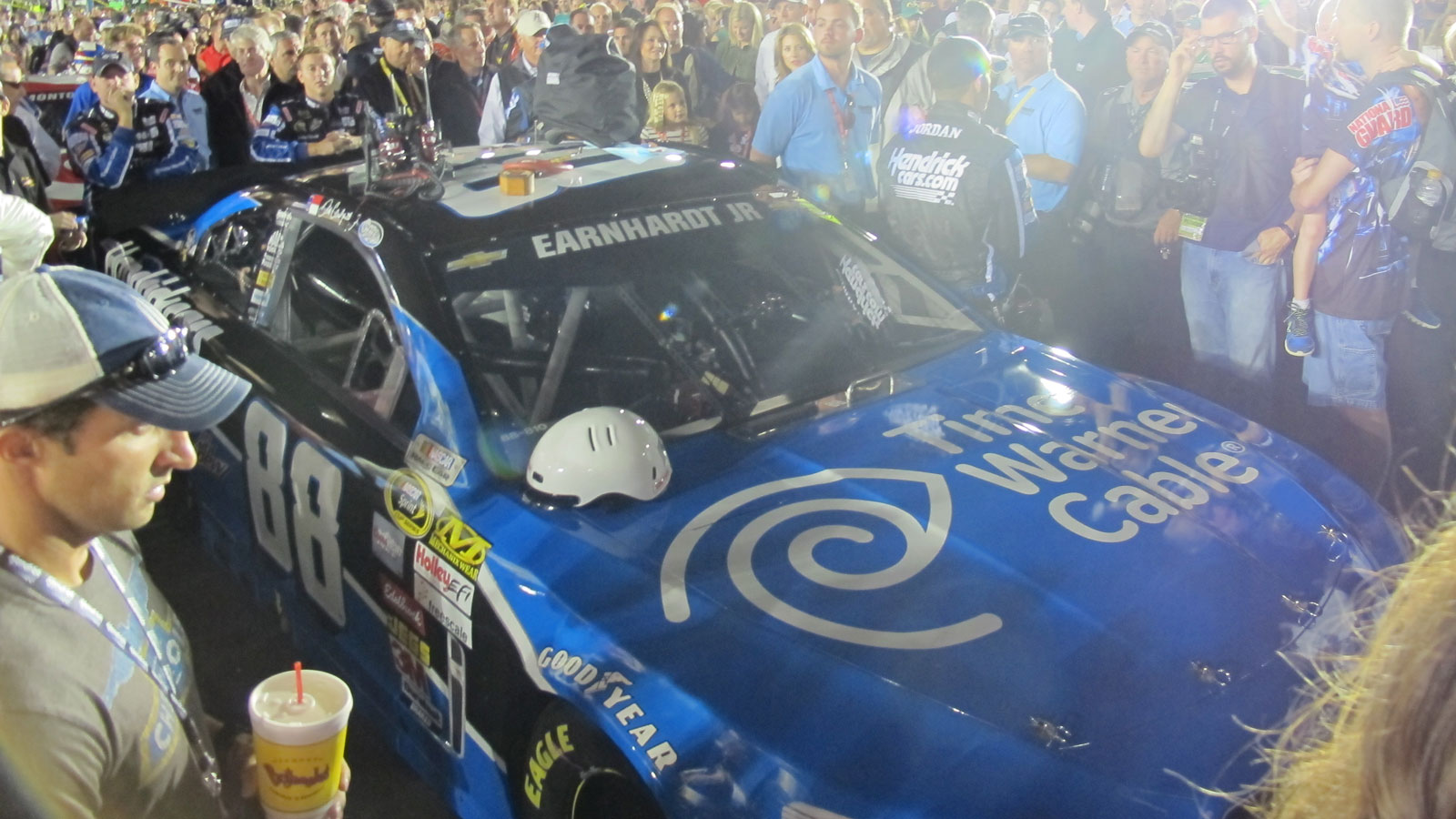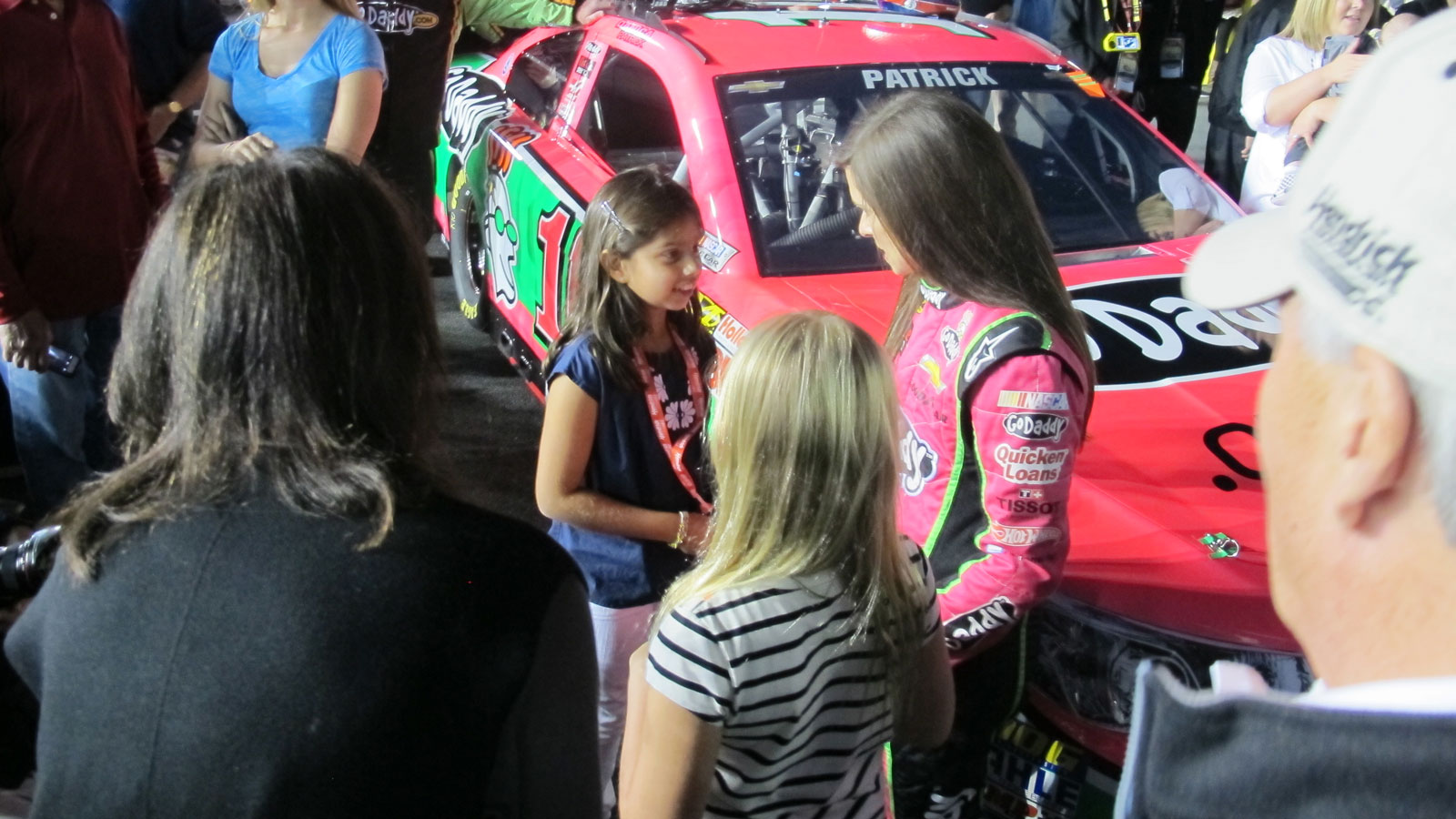 7:40 p.m. ET — The anthem has been sung, the flyover has taken place, the engines have been fired! Let's go racing at Charlotte Motor Speedway! Follow all the action with live timing and scoring, with updates throughout the night, on FOXSports.com's RaceTrax.