Sights & Sounds: A soggy Michigan International Speedway
Editor's Note: Please scroll down for updates…
11 a.m. ET — After a beautiful weekend at Michigan International Speedway, heavy clouds and misting rain greeted teams Sunday morning as they prepaed for the Pure Michigan 400 NASCAR Sprint Cup Series race. That has not stopped the teams from working hard in the garage and the drivers from taking part in their Sunday routine meeting with fans and sponsors.
Pit crews are busy at work setting up the pit stalls, gluing lugnuts to the wheels and doing their best to keep them dry.
Michael Waltrip Racing's No. 15 already suffered a flat tire this morning, luckily it was just on the team's pit box.
Many teams pulled out the car covers as they pushed their cars through the NASCAR technical inspection line.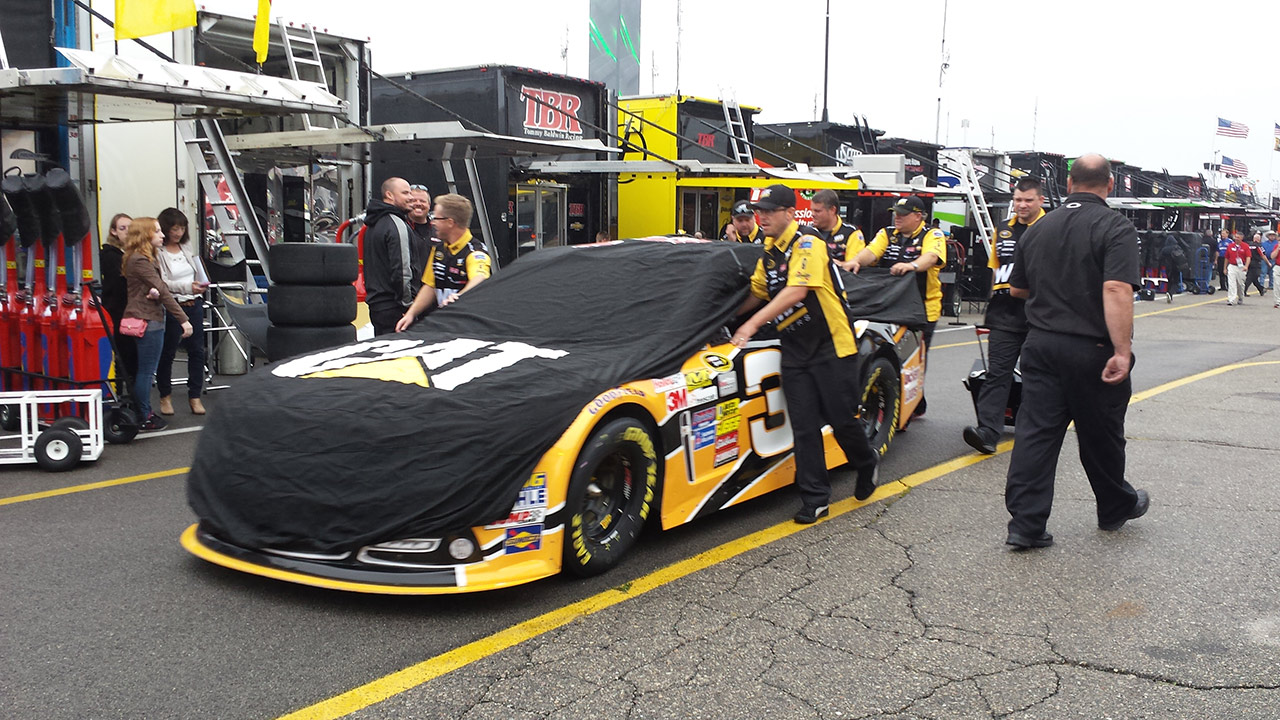 FOX Sports 1's Rutledge Wood is always a fan favorite in the garage, always taking time to say hello, sign an autograph or pose for a picture.
11:15 a.m. ET — The drivers are heading down the red carpet to the driver/crew chief meeting, signing autographs for fans along the way.
.@AJDinger signs autographs for fans and chats with @MissSprintCup @kimmiecoon as he heads to the driver's meeting. pic.twitter.com/kPwNukGF5t

— JTG Daugherty Racing (@NASCAR47) August 17, 2014
.@JeffGordonWeb makes his way down the red carpet! Are you cheering him & the No. 24 @TeamHendrick crew to VL?! -KC pic.twitter.com/fMkw63riwU

— Miss Sprint Cup (@MissSprintCup) August 17, 2014
Time to play "where's your favorite driver?" at the @NASCAR driver's meeting! Who do you see?! pic.twitter.com/NJJx3YLGZg

— Miss Coors Light (@misscoorslight) August 17, 2014
11:30 a.m. ET — Teams continue to push the cars through the NASCAR technical inspection process as the weather starts to clear up around Michigan International Speedway.
12:15 p.m. ET — Ryan Truex's No. 83 Toyota sits on jacks, but Truex will not be behind the wheel on Sunday after a hard wreck in practice on Saturday. Suffering a concussion, Truex is at home resting as JJ Yeley will fill in for today's race.
Hardest hit of my career by far yesterday..Feeling better today. Thanks for the concern,will see the doc this week & hopefully be back soon👍

— Ryan Truex (@Ryan_Truex) August 17, 2014