Sammy Hagar Still Can't Drive 55
It'€™s good to be Sammy Hagar.
The ex-Van Halen frontman, now 65, made small fortunes in both the music business and by founding Cabo Wabo Tequila, which he sold an 80 percent interest in for $80 million in 2007.
Hagar is still making music with several bands, including Chickenfoot and his reformed supergroup known as HSAS, which stands for Hagar, Schon (Journey guitarist Neal Schon), Anthony (ex-Van Halen bassist Michael Anthony) and Smith (Red Hot Chili Peppers drummer Chad Smith).
As a solo artist, Hagar'€™s most famous contribution to the musical landscape was the seminal "€œI Can'€™t Drive 55,"€ from 1984, the halcyon days of big hair, pointy guitars and leggings. Here's the video.
Well, flash forward nearly 30 years later and the Red Rocker is still a speed freak and a fan favorite. Here he is, signing autographs for fans at Sonoma Raceway on Friday afternoon.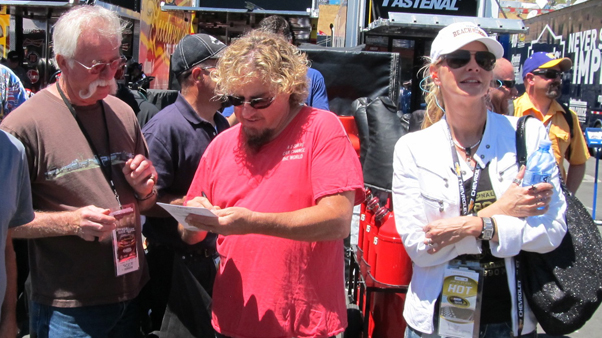 Rocker @sammyhagar makes time 4 @NASCAR fans. He's not the only one who #CantDrive55 around here! #NASCAR 😉 -BW pic.twitter.com/fMT9IlzoZb

— Miss Sprint Cup (@MissSprintCup) June 21, 2013
Good times bro and thanks for the Rum. @sammyhagar

— Jimmie Johnson (@JimmieJohnson) June 22, 2013
Just did a cameo for a new @sammyhagar video. No…we weren't drinking any Tequila! Yet

— Clint Bowyer (@ClintBowyer) June 21, 2013
The Red Rocker @sammyhagar hangs with #CARLEDWARDS before #NASCAR practice in @RaceSonoma . #RFRDRIVEN #DRIVENTOROCK pic.twitter.com/lvno8K3kSX

— Roush Fenway Racing (@roushfenway) June 21, 2013