Right turn road rage: Sonoma can get chaotic quickly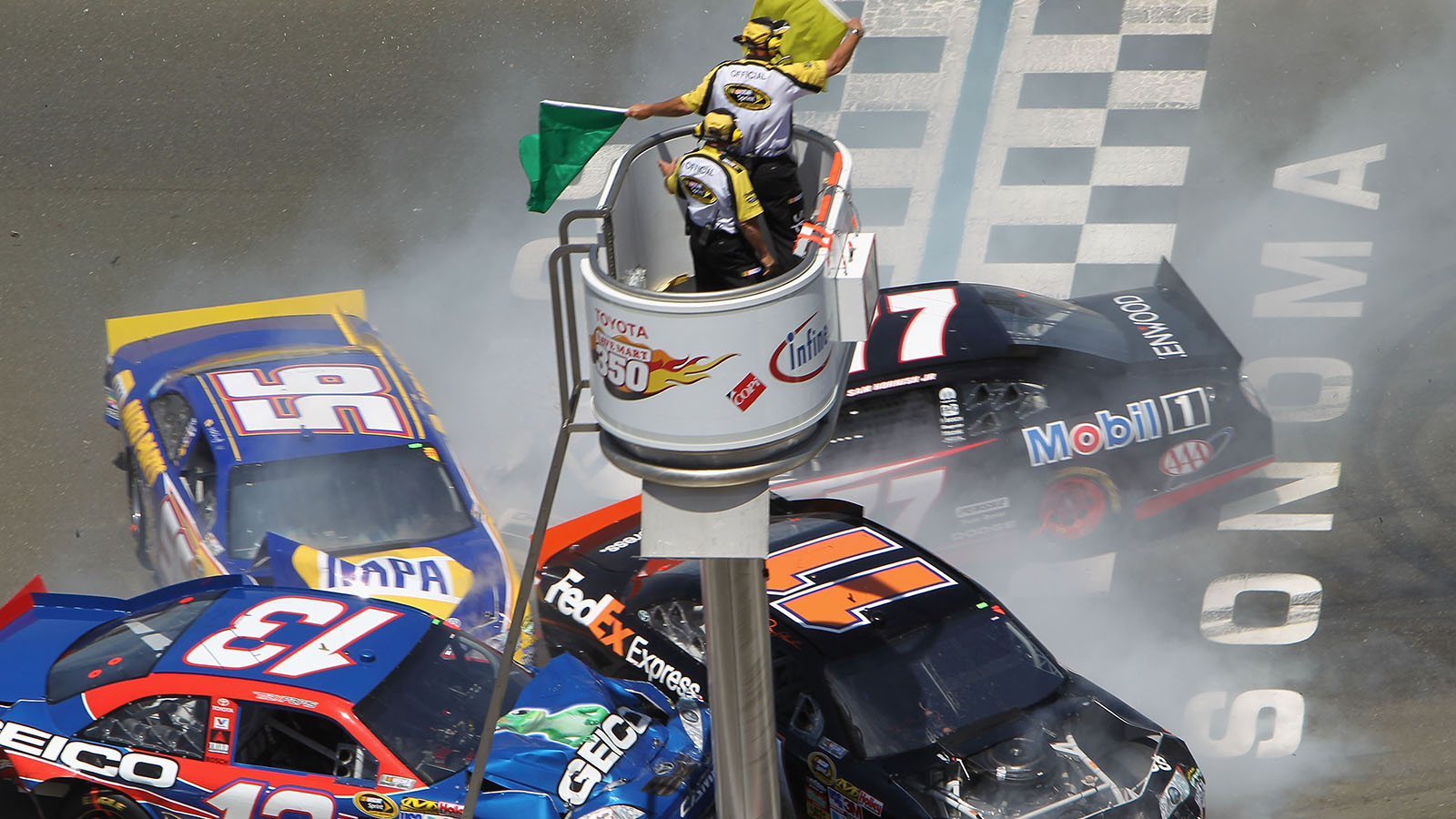 Jimmie Johnson, the six-time NASCAR Sprint Cup Series champion, isn't someone prone to fits of hyperbole when it comes to the driving habits of his fellow competitors, but he knows what road rage can do on the 1.99-mile Sonoma Raceway road course.
The combination of double-wide restarts and NASCAR's win-and-you're-in championship format, along with the occasional dose of testosterone poisoning among drivers can cause them to have bouts of irrational exuberance, often resulting in crashes like these.
Johnson knows that all too well.
"We know that there is going to be chaos," said Johnson. "In (turns) 7 and 11 you go in there and you just put your head against the back of the headrest waiting to get drilled from behind. … restarts just breed so much chaos around here. No one is safe. I have seen guys in eighth or 10th pull out of line to pass and wheel hop and clean out the guy in second or third. There is nowhere safe on this track on restarts."
He isn't alone in that assessment.
"Usually there about four or five guys that are smiling after the race and everyone else is really mad at each other," said Joey Logano.
Like Johnson, Logano cited turns 7 and 11, the only two places where passing opportunities are readily available on the track, as the hot spots for crashes.
"The speeds are low and you're trying to pass people into braking zones," said Logano. "It's one of the main passing zones is into (turns) seven and 11 for the most part and the way you do it is you've got to get right up on them on exit and then you've got to out-brake them, and when you're both braking with everything you've got and then you're trying to go a little further to get him, it's not really there, it's not possible and your tires are wearing and your brakes are getting hotter."
And in the closing laps, problems multiply and so do the collisions.
"Everything just gets worse throughout the race, so at the end of the race when the intensity level is up and everyone's car is not handling as well we run into each other," said Logano. "That's a product of it. That's why you want to be the guy that's being aggressive and not the one that's getting pushed around. That's important."
Part of the issue is there are more good road racers in the field than there used to be.
"You look at how deep the field is now at the road course races, that's why it is aggressive, because it is hard to pass," said AJ Allmendinger. "Everybody is so close. If you get kind of stuck in the back of the pack, it is hard to go anywhere."
Jamie McMurray said that many of the past problems were caused by the 10-12 road-course ringers who used to be entered in this event. But he doesn't expect that to be as much of a problem now that there are only a couple of them in this race.
"I wouldn't say it was aggressive as much as just poor decision-making. Turn 4 and Turn 7 on a re-start here are horrible," said McMurray. "And when you have a guy that's in 12th or 15th and just makes a complete dive-bomb; at least when I would watch a replay there's like no way their going to make the corner. They would wipeout somebody that was having a good day. Those are really frustrating.
"But now, I feel like it's really aggressive, but its guys making moves that seem realistic," said McMurray. :And sometimes it doesn't always work out. But I feel like everyone has gotten smarter about road course racing and making sure they make it to the end. Maybe it's because there are more regulars now. We just don't have as many of those guys coming in that don't race with us every week."