Ricky Vs. Danica: Who's On Top After Kansas?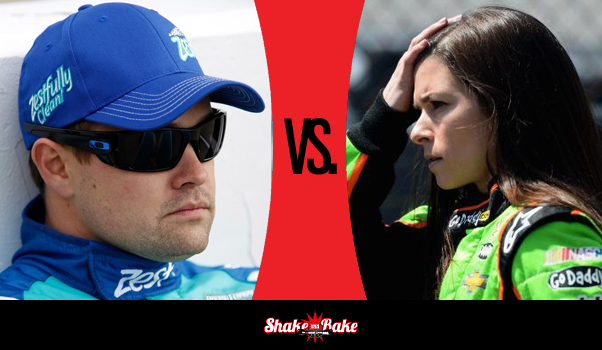 As races go, for NASCAR heartthrobs and rookie of the year candidates Danica Patrick and Ricky Stenhouse Jr., they don't get much uglier than Sunday's Hollywood Casino 400 at Kansas Speedway, a race with a record 15 caution-flag periods.
On a brutally cold and gray October afternoon in Kansas, Danica finished 43rd and Ricky 30th. There's no way to sugarcoat it, either: Collectively, this was the worst race of the season for the duo, eclipsing the first New Hampshire race, where Ricky finished 34th and Danica 37th.
To make matters worse, Danica crashed the No. 10 GoDaddy.com Chevrolet in Turn 1.
On Lap 1.
"I knew that, going into the race based on practice and everything we've seen from practice in Cup to the Nationwide race, losing grip was going to be not that hard to do," Danica said. "And so – I said that before the race even – I said, 'Make sure that we're on top of who is on my door and who is behind me.'
"And I knew all that was going to be happening on the start," said Danica. "And I had enough momentum to go to the middle because I got a run on the car in front of me but I had to wait past the start-finish line. I lifted going into Turn 1 and all I can say is that, you know, I didn't try and do anything. I just found myself sideways in the middle of the corner and that was it."
Her car too damaged to continue, Patrick finished last.
Not that Ricky exactly set the world on fire. He pancaked the side of his No. 17 Ford EcoBoost Fusion en route to a 30th-place finish, which cost him two positions in the points.
And while this was the 15th consecutive race that Ricky finished ahead of Danica, we're going to say that neither of them is on top after Sunday's debacle.
One can only hope a visit to Charlotte Motor Speedway this Saturday proves a little more hospitable to the couple.
Scoreboard after 30 races:
Ricky – 21st in points, 0 top fives, 2 top 10s, best finish of 8th.
Danica – 28th in points, 0 top fives, 1 top 10, best finish of 8th.
Better race finish – Ricky 26-4 over Danica.