Ricky Vs. Danica: Who's On Top After Charlotte?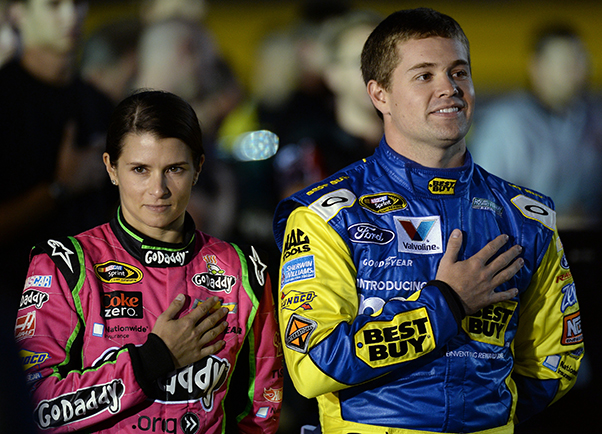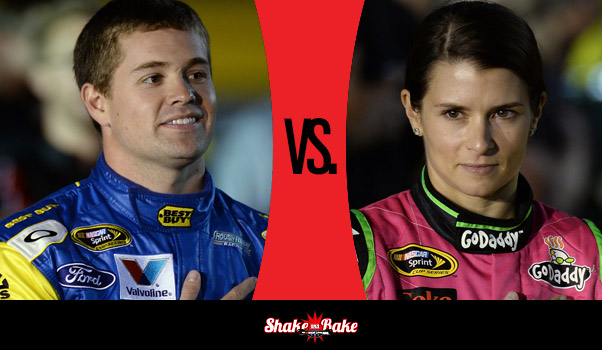 Huzzah! After a brutal weekend at Kansas Speedway, NASCAR lovebirds and Sprint Cup Rookie of the Year contenders Ricky Stenhouse Jr. and Danica Patrick found Charlotte Motor Speedway a whole lot more hospitable.
In Saturday's Bank of America 500, Ricky piloted the No. 17 My Best Buy Ford to a solid 13th-place finish, while Danica had a good run, too, bringing the bright pink No. 10 GoDaddy Breast Cancer Awareness Chevrolet home 20th.
Danica could have done even better but the extended periods of green-flag running found her falling off the lead lap midway through the race.
"It really was just a littel tight the first couple of runs and then man, I don't know what else we could have done to fix the balance," said Danica. "All we needed was track position and more yellows so we could get back on the lead lap. The team did a really good job of working through practices, and my pit crew did an awesome job of getting me out in record time."
Still, it was a good run for Patrick and her Stewart-Haas Racing team.
"I'm just really proud of this team because we made improvements all night, and I'm glad that we were able to have a solid run with this pink car and help GoDaddy and .ORG promote breast cancer awareness this month," Danica said. "I think in the end, we just needed track position."
Even though he finished ahead of his GF, Ricky was less sanguine.
"I'm not happy with how it went, but I'm happy with the finish," said Ricky. "We weren't very good. We were better than I thought we were gonna be, so I guess it's a positive. We just can't seem to make any changes that change the car…we've got to figure these cars out is the issue. We don't have a handle on how we need to adjust throughout the race, but we ran in the top 16 all night, so I think that's a positive. We haven't done that all year long, so we ran there all race and finished there, so that was a positive for us, but we still have a lot of work to do."
So, to recap: Ricky finished ahead of Danica, but is unhappy.
Danica finishes behind Ricky but is pleased with her run.
We're going to call this one a tie, and look forward to next weekend, when we expect to see the NASCAR lovebirds holding hands as they stroll down Talladega Boulevard on Friday night.
Scoreboard after 31 races:
Ricky — 22nd in points, 0 top fives, 2 top 10s, best finish of 8th.
Danica — 28th in points, 0 top fives, 1 top 10, best finish of 8th.
Better race finish — Ricky 27-4 over Danica.