Ricky Vs. Danica: Who's On Top After Watkins Glen?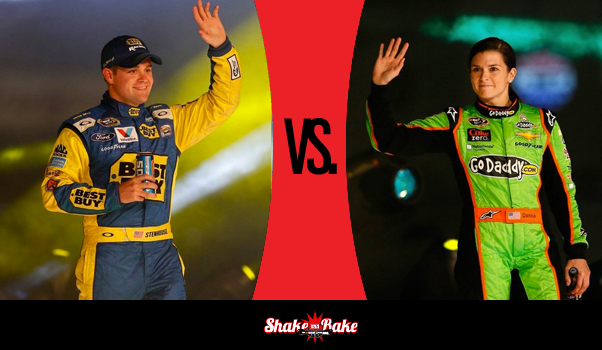 Sometimes all it takes is a change of scenery to put some excitement back into a relationship.
And so it goes for NASCAR lovebirds and Sprint Cup Rookie of the Year rivals Danica Patrick and Ricky Stenhouse Jr., who enjoyed a very nice weekend in New York state.
They certainly needed something.
Coming into Sunday's Cheez-It 355 at Watkins Glen International, Danica's average finish in her three most recent races was a woeful 34.0. Ricky wasn't a whole lot better at 31.0.
But things certainly took a turn for the better this weekend at The Glen, where Ricky finished 18th and Danica a respectable 20th.
Danica, in particular, had to bob and weave to dodge two late-race crashes.
"The spotters did a great job today," she said. "It's so tough sometimes to see what's going on ahead of you on a road course, but they kept me aware and kept me out of trouble, especially at the end. I'm proud of the entire GoDaddy team. …We didn't nail it today, that is for sure, but I think we made gains, for sure, from the beginning of practice until the end of the race. It's just a matter of using that for next time and getting better."
So who's on top this week, heading into Michigan?
It's Ricky, but by the narrowest of margins.
Maybe Danica will make him some livermush in the motorhome lot this weekend.
Hmm … do you drink cabernet or merlot with livermush? Check back next week and we'll see what we can find out.
Scoreboard after 22 races:
Ricky – 20th in points, 0 top fives or top 10s, best finish of 11th.
Danica – 27th in points, 0 top fives, 1 top 10, best finish of 8th.
Better race finish – Ricky 18-4 over Danica.