Ricky Vs. Danica: Who's On Top After Dover?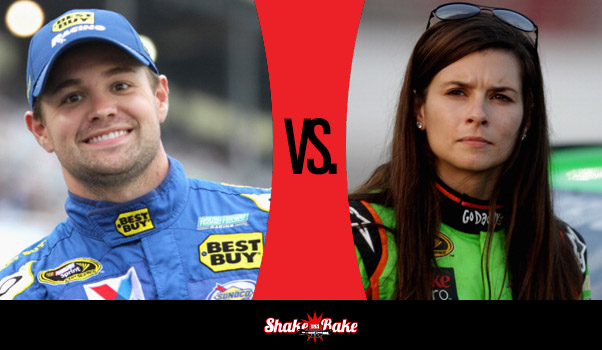 When your car isn't handling to your liking and there aren't many caution-flag periods, it can be a long, brutal afternoon at Dover International Speedway. Just ask NASCAR's Sprint Cup Rookie of the Year contenders/love birds Ricky Stenhouse Jr. and Danica Patrick.
Ricky finished 17th in Sunday's AAA 400 at the Monster Mile, which allowed him to hang on to 19th place in the Sprint Cup points standings. Not a great race, certainly, but it was the seventh time in the last eight races that Ricky finished in the top 20, so he's making some progress.
The same can't be said for Ricky's GF, unfortunately.
Sunday at the Monster Mile, Danica finished 29th, a whopping six laps down to race-winner Jimmie Johnson.
"We just couldn't get a handle on the GoDaddy Chevy today," said Danica. "It was too tight from the start, and that put us behind early. It wasn't for a lack of effort by (crew chief) Tony Gibson and the guys because they adjusted on the car all day. It would get better there in the middle of the race, but when it was in traffic, it would be just as tight as it was at the start of the race. It's disappointing, but we'll move on."
With the disappointing day, Danica fell to 28th in points, one point behind her Stewart-Haas Racing teammate, Mark Martin. Now, granted, Martin is an excellent driver, but he's only competed in 22 races this year and he has earned more points than Danica, who's been in all 29. Ouch.
So as the Sprint Cup Series heads into Kansas City, Ricky is still on top. And it looks like Danica will be buying Ricky a big steak or two once again this weekend.
Scoreboard after 29 races:
Ricky – 19th in points, 0 top fives, 2 top 10s, best finish of 8th.
Danica – 28th in points, 0 top fives, 1 top 10, best finish of 8th.
Better race finish – Ricky 25-4 over Danica.