Ricky Vs. Danica: Who's On Top After Chicagoland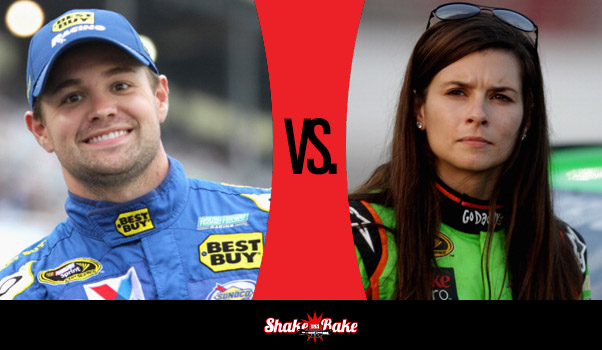 All of a sudden, half of NASCAR's power couple is on fire.
For the second week in a row, Ricky Stenhouse Jr. scored a career-best NASCAR Sprint Cup finish, wheeling the No. 17 Best Buy Ford to an eighth-place finish in the rain-delayed GEICO 400 at Chicagoland Speedway.
It was Stenhouse's second-consecutive top 10, after failing to finish better than 11th in his first 25 races this year.
Apparently the two rain delays at Chicagoland – one hour before the race and 5½ hours during the race – were just what Stenhouse needed.
He and girlfriend Danica Patrick used the longer of the two delays to leave the track and head to Sonic for a snack. "It gave me a little bit of energy," Stenhouse said, with a straight face. "Then I took a nap and really played it out well."
Indeed it did.
Nudge, nudge, wink, wink.
Whatever the reason, Stenhouse had the best run of his still-young Sprint Cup career.
As for the pixie-like Patrick, she had a good race. Not a great one, but a good one, finishing 20th, which is about six or seven positions ahead of where she usually ends the race.
"It's going in the right direction," said Patrick. "I'd like it to go further, but I'll take any progress. Overall, it was a good night for the GoDaddy team. The pit crew was great once again, and it was a positive night for us."
Still, advantage Ricky again.
So when the Sprint Cup Series rolls into Loudon, N.H., this weekend, look for Danica to be cooking up some lobstah chowdah in the kitchen of their motorhome.
Scoreboard after 27 races:
Ricky – 19th in points, 0 top fives, 2 top 10s, best finish of 8th.
Danica – 26th in points, 0 top fives, 1 top 10, best finish of 8th.
Better race finish – Ricky 23-4 over Danica.