Ricky vs. Danica: Richmond – Who's On Top This Week?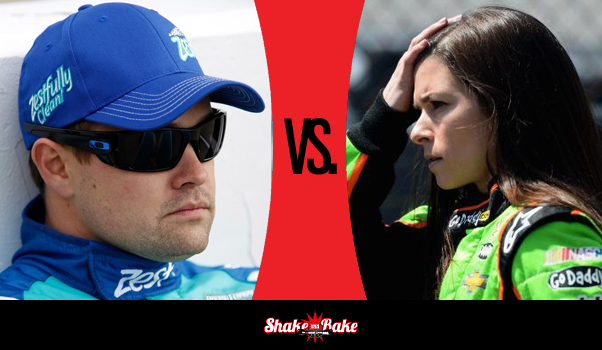 They say Virginia Is For Lovers, but our NASCAR Sprint Cup lovebirds didn't have a whole lot to smile about following the Toyota Owners 400 at Richmond International Raceway Saturday night.
Ricky Stenhouse Jr. managed to finish a respectable 16th-place finish in the No. 17 Zest Ford, his seventh top 20 of the year in nine races. Interestingly, it was the third time this year that the Sprint Cup Rookie of the Year candidate finished 16th.
For Ricky's GoDaddy.com gal pal, things were tough. Danica Patrick finished 29th, four laps off the pace in her No. 10 Chevrolet, and fell to 26th in points. So far this season, Patrick has finished better than 25th just twice, an eighth-place run in the season-opening Daytona 500 and a surprising 12th in her first visit to the tricky Martinsville Speedway.
The good news for the power couple is that NASCAR heads to Talladega Superspeedway this week, one of two restrictor-plate tracks on the circuit along with Daytona. And the last time they were at Daytona, Danica captured the pole.
So things could get interesting next weekend.
But for right now, Ricky's on top, which means he gets to say the best quotes from "Talladega Nights."
Maybe, even now, he's saying to Danica, "Here's the deal: I'm the best there is. Plain and simple. I wake up in the morning and I piss excellence."
And maybe, just maybe, they'll starting calling each other Magic Man and El Diablo. But for now, time for both of them to step it up a notch or two.
Scoreboard after nine races:
•Ricky — 18th in points, 0 top fives or top 10s, best finish of 11th.
• Danica — 26th in points, 0 top fives, 1 top 10, best finish of 8th.
• Better race finish — Ricky 6-3 over Danica.