Ricky vs. Danica: Kansas – Who's On Top This Week?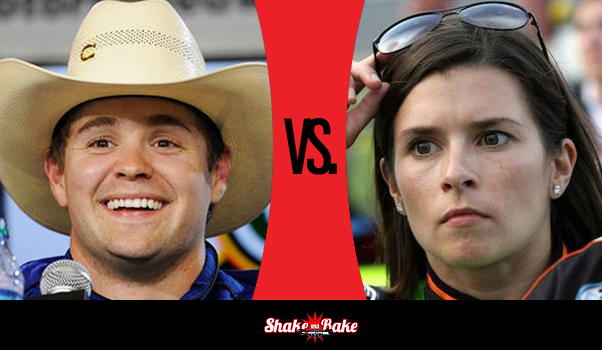 After three consecutive finishes of 20th or worse, Ricky Stenhouse Jr. rebounded in a big way in Sunday'€™s STP 400 at Kansas Speedway, where he finished a season's best 11th. Stenhouse easily bested fellow rookie and main squeeze Danica Patrick, who struggled to finish 25th.
In fact, had the caution flags fallen differently at the end of the race, Stenhouse could have done much better. He led 26 laps at Kansas, which is 25 more laps than he led in the first seven races combined.
And for every lap Stenhouse and his Roush Fenway Racing teammates led, the drivers and car owner Jack Roush each donated $100 to Onefundboston.org, which was a very nice gesture.
Patrick's race, on the other hand, was largely an exercise in frustration, especially when she was battling David Gilliland, who afterwards told Sporting News that Patrick should "shut up and race."
Worse yet, she was forced to pit for trash on her grille, which blocked the air flow into the radiator and caused her engine to overheat. The pit stop put her two laps down, which she was never able to recover from.
"€œIt'€™s disappointing because I think we could have had a much better finish with the Go Daddy car, but it'€™s one of those things that'€™s out of our control,"€ said Patrick. "€œThe pit crew was awesome, I think they did a 12.1 (second stop), which I didn't even think was possible. They did great today."
Still, Ricky clearly came out on top this time, which means it's Danica'€™s turn to cook next weekend at Richmond.
Scoreboard after 8 races: