Ricky Vs. Danica: Dover – Who's On Top This Week?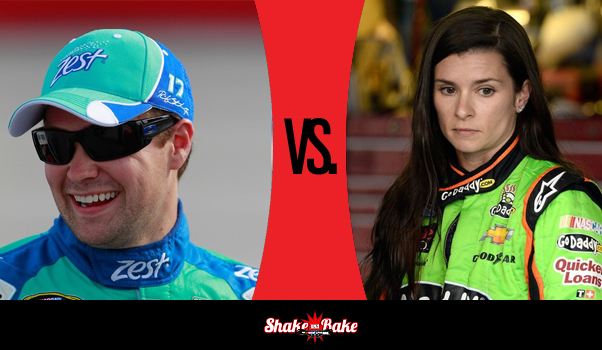 When we last left NASCAR'€™s power couple, Danica Patrick and her car owner Tony Stewart were furious with Patrick'€™s boyfriend, Ricky Stenhouse Jr., for wrecking her in the Coca-Cola 600.
Sunday at Dover International Speedway, Patrick found out that indeed, stuff happens in big-time auto racing. Specifically, she was the one who made a mistake and caused an accident, bouncing off David Stremme on Lap 37 of the 400-lap FedEx 400 benefiting Autism Speaks.
The contact resulted in a cut tire, forcing Patrick to pit and fall three laps off the lead early on.
"œIt was one of those Martinsville-like deals, where we got all bunched up and I had no option but to keep the steering wheel straight or else we both would'™ve gotten taken out,"€ Patrick said, showing a keen grasp of NASCAR vernacular.
The good news for Patrick is that she rallied from 41st to finish 24th, an impressive pickup of 17 positions. And boss Stewart won the race, an added bonus.
For Stenhouse, the long, tough afternoon was a positive one. He finished 13th, directly ahead of Roush Fenway Racing teammates Carl Edwards and Greg Biffle, earning him "best of class"€ honors within the team. And he posted his sixth consecutive finish of 18th or better.
Best news of all?
Stenhouse is out of the doghouse with Danica as he wasn'™t the one who made contact on track this time.
So as they head to picturesque Pocono Raceway, once again Ricky is on top.
Expect the action to heat up again this weekend at the Tricky Triangle.
Scoreboard after 13 races:
Ricky – 15th in points, 0 top fives or top 10s, best finish of 11th.
Danica -€" 29th in points, 0 top fives, 1 top 10, best finish of 8th.
Better race finish -€" Ricky 10-3 over Danica.