Ricky Vs. Danica: Who's On Top After Sonoma Raceway?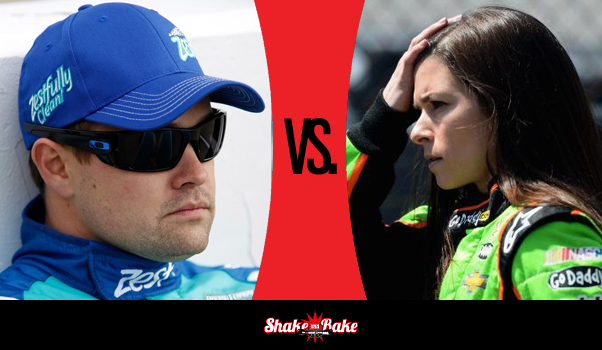 For a young couple in love, there's absolutely no better stop on the NASCAR Sprint Cup Series tour than picturesque Sonoma Raceway, which each June hosts one of two road races on the annual schedule.
The area surrounding Sonoma is stunningly beautiful, lined with vineyard after vineyard and gentle, rolling hills. The track even has its own crew of Peruvian shepherds to tend to the hundreds of sheep that roam the property.
So it should have been a great romantic weekend for NASCAR's hottest power couple, Ricky Stenhouse Jr. and Danica Patrick. There was just one problem: They both had bad days in the Toyota/Save Mart 350, where Ricky finished 27th and Danica survived two spins to end the day 29th.
"It was a long day -€" a long weekend," Patrick said. "€œWe just couldn'€™t get the car to the point where I was comfortable with it. It's disappointing because I know the GoDaddy guys worked really hard all weekend. We just couldn'€™t get much to go our way this weekend. Having the cut tire and going into the tire barrier was just sort of salt in the wound. Hopefully we have a better weekend next week at Kentucky."
Sadly, this was a battle with no real winner, because 27th doesn'€™t even count as a moral victory.
So now it'€™s on to Kentucky Speedway, with neither Ricky nor Danica coming out on top this time. Better luck in the Bluegrass State, folks.
Scoreboard after 16 races:
Ricky -€" 19th in points, 0 top fives or top 10s, best finish of 11th.
Danica -€" 27th in points, 0 top fives, 1 top 10, best finish of 8th.
Better race finish – Ricky 12-4 over Danica.