Charlotte Motor Speedway Does Pre-Race Pomp Right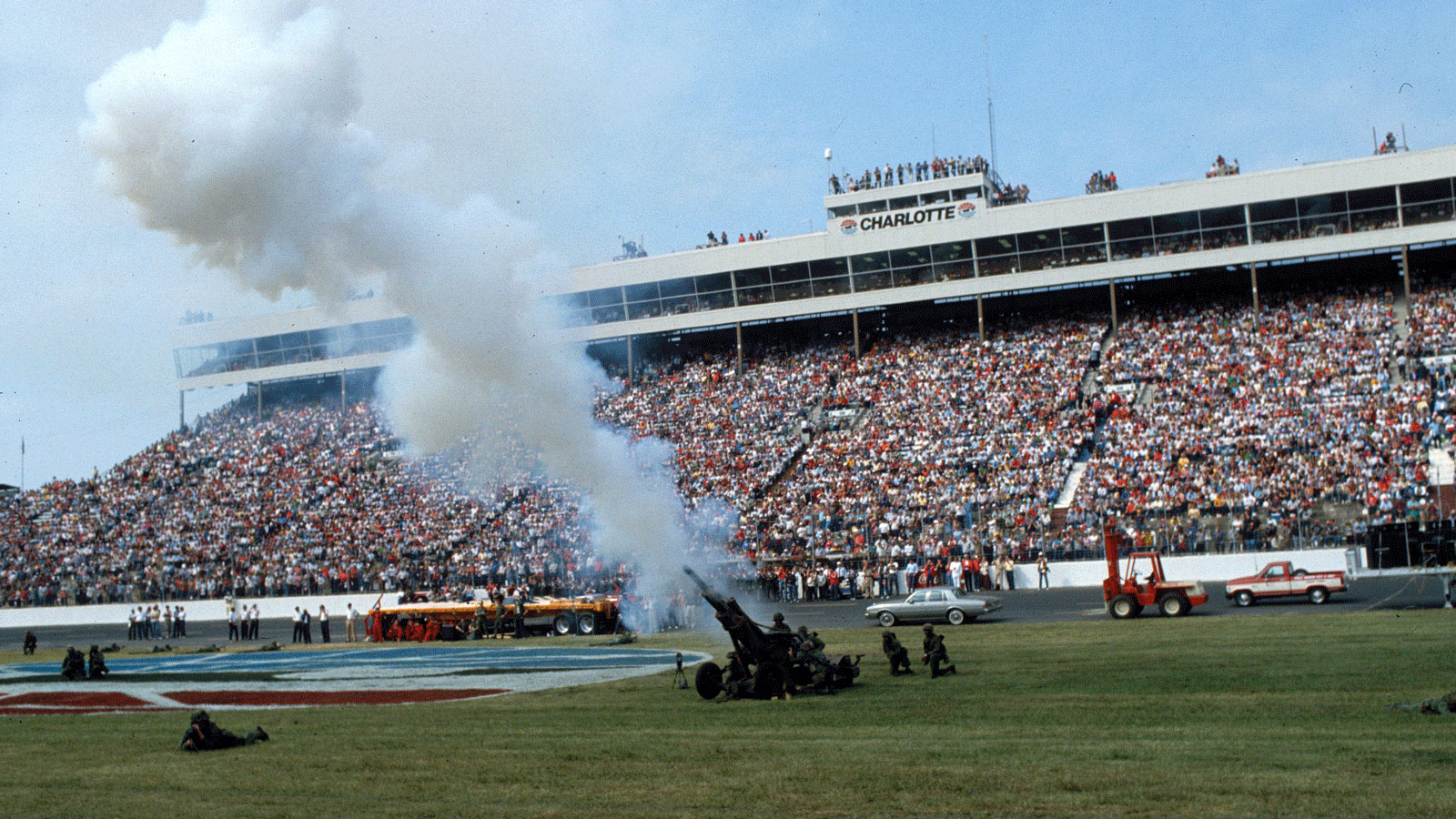 When it comes to pre-race activities, there is nobody in the business better than Charlotte Motor Speedway. For years, the track has kicked off its races with a bang — literally.
From military invasions and Civil War reenactments, to high-wire tightrope acts, to rock concerts and men shot out of cannons, there are few things Charlotte Motor Speedway has not done when it comes to their pre-race acts.
How did it all get started? Who has been the driving force?
There's no doubt the pre-race pomp was the brainchild of track owner Bruton Smith and former track president H.A. "Humpy" Wheeler.
"(Bruton) and I used to talk about going to the old Charlotte Speedway, we'd get there and nothing would happen," Wheeler said. "Guys would be standing around cars, it'd be hot, for two hours. We thought, 'Man, what if someone would do something?'"
As the two pondered the possibilities, they decided to bring in the Kilgore College cheerleaders from Texas to get the crowd riled up before the race. Expecting around 10 cheerleaders, a squad of nearly 40 people showed up at Charlotte Motor Speedway.
"I think everyone in the school came, because we had to pay their way," Wheeler said. "It cost us more than we paid for first place."
Despite the unexpected cost, Wheeler said the move was entirely worth it since "something was going on" before the race got underway.
Once the Charlotte began to have more elaborate pre-race shows, other tracks tried to mimic their act, but that didn't last long as "they were trying to outspend" what was going on in Charlotte.
One of the best in the business, Wheeler commended Marcus Smith for continuing the tradition of elaborate pre-race shows. Just don't expect Marcus to be sticking his head in a lion's mouth any time soon.
Laughing about that particular stunt, Wheeler admitted he nearly got divorced after that trick since his wife did not know it was about to happen.
"I had no idea I'd be in the paper," he laughed.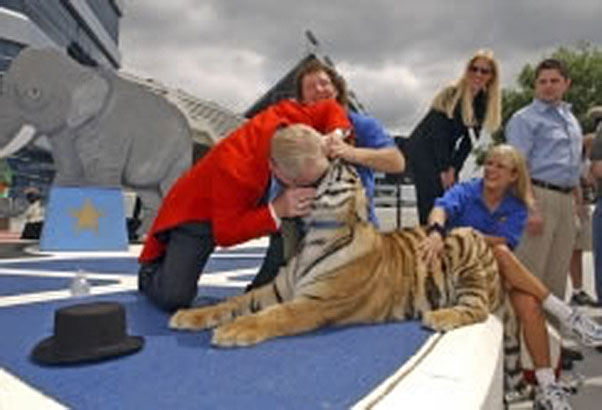 For Wheeler, the pre-race show that stands out the most is the first year Charlotte Motor Speedway hosted a military invasion on the frontstretch grass.
"I didn't know what to expect," he said. "When those (helicopters) came over the track, it shocked everybody. Then the Howitzers fired off and the windows started rattling. I told Marcus (who was in charge of suites at the time), 'I hope these windows stay up here.' That was a scary deal."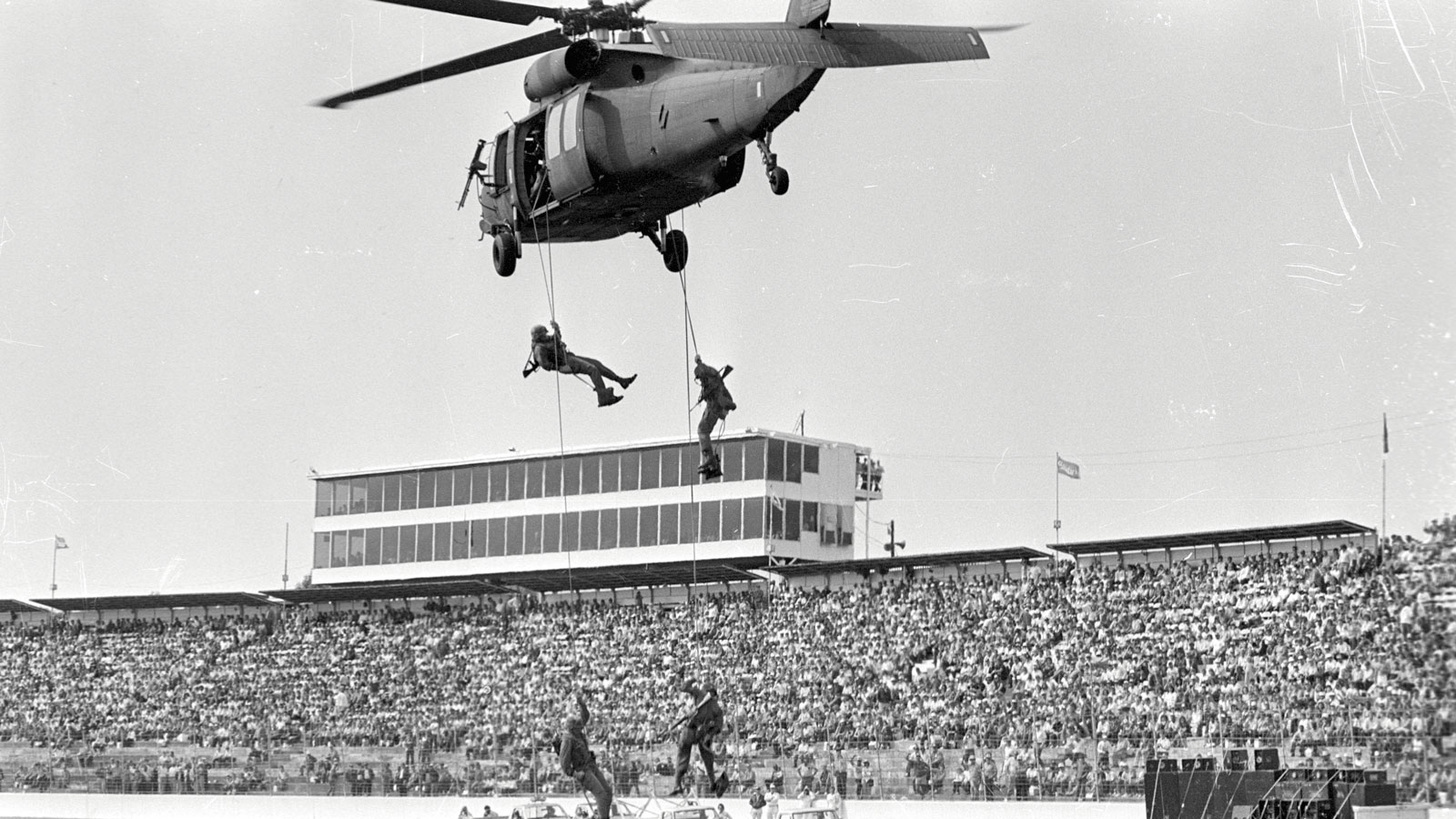 As Marcus assumed the role of president of Charlotte Motor Speedway, he vowed to continue the track and family tradition.
"My dad love pre-race shows," Smith said of his father Bruton. "He'd come in, we'd have dinner around the table, he'd either have blueprints of the next thing he was building of he'd tell us about the pre-race plans. The bigger, the better."
That rings true this weekend at Charlotte Motor Speedway.
Tight-rope walker Nic Wallenda and his sister Lijana will attempt a duel skywalk across the track, while the Goo Goo Dolls and Paper Tongues will be playing before the race. In addition, there will be an illuminated 11-plane flyover performed by Team Aerodynamix.
Let's take a look back at some of the more memorable pre-race moments at Charlotte Motor Speedway.