Pocono A Place Where Jeff Gordon Has Hit It Big And Hit It Hard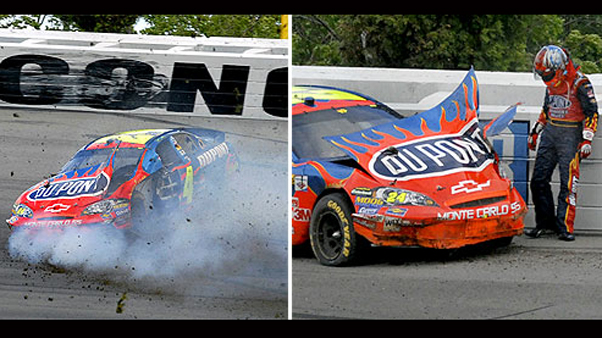 Four-time NASCAR Sprint Cup champion Jeff Gordon has enjoyed considerable success at Pocono Raceway, where he is the all-time leader in race victories with six, including two in the most recent four races at the track known as "€œThe Tricky Triangle."€
But Pocono hasn'€™t always been kind to Gordon.
In the 2006 Pocono 500, Gordon was in Turn 1 -€" where entry speeds top 200 miles per hour -€" when a brake rotor exploded on his Hendrick Motorsports Chevrolet, sending him hard into the wall in a frightening, violent crash.
As talented as Gordon unquestionably is -€" his 87 race victories rank him third all-time in the Sprint Cup Series -" in recent years, he has been involved in some of the most bizarre crashes in NASCAR.
At Las Vegas in 2008, Gordon and Matt Kenseth made contact on the backstretch in the closing laps of the race, sending Gordon's car into an opening on the inside wall of the track, where there was no SAFER barrier. The impact was so violent that it tore the radiator completely out of the car.
Little more than one year later, Gordon destroyed another car in an unlikely place, the Watkins Glen International road course. Sam Hornish Jr. and Kasey Kahne were racing for position, when Kahne forced Hornish off the road on Lap 61. Hornish went into a tire barrier, pinballed back across the track and his car struck Gordon's, turning the 24 head on into another inside wall that at the time had no SAFER barrier.
And it was just two weeks ago in the Coca-Cola 600 at Charlotte Motor Speedway that Mark Martin got into Aric Almirola past the start-finish line. Almirola's car shot up the track and into Gordon, who made hard contact into a section of the outside frontstretch wall that had no SAFER barrier.
The good news is that Gordon walked away from all of those crashes. But not without feeling the impacts.
"I'€™ve got to tell you, that was one of the hardest hits I'€™ve had in a race car,"€ Gordon said of his most recent crash at Charlotte. "€œAnd the type of impact it was, I got hit from the left so it shifted everything to the left, and then I hit the wall on the right so I went from left to right."
"€œI had a rough week. I didn'€™t quite understand the pain that I was feeling that night until I went back and watched the video and realized the angle that I hit as well as the fact that there was no SAFER barrier. …That blew my mind that there wasn'€™t one."€