NASCAR World Remembers Atlanta Motor Speedway's Marcy Scott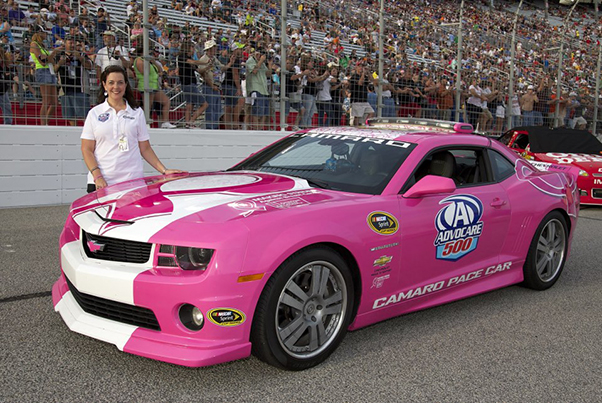 The NASCAR world is mourning the loss of Marcy Scott.
The Director of Marketing & Promotion for Atlanta Motor Speedway has passed away following a battle with cancer. AMS President Ed Clark released the following statement:
MARCY L. SCOTT
1971 – 2013
It is my sad duty to inform you that our dear friend and colleague Marcy Scott has lost her courageous battle with cancer. Marcy died this morning at her parent's home in Lilburn, GA.
Marcy's contributions to Atlanta Motor Speedway as our Promotion and Marketing Director were numerous. For over eight years, she guided the promotional and advertising efforts for the speedway and its events. In addition, before joining the speedway in April of 2005, she worked for a number of teams and sponsors in the sport with the list of drivers including Matt Kenseth, Jeff Green and Ricky Craven.
We will all miss her charisma, her penchant for detail and her way of making any task fun and enjoyable. To people throughout the NASCAR and the Atlanta media communities, she was a great friend and a consummate professional.
Please keep Marcy's parents Buck and Charlotte and her brother Stewart in your thoughts and prayers during this time. We will provide further information when arrangement details are available.
Many in the NASCAR world are offering their condolences.
Sad to hear Marcy Scott lost her battle with cancer this morning. She was always the nicest lady. Always had a smile. Thoughts and prayers

— Kasey Kahne (@kaseykahne) November 1, 2013
So sad to hear about Marcy Scott.

— Jeff Burton (@JeffBurton) November 1, 2013
Our thoughts and prayers go out to the family and friends of Marcy Scott and @amsupdates. She will be missed.

— Hendrick Motorsports (@TeamHendrick) November 1, 2013
Sorry to hear about Marcy Scott. Prayers are with her and her family. She was always fun to work with & talk to.

— Austin Dillon (@austindillon3) November 1, 2013
Our thoughts are with the friends and family of Marcy Scott. We will miss you, Marcy #cancersucks

— M. Waltrip Racing (@MWRteam) November 1, 2013
Very sad to hear about Marcy Scott losing her battle with cancer. was such a great part of our sport

— Joey Logano (@joeylogano) November 1, 2013
Sad to hear Marcy Scott lost her long and hard-fought battle with cancer this morning. RIP Prayers to her family. #fcancer

— DeLana Harvick (@DeLanaHarvick) November 1, 2013