NASCAR & Golf Go Together Like Chinese Food & Chocolate Pudding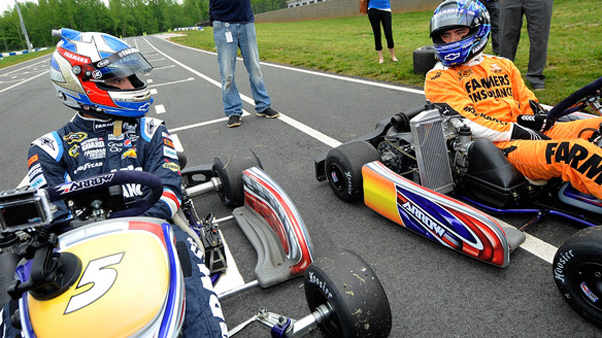 Or is it peanut butter and ladies? Either way, just like Cal Naughton Jr. in Talladega Nights, we know a good pair when we see one. With the PGA tour rolling through Charlotte this week, stars from the two "driving"€ sports were able to spend some quality time together.
Kasey Kahne and Rickie Fowler (both sponsored by Farmers Insurance) met at the Mooresville (NC) Motorplex go-kart track to try each other's craft. First, the two squared off in a chipping contest. Then, they saddled up on go-karts. Check out the video HERE.
Then, Carl Edwards let Lee Westwood get behind the wheel of the UPS #99, before gripping and ripping on a dragstrip.
Video: NASCAR Race Hub: Racer and The Golf Pro – 2013
We cannot confirm if Westwood will now be the first PGA golfer to implement celebratory backflips.