Live Blog: Sights and Sounds From Pocono
Editor's Note: Scroll down for updates.
11:00a ET — Good morning and welcome to Pocono Raceway! Are you ready to watch NASCAR's superstars take on the "Tricky Triangle?"
11:15a ET — As we enter the summer stretch, it's crucial to stay on top of your FOXSports.com Fantasy Picks. Here's a look at recent statistics to help you out.
Who's Hot?
• Jimmie Johnson – Average finish of 9.0 is the best all‐time among the 218 drivers with more than one start at Pocono. Johnson has finished top-15 in 21 of 22 career starts.
• Jeff Gordon – Finished in the top-10 in 10 of the last 13 races with three wins, six top fives. Six time Pocono winner, most all-time.
• Tony Stewart – Top-five finishes in seven of the last 12 races at Pocono. He has 20 top-10s at Pocono, including two wins, in 28 starts.
• Kurt Busch – Eight top-three finishes in 23 Pocono races including 2 wins. Busch did not compete in this race last year due to a suspension.
• Carl Edwards – Finished in the top-12 eight of the last 10 Pocono races, six top 10s.
Who's Not?
• Kyle Busch – Finishes of 30th or worse in both 2012 races: DNF engine in June and DNF accident in August; finished 22nd or worse in 50% of his starts at Pocono.
• Greg Biffle – Only two top-10 finishes in the last 13 races at Pocono.
• Jamie McMurray – Only one top-10 in last eight starts at Pocono, 10th last June.
Statistics provided by Racing Recall.
11:30a ET — Don't forget to check out NASCAR RaceDay airing right now on SPEED. Darrell Waltrip, Jeff Hammond and the entire crew gets you up to speed prior to today's race.
11:50a ET — NASCAR salutes Sgt. John Shoemaker.
.@55markmartin talks with @rutledgewood before @poconoraceway driver's meeting @aaronssports#nascar twitter.com/MWRteam/status…

— M. Waltrip Racing (@MWRteam) June 9, 2013
12:20p ET — Wendy Venturini caught up with Kurt Busch's crew chief, Todd Berrier, to talk about adjusting to changing track temperatures and how important track position is throughout the race.
Today's honorary pace car driver – Sgt John Shoemaker , 2013 noncommissioned officer of the year #NASCARSalutes twitter.com/NASCAR/status/…

— NASCAR (@NASCAR) June 9, 2013
12:45p ET — Drivers staying loose during driver intros. And of course, Clint Bowyer is up to his usual shenanigans.
12:55p ET — With qualifying being rained out on Friday, points leader Jimmie Johnson will start P1 according to the rulebook. Can he score his third victory at Pocono?
Drivers talking strategy, and other things, before driver introductions @poconoraceway. vine.co/v/bLQq7dAigLn

— Sunoco Racing (@SunocoRacing) June 9, 2013
Click HERE for a complete look at the starting grid for today's Party in the Poconos 400.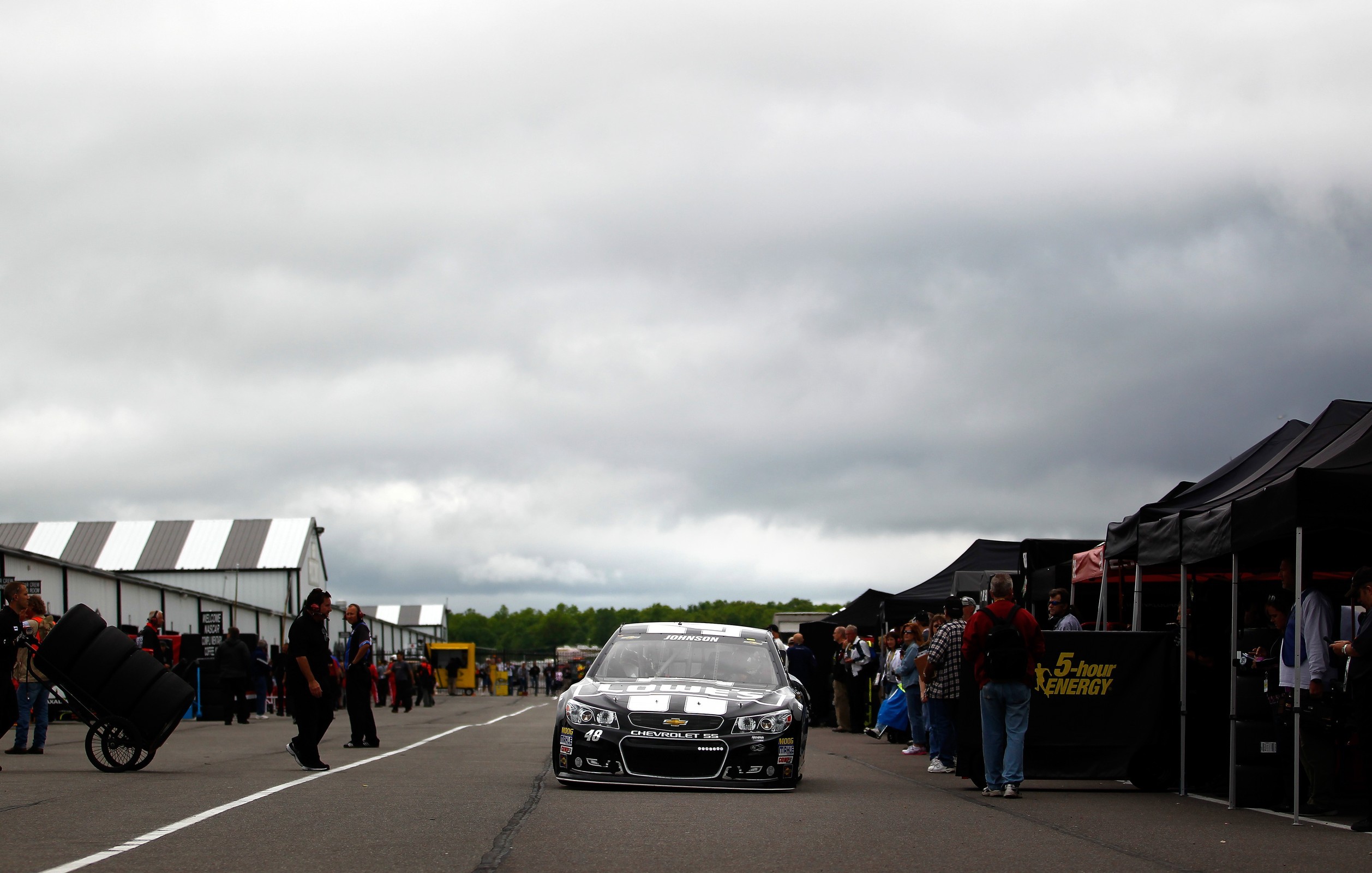 1:00p ET — Pit road is buzzing! Here are some of our favorite tweets/photos:
1:05p ET — Beautiful National Anthem performed by Staff Sgt Naomi Scott of Dover Air Force Base. We are just moments away from firing the engines and dropping the green flag for 400 miles of action at Pocono.
Signing autographs on pit road @kurtbusch and the @fr78racing team supporting #TroopsToTheTrack and #NASCARsalutes twitter.com/SupportAFF/sta…

— Armed Forces FNDN (@SupportAFF) June 9, 2013
Aweee @jimmiejohnson's daughter is dancing circles around mom! Love these family moments pre-race. ♥ -JR twitter.com/MissSprintCup/…

— Miss Sprint Cup (@MissSprintCup) June 9, 2013
Looks like @gbiffle has been replaced! There's a new @3mracing driver in town 🙂 -JR twitter.com/MissSprintCup/…

— Miss Sprint Cup (@MissSprintCup) June 9, 2013
1:20p ET — Green flag! Carl Edwards jumps to the lead early on. Johnson falls back to fourth.
1:25p ET — Kasey Kahne takes his No. 5 machine to the garage after reporting a heavy vibration. Likely a drivetrain issue.
1:30p ET — Johnson moves past Edwards for the lead on lap 10. Certainly two drivers to keep an eye on today.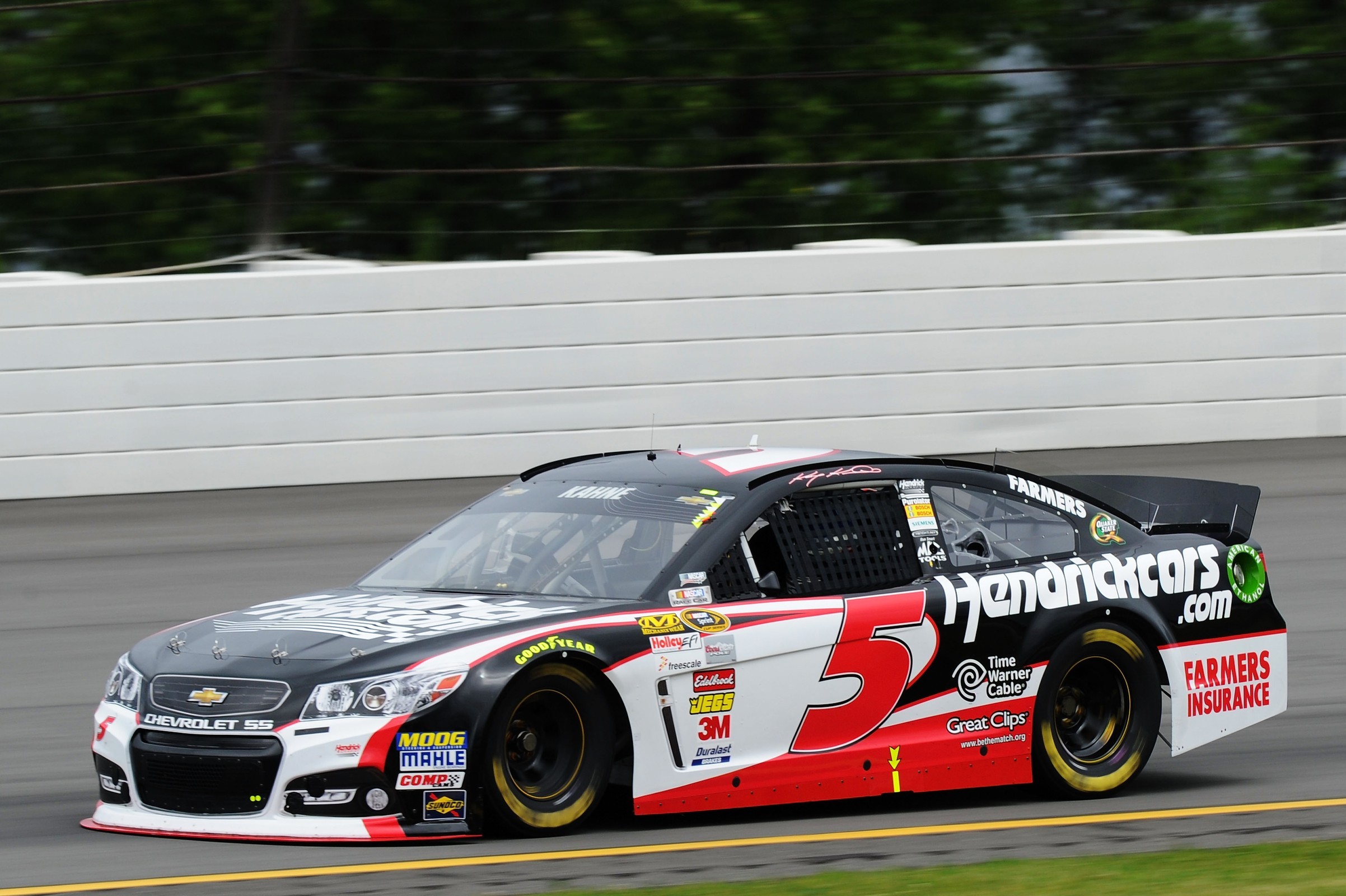 1:45p ET — First round of green flag stops underway as we work lap 26. Kahne has also returned from the garage, but is 21 laps down.
1:55p ET — Running order on lap 40 of 160: Johnson, Edwards, Earnhardt Jr., Harvick, Kenseth, Kyle Busch, Keselowski, Kurt Busch, Stewart, Biffle.
Sweet stop 18 boys! 4 and fuel! #NASCAR twitter.com/SamanthaBusch/…

— Samantha Busch (@SamanthaBusch) June 9, 2013
2:12p ET — Another round of green flag stops underway here at Pocono.
2:22p ET — First caution of the day flies for debris in Turn 1. Watch for some teams to take only two tires on this stop.
No change to the top 5 after green flag stops – Johnson holds a 2.6 second lead over Edwards then it's Dale Jr., Harvick, Kenseth. #NASCAR

— FOX SPORTS: NASCAR (@NASCARONFOX) June 9, 2013
2:30p ET — Johnson blows past Ryan Newman on the restart. Newman was the only driver who did not pit under caution.
2:39p ET — Halfway — Johnson has completely dominated the first half of this race. Newman continues to run P2. Earnhardt Jr., Kenseth, Harvick, Keselowski, Edwards, Kyle Busch, Kurt Busch and Hamlin complete the top-10.
2:57p ET — A bit of drama during green flag stops. Kevin Harvick, who was running in the top five, has been hit with a speeding penalty. Will have to serve a pass-thru penalty.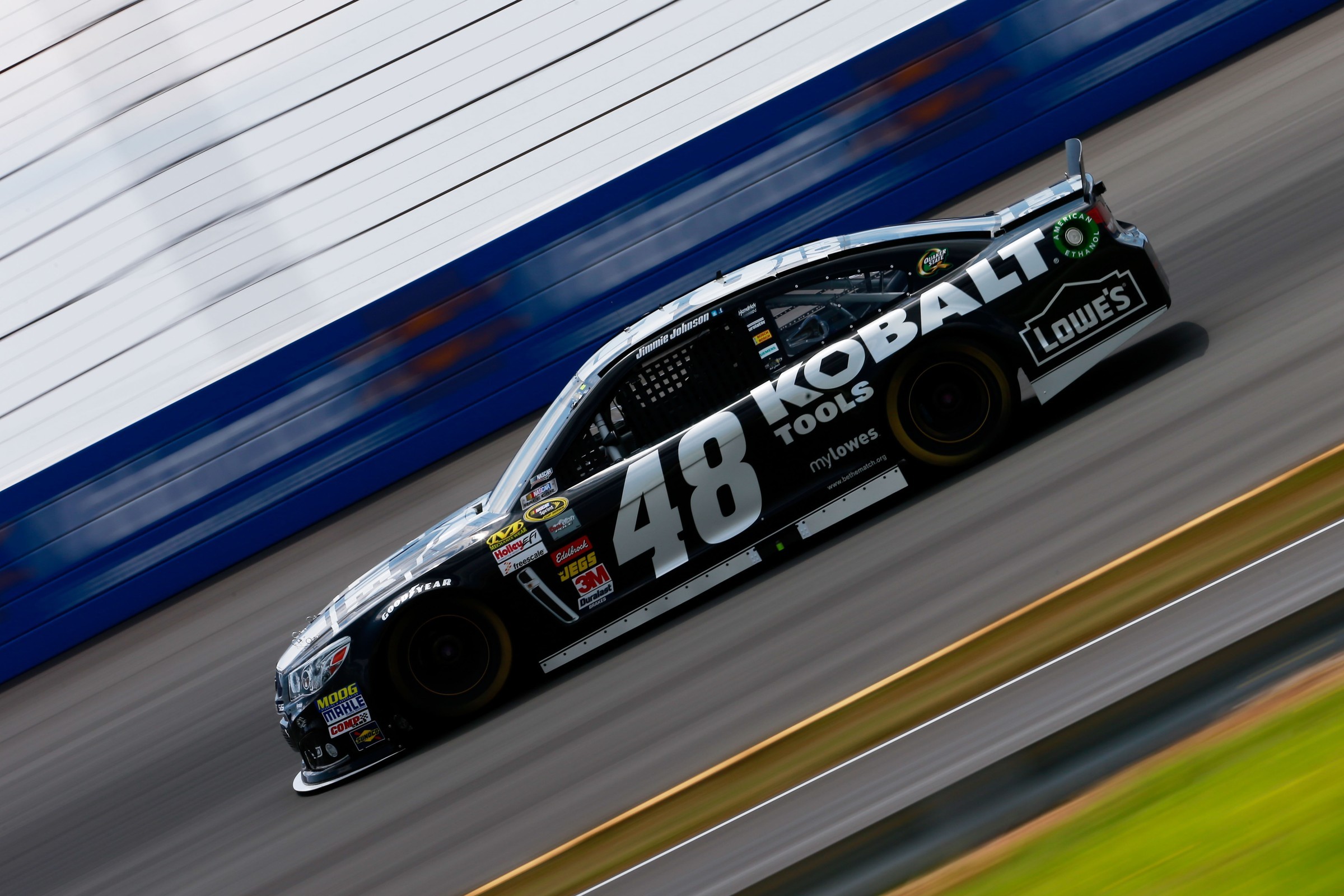 3:02p ET — Newman leads after green flag stops, but is on a different pit cycle than the rest of the leaders. Johnson runs second, Keselowski third followed by Earnhardt Jr. and Kenseth.
Pit Stop. #NASCAR vine.co/v/bL2hTBjl7L3

— RCR 29 Cup Team (@RCR29KHarvick) June 9, 2013
3:08p ET — Move Johnson back to P1 with 47 to go. Quick update on Harvick – he's running in 25th after his pit road speeding penalty.
3:19p ET — Caution #2 flies for for fliud on the track at Pocono on lap 126. Newman stays out as the rest of the field hits pit road.
3:30p ET — Another caution just after the restart. Juan Pablo Montoya gets loose and makes contact with Kenseth, both drivers spin. Light damage on Kenseth's Toyota.
3:33p ET — While we were racing here at Pocono, the NASCAR Nationwide Series race at Iowa Speedway wrapped up. Here are the highlights:
Changing tires and fixing a cracked nose on the Husky Tools car. #NASCAR

— Boris for JGR (@JoeGibbsRacing) June 9, 2013
3:50p ET — Caution! Trouble for AJ Allmendinger. He believes something broke in the suspension.
3:55p ET — Restart coming with nine to go. Johnson leads followed by Earnhardt Jr., Kyle Busch, Newman, Hamlin, Biffle, Kurt Busch, Stewart, Logano and Burton.
4:00p ET — Field manages to get three laps in before another caution flag comes out. Contact between Ricky Stenhouse Jr. and Dave Blaney sends the No. 7 of Blaney into the wall.
4:06p ET — Johnson to the lead on the restart. Biffle manages to get by Earnhardt Jr. for second.
4:09p ET — Jimmie Johnson wins the Party in the Poconos 400 at Pocono Raceway! Dominating performance from the Hendrick driver. Biffle, Earnhardt Jr., Stewart and Newman round out top five.
4:30p ET — This whole celebrating thing never gets old for the No. 48 crew.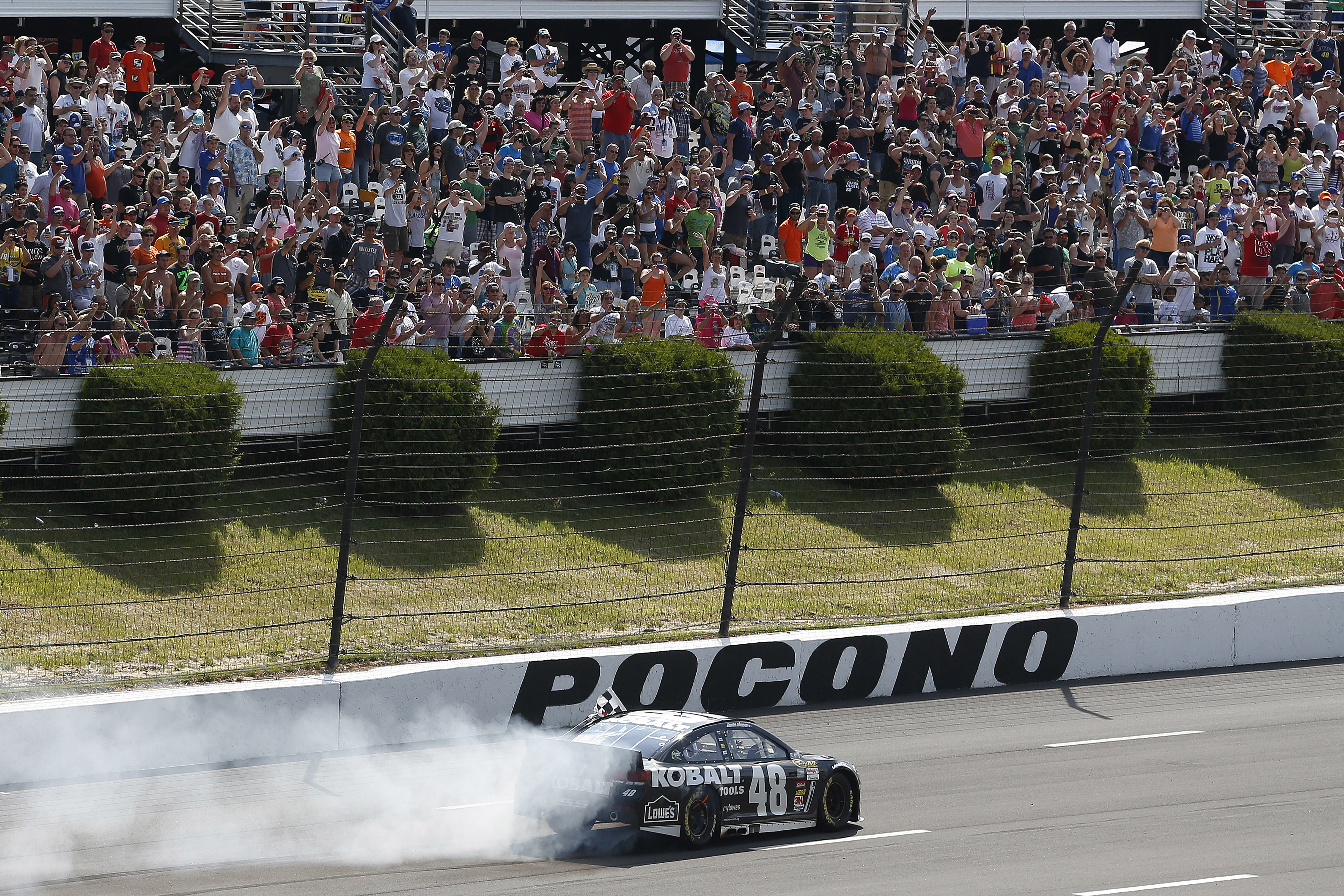 We wore 'em out #lowes48

— Jimmie Johnson (@JimmieJohnson) June 9, 2013
Champagne showers! #VictoryLane #NASCAR vine.co/v/bL2L3lZO6tW

— Hendrick Motorsports (@TeamHendrick) June 9, 2013
Catch @jimmiejohnson on @nascaronspeed's Victory Lane coverage! #NASCAR twitter.com/TeamHendrick/s…

— Hendrick Motorsports (@TeamHendrick) June 9, 2013