Live Blog: Sights and Sounds From Michigan Speedway
Editor's Note: Scroll down for updates
10:30a ET — Good morning and welcome to Michigan International Speedway!
10:45a ET — Today, we race on in honor of Jason Leffler, who lost his life Wednesday in a sprint car crash. Leffler was respected not only for the way he raced on track, but also how he handled himself off the track. Leffler was a great teammate, an even better friend and a doting father to his 5-year old son, Charlie Dean.
Here's a look at some of the tributes you'll see on track today, including Denny Hamlin's No. 11 Toyota which is running the same paint scheme that was used when Leffler drove the car in 2005.
Better look at Hamlin car that features 2005 FedEx paint scheme Leffler drove. #nascar #LEFturn pic.twitter.com/jc3RkmHVMe

— Bob Pockrass (@bobpockrass) June 16, 2013
.@JimmieJohnson will also be running a #LEFturn decal on his helmet visor today. #lowes48 #NASCAR pic.twitter.com/vVTsxrukk6

— Team Lowe's Racing (@LowesRacing) June 16, 2013
Today, we are honoring Jason Leffler with this #LEFTurn decal on the No. 5 #ChevySS @MISpeedway. pic.twitter.com/0INwZVhwkz

— Megan Whiteside (@Hendrick5Team) June 16, 2013
11:00a ET — Don't forget to update your FOXSports.com Fantasy Picks before today's Quicken Loans 400. Here's a quick look at who's hot and who's not.
Who's Hot
• Jeff Gordon – top six finishes in five of the last eight races at Michigan.
• Matt Kenseth – top 10 finishes in four of the last five Michigan races; has two wins at Michigan.
Who's Not
• Jimmie Johnson – five finishes of 27th or worse at Michigan. Only four top fives in 22 starts. One of five tracks that he has not won on.
• Kurt Busch – finishes of 30th or worse in six of the last nine races at Michigan.
• Jeff Burton – only one top 10 finish in the last 20 Michigan races, eighth June 2010.
• Martin Truex Jr. – only two top 10s in the last 10 races at Michigan.
• Jamie McMurray – no top 10s in the last eight races at Michigan.
Statistics provided by Racing Recall
11:25a ET — Here's a better look at Denny Hamlin's tribute paint scheme.
11:50a ET — We would like to wish all the fathers out there a very Happy Father's Day.
12:10p ET — Carl Edwards will lead the field to green in today's Quicken Loans 400 after capturing pole position with a lap just over 202 mph.
Check out the starting lineup HERE.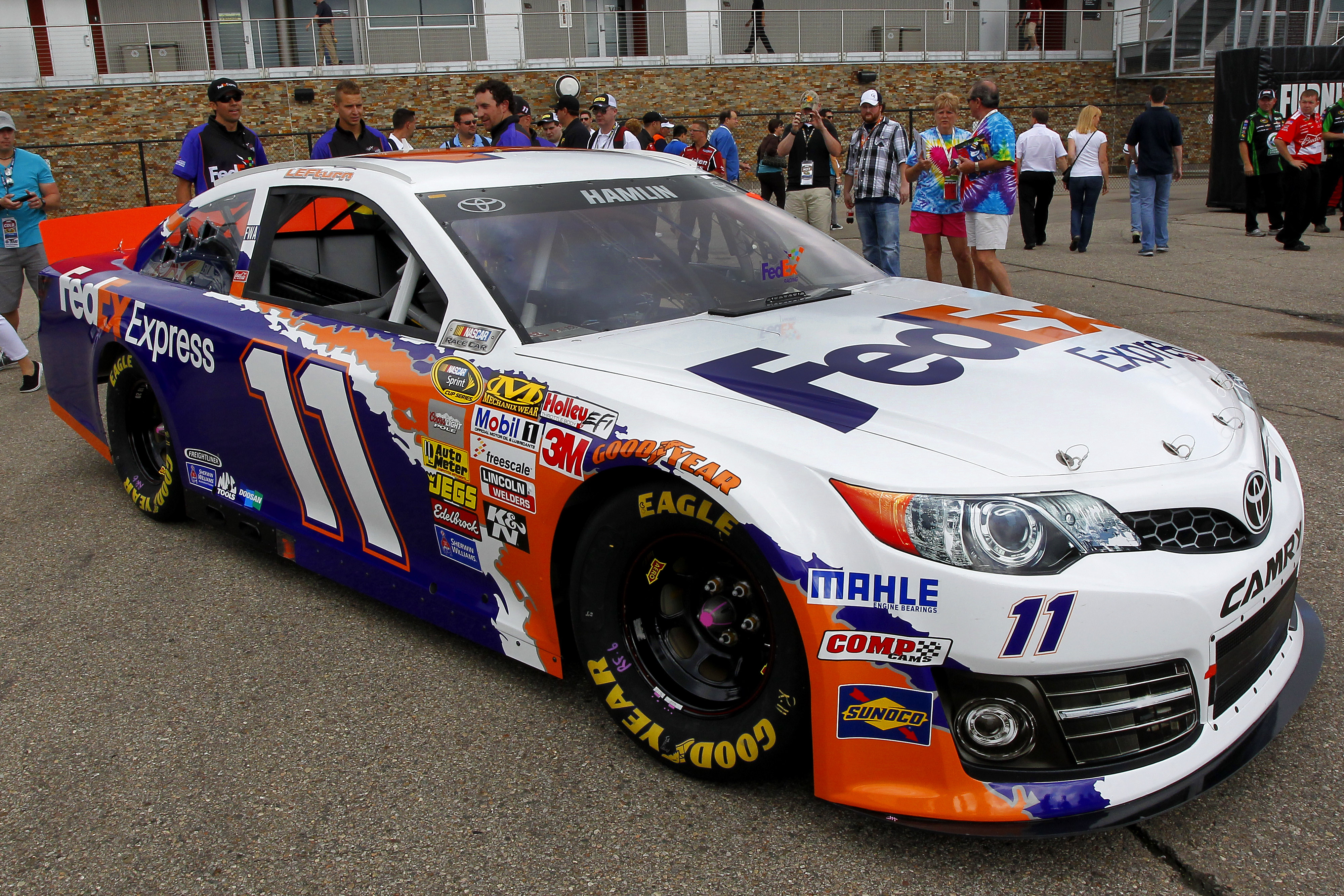 12:30p ET — Do you remember when Mark Martin spun off of turn 4 and slammed the exposed pit road wall last August?
Happy Father's Day to my Dad & all you dads & step-dads like me. Houston is the best gift I could ever have pic.twitter.com/hoeGUoZ4kj

— Kurt Busch (@KurtBusch) June 16, 2013
Happy fathers day to all the fathers out there and we're thinking of little charley

— Greg Biffle (@gbiffle) June 16, 2013
Thanks everyone and I want to wish a great day to all of the other dads. #HappyFathersDay

— Jimmie Johnson (@JimmieJohnson) June 16, 2013
Happy Father's Day…..planet earth. I love you pops!

— Danica Patrick (@DanicaPatrick) June 16, 2013
It looks like the folks at Michigan International Speedway have fixed the wall to make it safer.
12:50p ET — Pre-race ceremonies are underway. Can these kids get any cuter?
1:00p ET — Green is flag is less than 20 minutes away. Who is your pick to win today's Quicken Loans 400?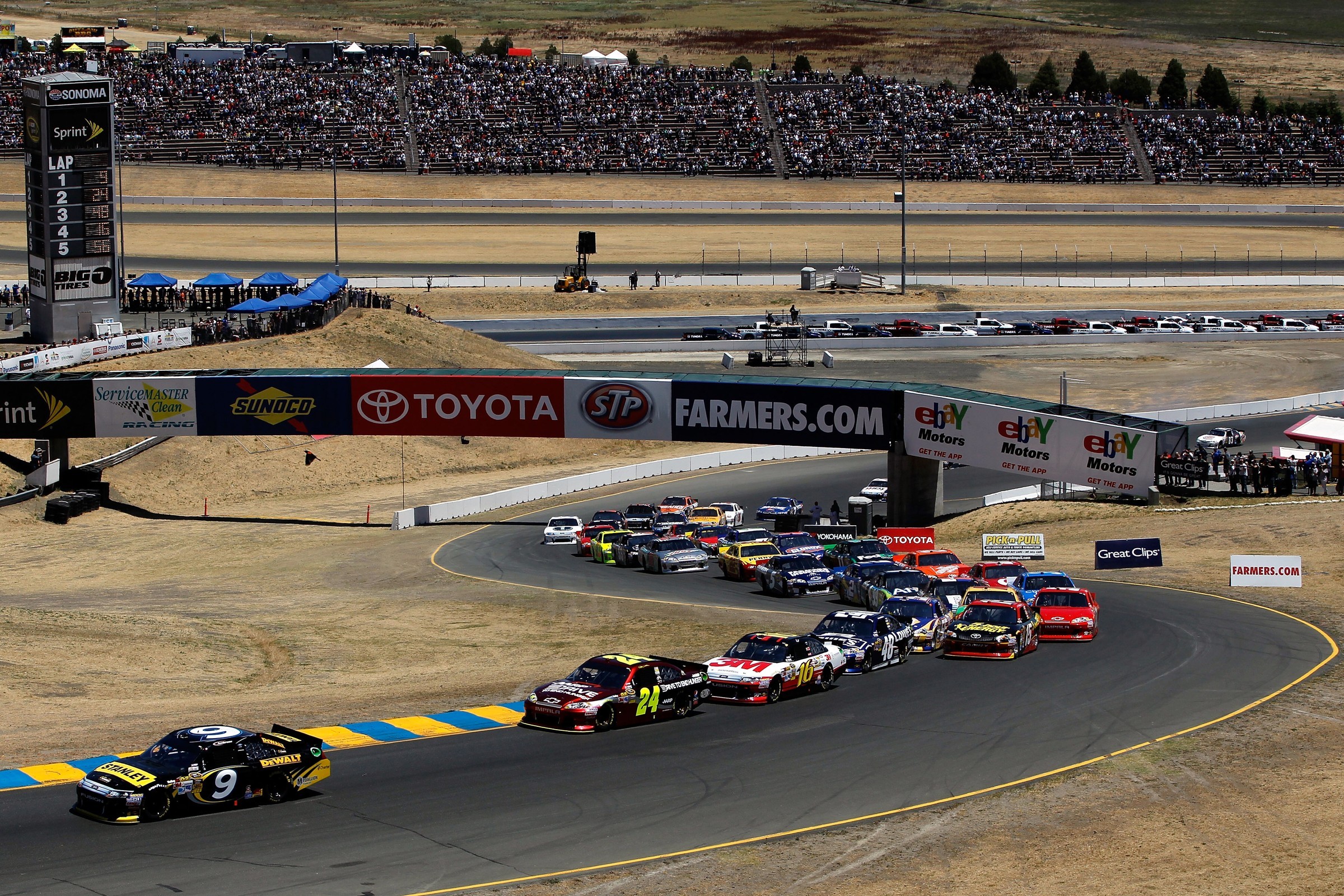 1:10p ET — Engines are fired and cars are rolling off pit road. Today's race is scheduled for 200 laps (400 miles). For today's race updates, click over to FOXSports.com's RaceTrax!
Good on MIS for fixing this pit road danger. https://t.co/fQx0o5gHJg

— Geoffrey Miller (@GeoffreyMiller) June 16, 2013
Join us here on the blog after the race for more sights and sounds from Michigan.
Driver intros @MISpeedway. @JimmieJohnson & Evie walk across the stage before their parade lap. #nascar #lowes48 pic.twitter.com/8ohRhEVxBz

— Team Lowe's Racing (@LowesRacing) June 16, 2013
Don't worry about @KevinHarvick today guys. @KeelanHarvick filled his tires today. pic.twitter.com/ZFVXxa8HOr

— HBP Racing (@hbpRacing) June 16, 2013
4:15p ET — Greg Biffle wins the Quicken Loans 400 at Michigan International Speedway! It's Biffle's fourth career win at the 2-mile track and 1000th national series win for Ford.
PHOTO: Behold the monumental majesty of this @MISpeedway flyover #NASCAR #wow pic.twitter.com/h1V9dZMRpu

— NASCAR (@NASCAR) June 16, 2013
#1000 wins pic.twitter.com/uFQU1wegbi

— Ford Racing (@FordRacing) June 16, 2013
Want to know another landmark achievement?! @gbiffle gave @FordRacing their 1000 win today! #RackinItUp -BW pic.twitter.com/gWEuI4z1Nf

— Miss Sprint Cup (@MissSprintCup) June 16, 2013