Live Blog: Sights and Sounds From Dover
Editor's Note: Scroll down for updates.
10:30a ET — Good morning from Dover International Speedway! Say hi to Miles the Monster, but beware, he does bite.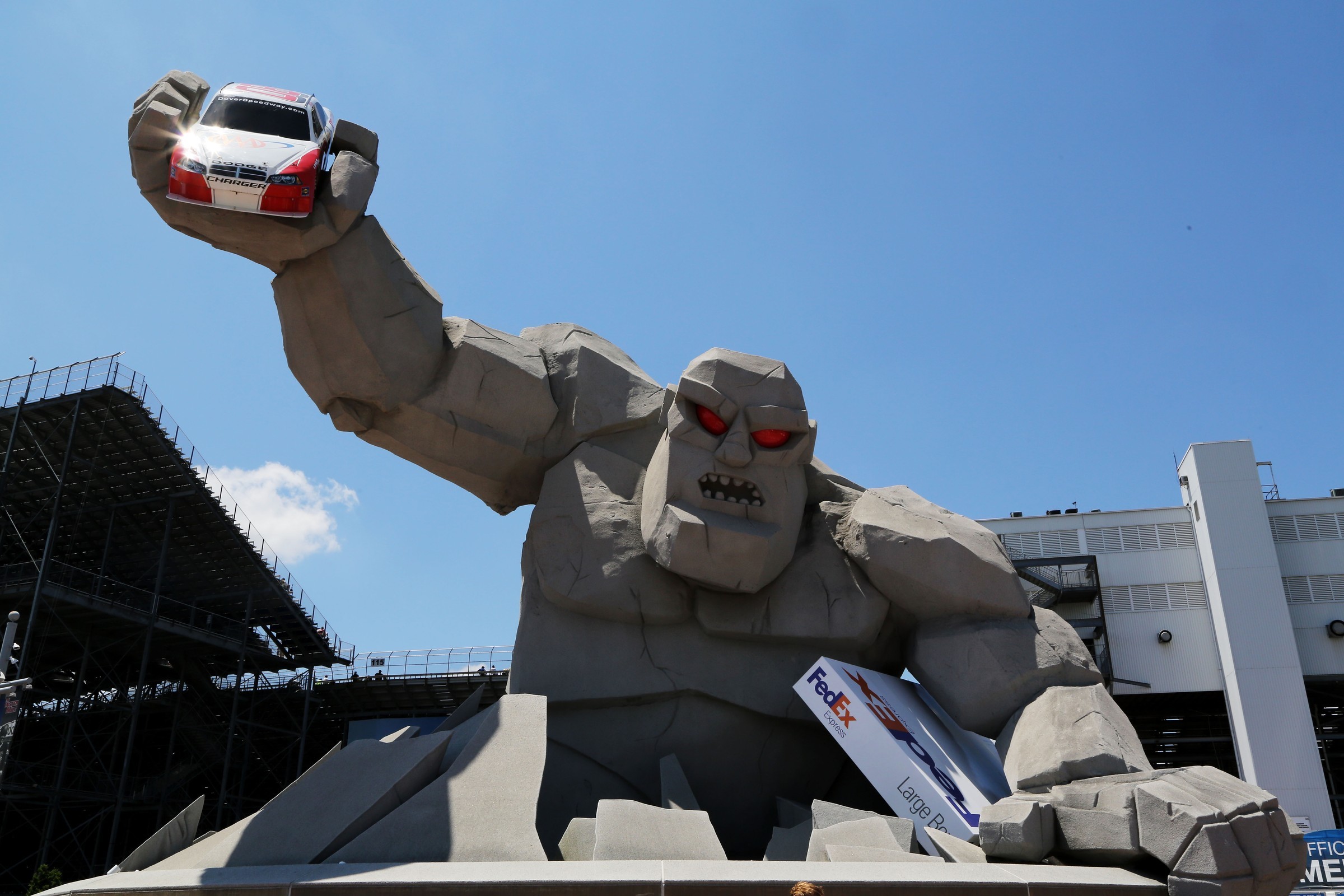 10:40a ET — Drivers are scheduled to run 400 demanding laps today at the 1-mile concrete oval, but before hopping into their race cars, they are saying hi fans and promoting awareness.
What did the kids from @cmnhospitals say to make @marcosambrose smile on camera? Well, "pickle socks" ofcourse. twitter.com/RPMotorsports/…

— RPMotorsports (@RPMotorsports) June 2, 2013
#DaleJr on stage at Pepsi Hospitality @monstermile twitter.com/MikeHoag88/sta…

— Mike Hoag (@MikeHoag88) June 2, 2013
11:00a ET — How is Fantasy Racing treating you this season? Hopefully your sitting P1. Regardless, we're here to help with Dover insight.
Who's Hot?
• Jimmie Johnson – Seven total wins at Dover, four in the last eight races. Only finished outside the top 10 once in the last 10 races; led 2318 laps at Dover, second all-­time to Bobby Allison's 2803.
• Carl Edwards – Top 10 finishes including a win in 11 of the last 13 races at Dover; his average finish of 8.29 is the best of active drivers and 2nd to only David Pearson at 8.0.
• Matt Kenseth – Top 10 finishes in eight of the last 10 Dover races including five podium finishes and one win in 2011.
• Kyle Busch – Top 10 finishes including a win five of the last six races at Dover; led 302 laps last fall but had to pit on lap 390 for fuel and finished seventh.
• Marcos Ambrose – Top 10 finishes in three of the last four races at Dover.
Who's Not?
• Tony Stewart – Best finish in the last five Dover races is 20th last Fall. Has not finished on the lead lap in the last five Dover races.
• Kasey Kahne-­‐ Dover average finish of 21.39 is his second worst on a oval track behind Talladega at 21.47.
• Jamie McMurray – Last top 10 at Dover was 10 races ago in 2008.
• Juan Pablo Montoya – Average finish of 26th at Dover in the last six races. Only two 10 finishes in 12 Dover starts.
• Dale Earnhardt Jr. – Finished fourth in this race last year, his only top 10 at Dover since joining HMS (10 races).
Statistics provided by Racing Recall
11:25p ET — Denny Hamlin's comeback tour continues today at Dover. He currently sits 24th in the Sprint Cup standings, 50 points out of the top 20 and without a win. Hamlin enters today's race as your pole-sitter, but his track record at Dover is nothing to brag about:
• Average finish – 19.6; No wins and only two top five finishes in 14 career starts.
Video: CUP: Hamlin Scores 2nd Straight Pole – Dover 2013
To see where your favorite driver starts in today's FedEx 400 benefiting Autism Speaks, click here.
12:00p ET — That's a nice trophy you got there, Miss Sprint Cup. Who will add Miles to their trophy case?
Who's taking this bad boy home tonight?! Almost time to go racing @monstermile!! -KC twitter.com/MissSprintCup/…

— Miss Sprint Cup (@MissSprintCup) June 2, 2013
12:30p ET — Welcome to FOX's Live coverage of the FedEx 400 at Dover International Speedway. As you may know, today is the final broadcast of the 2013 season for the NASCAR on FOX crew.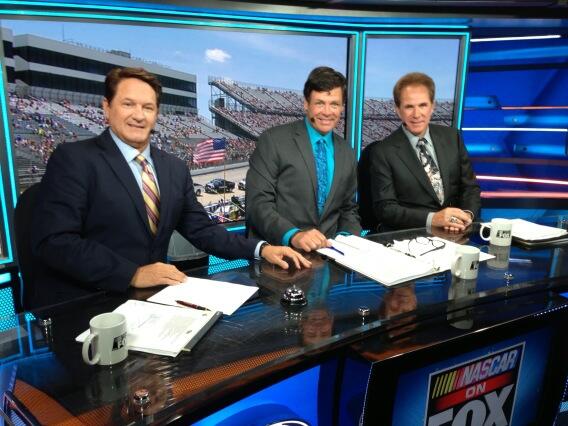 12:45p ET — The young lads always seem to steal the show during pre-race festivities, and rightfully so. We're diggin' the overalls, Keelan!
"Mom, I'm telling you these headlights aren't real." #nascar twitter.com/RCR29KHarvick/…

— RCR 29 Cup Team (@RCR29KHarvick) June 2, 2013
.@jeffgordonweb squeezing in some family time with the kids on pit road! #FamilyMan -KC twitter.com/MissSprintCup/…

— Miss Sprint Cup (@MissSprintCup) June 2, 2013
1:08p ET — Engines are fired! Today's race is scheduled for 400 laps (400 miles). Be sure to follow Live timing & scoring via FOXSports.com's RaceTrax.
1:18p ET — Boogity, Boogity, Boogity! Let's go racin' boys and girls!
Green, green, green! @monstermile #Paradenumber1 #TeamTarget vine.co/v/b3hA7xT5rmK

— Team EGR (@EGRTeams) June 2, 2013
1:30p ET — It's an all Toyota show up front as they hold the top five positions early in the race. Kyle Busch leads over his Joe Gibbs Racing teammates Denny Hamlin and Matt Kenseth.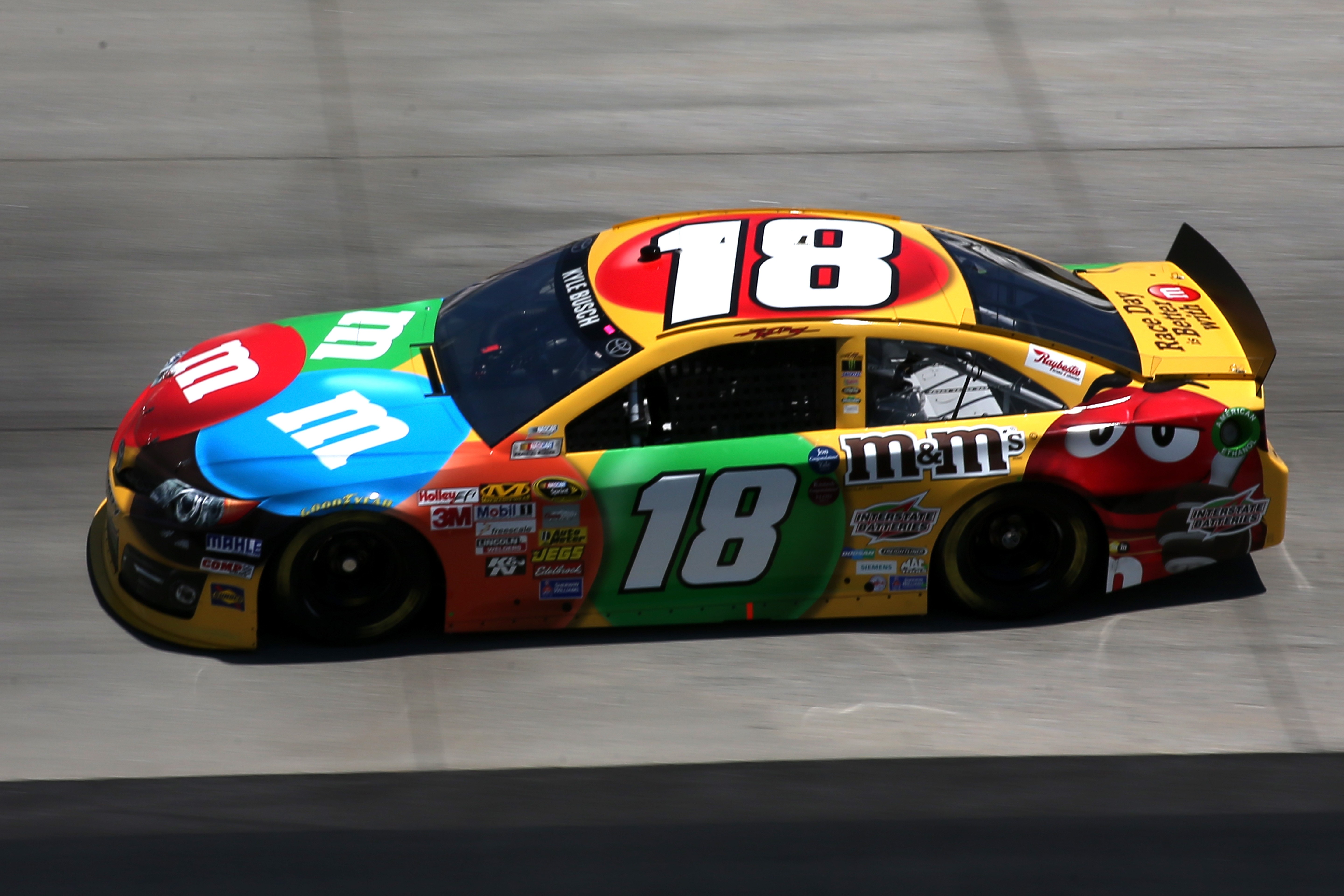 1:40p ET — 55 laps completes here at Dover. Expect green flag pit stops around the 75-80 lap range if we go caution-free.
1:53p ET — First round of green flag stops complete. Jimmie Johnson is the big winner as he got his lap back by pitting three laps earlier than race leader Kyle Busch.
Quick recap after green flag stops: Busch retakes the lead, Hamlin now 7th after missing pit road, JJ back on the lead lap in 18th #NASCAR

— FOX SPORTS: NASCAR (@NASCARONFOX) June 2, 2013
1:56p ET — Caution for debris in Turn 2! Leaders stay out.
1:59p ET — Restart coming up on lap 84. Current top 10 will is Kyle Busch, Kenseth, Truex Jr., Kahne, Harvick, Martin, McMurray, Logano, Keselowski and Hamlin.
2:17p ET — Caution for debris in Turn 3. Kenseth beats Kyle Busch off pit road and will lead the field back to green.
2:22p ET — This is what it's all about. We can never say thank you enough to the men and women that fight for our freedom.
2:35p ET — Matt Kenseth has blown up while leading.
Video: CUP: Kenseth Loses Engine While Leading – Dover 2013
2:55p ET — New leader: Jimmie Johnson; Joe Gibbs Racing dominated the first half of the race, but JJ was having none of it and moved past Kyle Busch on lap 206.
3:15p ET — Danica Patrick won't be writing home about today's race anytime soon. She currently sits in 32nd, five laps down. Roush Fenway Racing is also having a terrible day as all three drivers are at least one lap down (Edwards- 17th, Stenhouse Jr. – 18th, Biffle – 24th).
3:28p ET — Down goes another TRD engine. Victim #2 – Martin Truex Jr. who was running third at the time.
This tweet from Truex Jr.'s girlfriend pretty much sums it up..
Well that's a heartbreaker. 🙁

— Sherry Pollex (@SherryPollex) June 2, 2013
3:32p ET — Restart coming up with 117 to go; Johnson leads over Kyle Busch, Harvick, Kahne, Hamlin, Kurt Busch, Montoya, Martin, McMurray and Keselowski.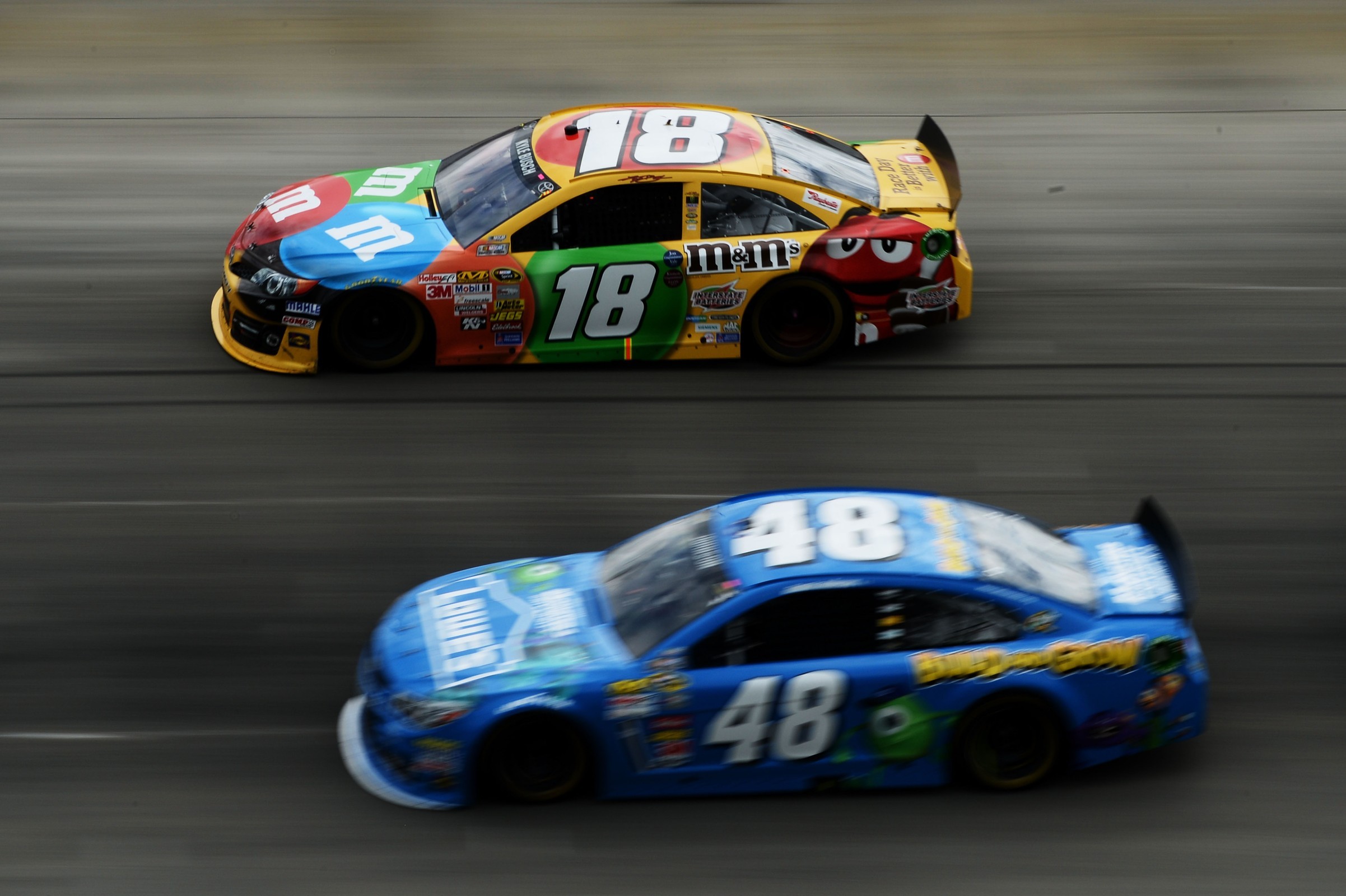 3:45p ET — Boys havin' at it! Ryan Newman got impatient with David Gilliland and dumped him, and wrecked himself in the process. Gilliland quickly jumped out of his car to express his displeasure towards Newman.
Video: CUP: Newman Wrecks Gilliland – Dover 2013
3:53p ET — Caution flag is back out at Dover. Kasey Kahne spun on his own and backed it into the fence; suffers light damage.
3:57p ET — Restart coming up with 79 to go: Kurt Busch and Gordon stayed out and will lead the field back to green. Then it's Hamlin, Johnson, Edwards, Montoya, Kyle Busch, Harvick, McMurray and Bowyer.
4:00p ET — Heartbreak for Jamie McMurray as a broken radiator forces him to the garage. He was running in the top 10 all race long.
Quick pit stops were the storyline for the No. 1 team prior to the part failure.
Jamie making a pit stop! #ParadeNumber1 vine.co/v/b3MuaVnaWQg

— Parade Magazine (@ParadeMagazine) June 2, 2013
4:20p ET — Denny Hamlin blows a right front tire and slams the outside wall in Turn 2. Caution is out.
Hamlin in the garage for suspension damage due to blown RF tire. #NASCAR twitter.com/JoeGibbsRacing…

— Boris for JGR (@JoeGibbsRacing) June 2, 2013
4:24p ET — Race off pit road: Montoya, Johnson, Bowyer, Stewart, Keselowski, KyBusch, Gordon, Harvick. Top five took two tires.
4:27p ET — Jimmie Johnson PENALIZED for jumping the restart! Drops back to 17th, one lap down after serving a pass-thru penalty. Montoya to the lead.
Video: CUP: Jimmie Johnson Black-Flagged – Dover 2013
4:32p ET — Montoya vs. Stewart for the lead. 5 to go!
4:33p ET — Stewart gets by Montoya. 2 to go….
4:34p ET — Tony Stewart wins the FedEx 400 benefiting Autism Speaks! Montoya finishes second, Gordon third. Kyle Busch and Keselowski round out the top five.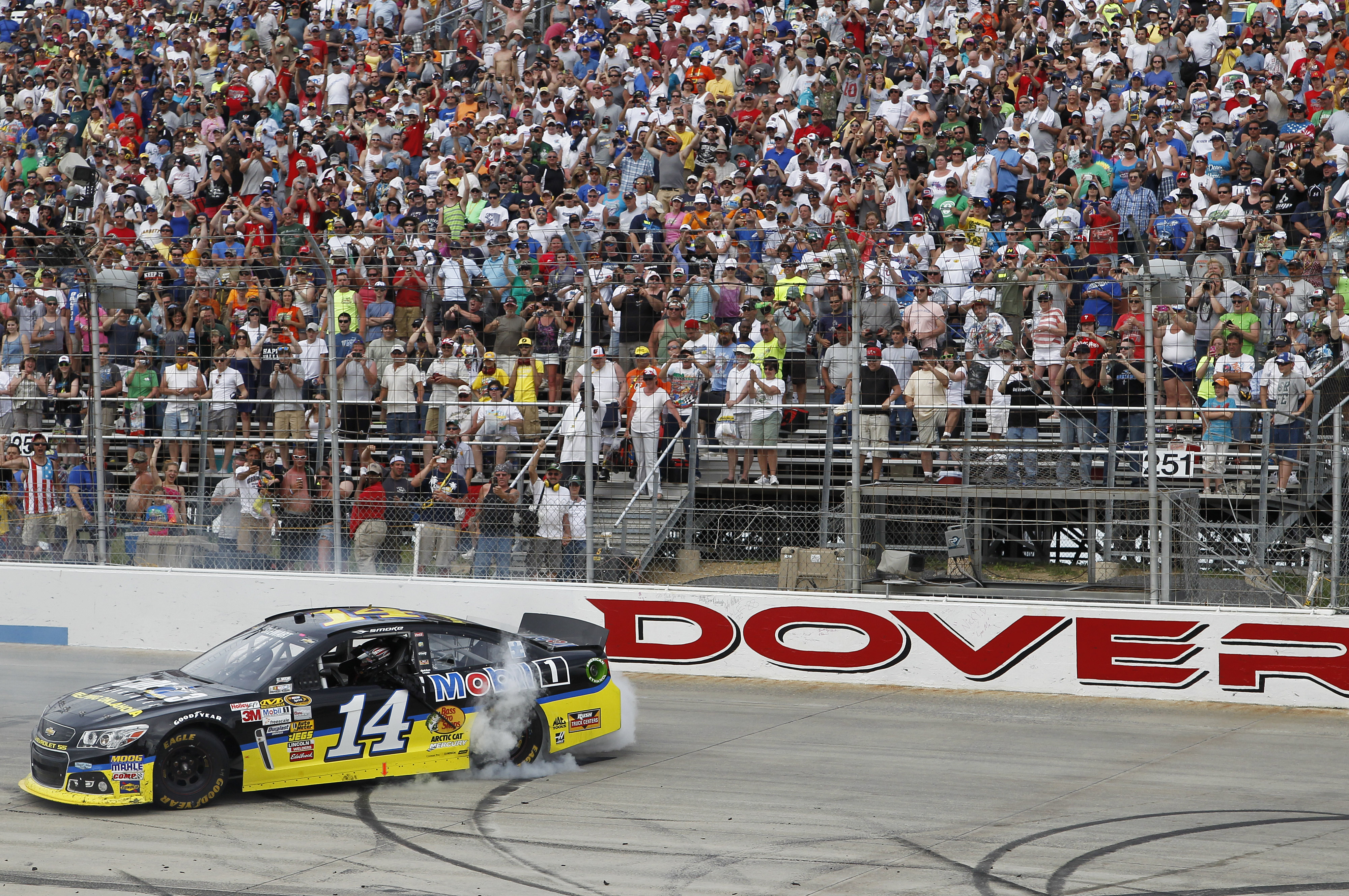 4:50p ET — Stewart snaps 30-race winless streak and picks up his first win at Dover since he swept both races in 2000.
Congratulations to @tonystewart on winning the#FedEx400 benefiting @autismspeaks! twitter.com/MonsterMile/st…

— Monster Mile (@MonsterMile) June 2, 2013
5:15p ET — That's a wrap from Dover International Speedway! Congratulations to Tony Stewart and the entire Stewart-Haas Racing.