Live Blog: Sights and Sounds From Charlotte
Editor's Note: Scroll down for updates.
5:45p ET — Welcome to FOXSports.com's Live coverage of the Coca-Cola 600. We're up and running and so are the guys in the booth.
6:00p ET — Let's take a quick look at who's hot, and who's not heading into tonight's race. Statistics provided by the folks at Racing Recall.
Who's Hot?
• Kevin Harvick – top 10 finishes in four of the last five races including winning the 2011 Coca‐Cola 600
• Denny Hamlin – top 10 finishes in the last five races at Charlotte including finishing second in both races last year
• Greg Biffle – top five finishes in three of the last five races at Charlotte including fourth place finishes in both races last year
• Kasey Kahne – top 10 finishes in the last three races including winning the 2012 Coke 600. Four Charlotte wins including three Coke 600s
• Joey Logano – finished in the top 10 in five of his eight starts at Charlotte with an average finish of 10th
Who's Not?
• Mark Martin – only two top 10 finishes in the last 12 races, finishes of 34th or worse in his last three Charlotte starts. DNF engine in 2012 race
• Ryan Newman – only three top 10s in the last 14 races at Charlotte
• Tony Stewart – only one top 10 top 10 finish in the last 10 races at Charlotte
• Jeff Gordon – Only one finish better than 18th in the last five Charlotte races, seventh in 2012 Coke 600. Three time 600 winner but none since 1998.
6:09p ET — The beautiful Robin Meade just rocked the National Anthem!
Coming up… @robinmeade and the National Anthem. #cocacola600 twitter.com/SunocoRacing/s…

— Sunoco Racing (@SunocoRacing) May 26, 2013
And a breathtaking P-51 Mustang Fighter flyover to top it off.
The fly over at @cltmotorspdwy was amazing today. God Bless America and thank you to all who serve for our Country. twitter.com/MWRgirls/statu…

— MWR Girls (@MWRgirls) May 26, 2013
6:23p ET — We are racing at Charlotte Motor Speedway! Tonight's race is scheduled for 400 laps (600 miles) with a transition from daylight to darkness. Keep an eye on how the temperature impacts each driver.
Want Live timing & scoring for tonight's Coca-Cola 600? Check out RaceTrax: on-msn.com/13PWDiT #NASCAR

— FOX SPORTS: NASCAR (@NASCARONFOX) May 26, 2013
6:45p ET — Kasey Kahne enters tonight's race battling flu-like symptoms, but it's certainly not hampering his ability to lead early in the race. Can he win back to back Coke 600s?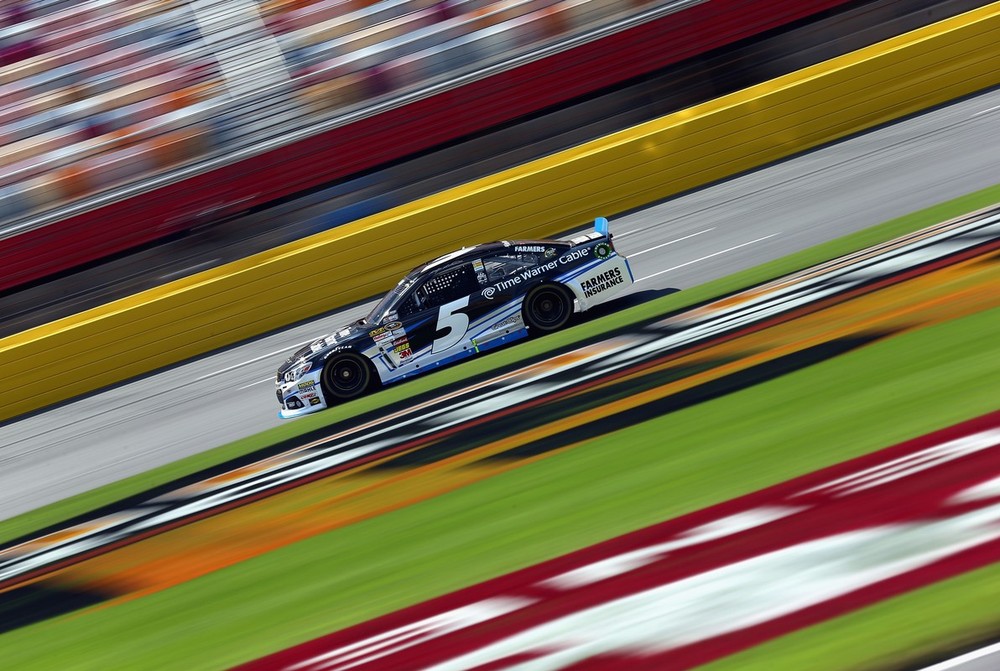 6:58p ET — First caution of the night flies for debris in turn 4. Kahne leads over Kyle Busch, Denny Hamlin, Matt Kenseth and Kurt Busch after pit stops.
7:22p ET — All three Joe Gibbs Racing drivers are currently running in the top five as we work lap 112. (KyBusch – second, Kenseth – third, Hamlin – fifth)
Kahne loses three spots on pit road. New leader is Kyle Busch, then Kenseth, Hamlin. JGR running 1-2-3.

— Jeff Gluck (@jeff_gluck) May 26, 2013
7:25p ET — Caution out after Casey Mears pancakes the right side of his No. 13 machine. Drivers hit pit road for four fresh Goodyears and a can of Sunoco Racing fuel.
7:40p ET — Red flag is out after a bizarre incident. Rope from the aerial camera has snapped and fell on the track, damaging several cars.
Video: CUP: Busch and Ambrose Hit Cables – Charlotte 2013
7:55p ET — NASCAR is allowing teams 15 minutes to make any necessary repairs. Drivers are allowed out of their cars and there is no limit to the amount of crew members that can work on each car.
8:05p ET — Clint Bowyer using the time wisely by grabbing a mid-race snack. Is that a PB&J?
A quick snack for @clintbowyer during the break twitter.com/SunocoRacing/s…

— Sunoco Racing (@SunocoRacing) May 27, 2013
8:15p ET — Repairs are complete. Drivers will return to the position they were running in prior to the red flag.
8:22p ET — Kyle Busch chooses the high line on the restart. Kahne restarts second followed by Kenseth, Hamlin and Edwards.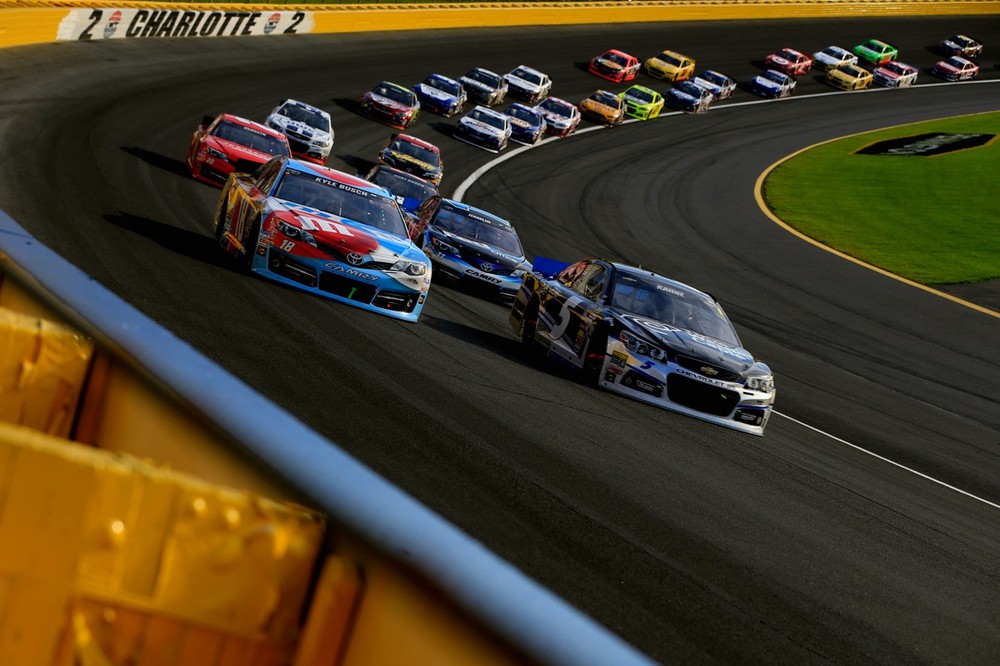 8:45p ET — Green flag stops underway as darkness falls upon the track. Teams must make adjustments to keep up with the constant change in track temperatures.
8:50p ET — Track Statement: 10 fans were injured when the aerial camera rope fell into the stands. Seven fans were treated and released at the track, three taken to hospital for further evaluation.
8:57p ET — Halfway – Top 10: Kenseth, Kyle Busch, Kahne, Kurt Busch, Hamlin, Johnson, Edwards, Gordon, McMurray, Harvick
9:20p ET — Debris on the backstretch brings out caution No. 4. Juan Pablo Montoya is the beneficiary. Kenseth maintains the lead after a round of pit stops.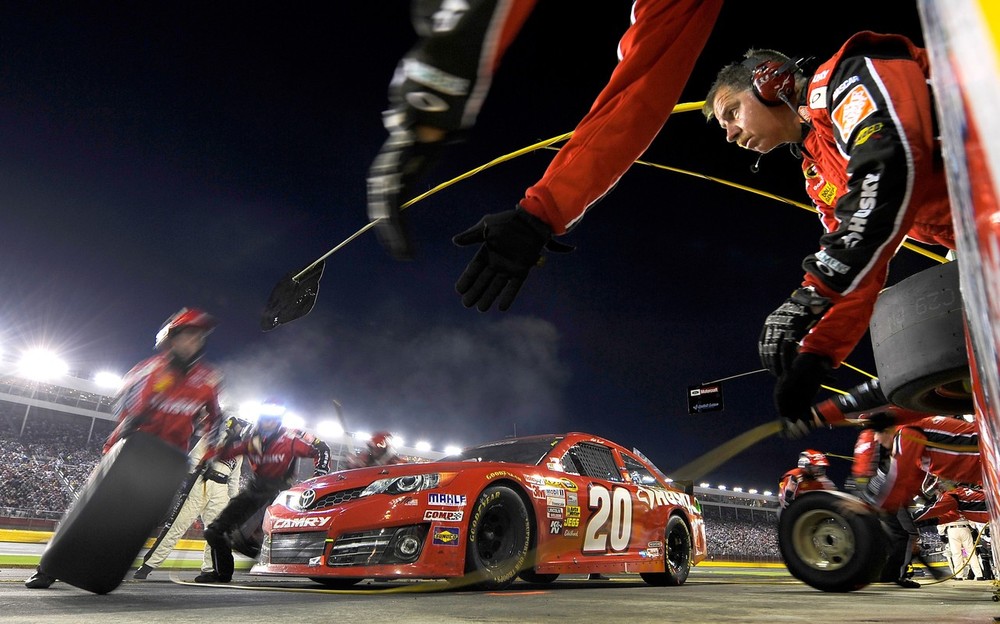 9:32p ET — Caution is back out after Dale Earnhardt Jr.'s engine blows up. Oil from the 88 caused Greg Biffle, Travis Kvapil and Dave Blaney to get into the wall.
Well….hell."That's racing, not much you can do about that, these things happen."Says #DaleJr afterwards… twitter.com/MikeHoag88/sta…

— Mike Hoag (@MikeHoag88) May 27, 2013
And things just got worse for Kyle Busch as his engine expires. Heartbreaking for the No. 18 team after they rebounded from earlier damage.
"Catastrophic engine failure. Seems to be that time of year again." — @kylebusch

— tom jensen (@tomjensen100) May 27, 2013
9:45p ET — Just when you think you've seen everything, a hula-hooping boxer appears.
What in the world is going on here? twitter.com/NASCARONFOX/st…

— FOX SPORTS: NASCAR (@NASCARONFOX) May 27, 2013
10:12p ET — Landon Cassill brings out the caution after cutting down a right front tire and slamming the SAFER barrier in turn 2.
10:25p ET — Slight contact between Ricky Stenhouse Jr. and Danica Patrick sends Patrick up the track and into Brad Keselowski. Both drivers suffer heavy damage.
Video: CUP: Danica and Keselowski Wreck – Charlotte 2013
10:35p ET — Multi-car incident on the restart has brought out the red flag. Almirola, Martin, Gordon, Stenhouse Jr. and Labonte suffer heavy damage.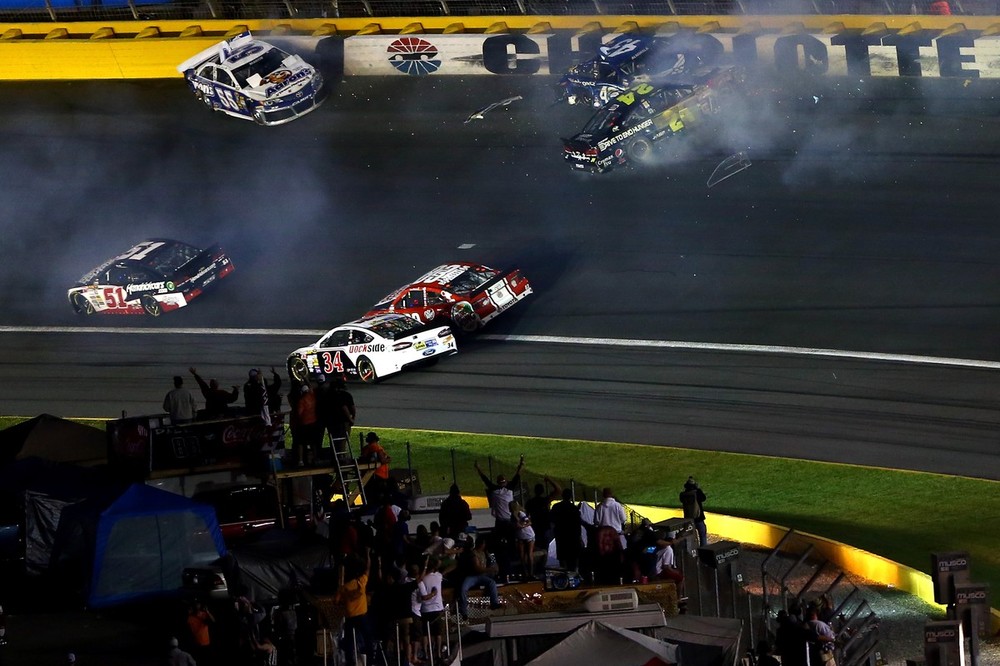 10:45p ET — Restart coming up with 69 to go. Harvick elects to take the outside on the restart. Newman runs in second followed by Kahne, Logano and Truex Jr.
10:52p ET — Another multi-car wreck brings out the yellow flag. Kenseth, Johnson, Stewart, Montoya and Menard receive damage. And yes, the full moon is out.
11:13p ET — Final round of green flag stops underway as we close in on 30 to go.
11:23p ET — Caution flag flies just as green flag stops cycle through. Kahne is the only driver not to hit pit road under this caution.
Wow!! It's boiled down to a late caution and what tires will mean. I was pullin for @kaseykahne but its anyone's race now!

— Kyle Busch (@KyleBusch) May 27, 2013
11:30p ET — Restart with 11 to go: Kahne, Harvick, Newman, Hamlin, Bowyer, Kurt Busch, Truex Jr., Logano, Ambrose, Stewart.
11:31p ET — Harvick to the lead on the restart! Busch jumps from sixth to third but can't get past Kahne.
11:35p ET — Kevin Harvick wins the Coca-Cola 600 at Charlotte Motor Speedway! Kahne holds off Kurt Busch for second. Denny Hamlin and Joey Logano round out the top five.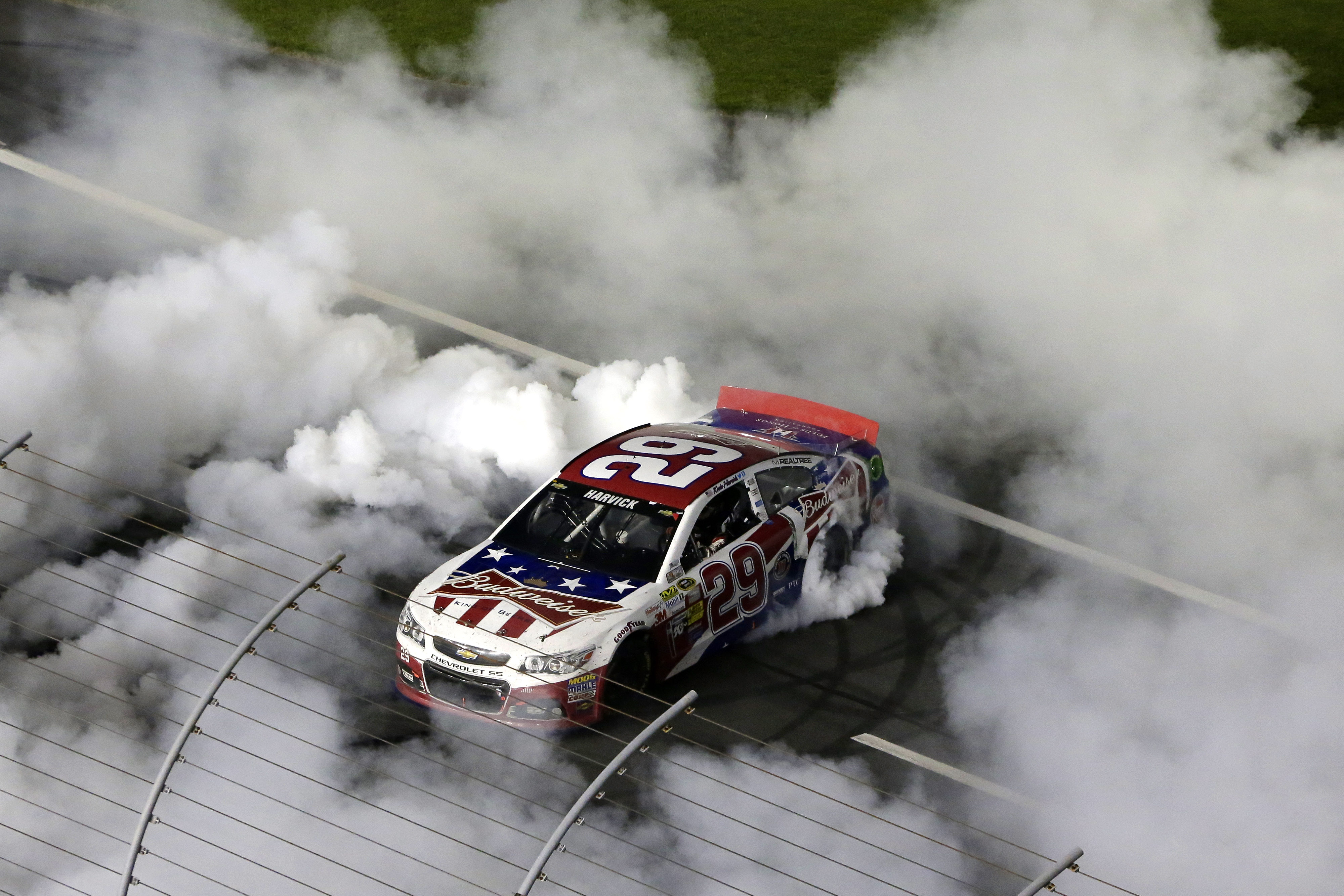 11:50p ET — "Grab Some Buds" and let the confetti fly!
Your Victory Vine for @kevinharvick #nascar vine.co/v/bVxwVmeXPhV

— Alan Cavanna (@CopaCavanna) May 27, 2013
Congratulations to the #29 team for winning tonight's Sunoco checkered flag! #nascar #cocacola600 twitter.com/SunocoRacing/s…

— Sunoco Racing (@SunocoRacing) May 27, 2013