Kansas NNS Wrap-Up: Keselowski & Busch Wreck, Brad Runs & Twitter Reacts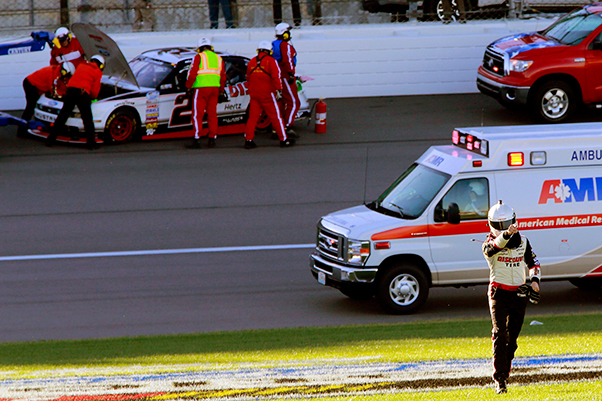 After a fairly eventful NASCAR Nationwide Series race at Kansas Speedway, it looked as if the race would come down to a battle between Kyle Busch and Brad Keselowski for the win. While Matt Kenseth was out front with 14 laps to go, it was doubtful the Joe Gibbs Racing driver would make it to the finish on fuel.
As Keselowski and Busch battled hard for the second position, the two made contact off Turn 4, sending Keselowski's No. 22 Penske Racing Ford sliding down the track and back up into the outside wall.
With prior run-ins, there was little doubt the incident between Keselowski and Busch would boil over off the track.
Video: NNS: Kyle Busch Wrecks Keselowski – Kansas 2013
Climbing from his wrecked car, Keselowski ran across the infield grass pointing at Busch's pit stall, slapping his rear end before turning to continue down pit road. NASCAR officials confronted Keselowski, instructing him to take the mandatory trip to the infield care center. In one of the strangest scenes of the season, Keselowski instead took off his helmet and ran the entire way to the care center.
Video: NNS: Brad Keselowski's Mini-Marathon – Kansas 2013
Immediately, the NASCAR Twitterspher exploded with commentary, humor and accusations.
Looking at Keselowski's running skills, Kasey Kahne suggested Brad enter his charity run next week in Charlotte.
Hey @keselowski will you please come run in my 5k next Sunday morning at 10am? Its a really good time!

— Kasey Kahne (@kaseykahne) October 5, 2013
While Kahne saw the humor in the situation, Kevin Harvick — certainly not one of Kyle Busch's biggest fans — offered his thoughts on the incident.
— Kevin Harvick (@KevinHarvick) October 5, 2013
Juan Pablo Montoya took it a bit further, calling out Busch for being a liar.
Kind of funny how good of a liar is Kyle LOL

— Juan Pablo Montoya (@jpmontoya) October 5, 2013
For Truck Series veteran Todd Bodine — who has also had his share of run-ins with Busch — the in-car camera explained everything.
In-car cam doesn't lie, never lifted never turned the wheel!

— Todd Bodine (@Team_Onion) October 5, 2013
Following the incident, Busch took blame over the radio and called the incident "tight racing."
Kyle Busch – "That's my bad, tight racing, just lost the front." (Paraphrase) #NASCAR

— Boris for JGR (@JoeGibbsRacing) October 5, 2013
Even Keselowski's brother, Brian, got in on the commentary, elluding to the pair's contentious past.
Brad vs Kyle round 25. Wonderful……

— Brian Keselowski (@KeselowskiBrian) October 5, 2013
After his lengthy run and examination in the infield care center, Keselowski warned Busch had a lot more to lose being in the Chase.
Video: Keselowski and Busch React to On-Track Altercation
"I got wrecked by a dirty driver," Keselowski said. "There is no other way of putting it. He is cool with that. I have raced him really cool over the last year to be respectful of him and try to repair our relationship. I've watched him wreck my trucks and cost him from winning races. He put me in the fence at Chicago in the truck race and (in) the Nationwide races he has been pulling this crap. It is not gonna last I can tell you that."
For Busch, however, he saw it as tight racing and he felt crowded by Keselowski multiple times. As far as things spilling over into the Sprint Cup Series, Busch said he played nice with Keselowski in 2012, and hopes the same happens this year.
"Brad Keselowski dumped me at Watkins Glen (in 2012), and I perservered and let him and Jimmie (Johnson) battle it out. I had an opportunity to wreck him out a few times in the Chase, and I was the bigger man. If he wants to take it over to the other side of the garage area, whatever. You know what, I've got more class than that."
Meanwhile, thanks mostly to the caution caused by the Keselowski-Busch incident, Matt Kenseth was able to make his fuel last and score his second Nationwide Series win of the season.