Jeff Gordon Makes The Chase, Twitter Explodes
Friday the 13th was anything but unlucky for Jeff Gordon and the No. 24 team. In an unprecedented move, NASCAR announced that Gordon would be added as the 13th driver in the 2013 Chase for the Sprint Cup. The news sent the Twitterverse into a frenzy. Obviously, Gordon was thrilled.
Almost immediately, the congrats started flowing in – including one from a racing legend.
Not everyone was happy, especially those in Martin Truex Jr.'s camp.
Many were having fun with the news.
There's really only one thing left for Gordon to do.
Here's a look at a few other tweets.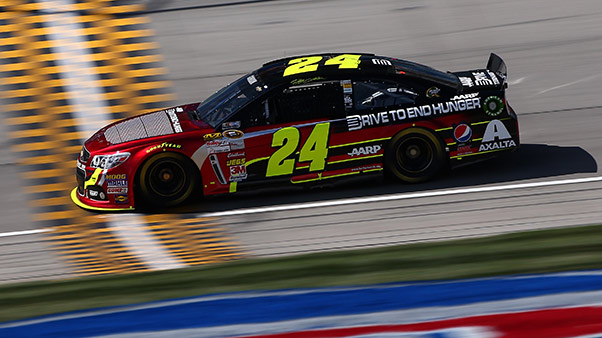 Wow we just gained 1250 points! Very appreciative of @NASCAR consideration on this matter as well as fans overwhelming support.

— Jeff Gordon (@JeffGordonWeb) September 13, 2013
Think this is the first time I could actually hear the excitement in all of your tweets not just read them. Thank you all! #Team24

— Jeff Gordon (@JeffGordonWeb) September 13, 2013
Hats off to @NASCAR for adding @JeffGordonWeb to the Chase. The right thing to do!

— Mario Andretti (@MarioAndretti) September 13, 2013
Wow, just wow. Poor MT. What a joke. 🙁

— Sherry Pollex (@SherryPollex) September 13, 2013
Jeff Gordon has also somehow been awarded the #1 pick in next year's NBA Draft lottery.

— Awful Announcing (@awfulannouncing) September 13, 2013
The only thing that would be more shocking right now is if Keelan actually went down for his afternoon nap! #comeonman #takeyournap

— DeLana Harvick (@DeLanaHarvick) September 13, 2013
BREAKING: Brian France announces Armando Galarraga now gets credit for perfect game.

— Orange Cone (@TheOrangeCone) September 13, 2013
Hey now that you're in I think you should grow that mustache back out @JeffGordonWeb

— Kyle Larson (@KyleLarsonRacin) September 13, 2013
Hey @JeffGordonWeb – by my count, you're suddenly several days behind on growing the Chase 'stache. GET CRACKING. #nascar

— nascarcasm (@nascarcasm) September 13, 2013
Happy with both of my cars & how they're driving. Totally confused about everything else that went on today…

— Kevin Harvick (@KevinHarvick) September 14, 2013
I am thinking by Dover or Kansas the #34 may get in the chase after all.

— David Ragan (@DavidRagan) September 13, 2013
Can I be in the @NASCAR #Chase

— Scott Dixon (@scottdixon9) September 13, 2013