Is NASCAR Ready For An Openly Gay Driver?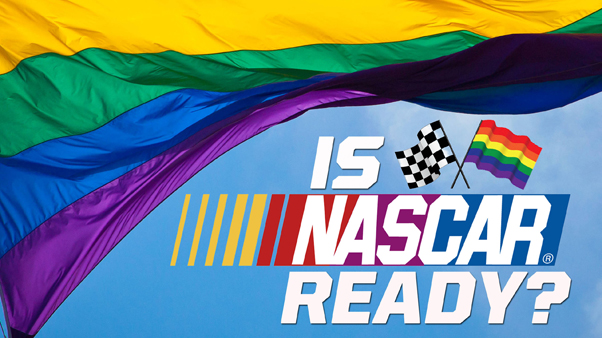 This past May, Jason Collins became the first NBA player to openly pronounce he was gay, starting a national conversation that extended way beyond the boundaries of a basketball arena.
Questions were raised. Emotions were explored. From bigotry and values to how players would react in the locker-room -all became flash points of discussion. The sanctum of sports had once again collided with the outside world.
NASCAR Race Hub explored this topic as well, interviewing driver Stephen Rhodes, chronicling what his life has been like as an openly gay driver.
"Everyone knew, everyone was aware; never really had any confrontations," Rhodes said to NASCAR Race Hub. "There was one, little incident that happened that I felt was geared towards who I was, more than anything. That kind of made me second-guess the sport for a second, but at the end of the day, it didn't really bother me."
Rhodes, a long-time late-model stock competitor, also had a stint with an underfunded NASCAR Camping World Truck Series team more than a decade ago. Like many aspiring drivers, most of his life had centered on racing. That changed in 2010, when he stepped away to open a restaurant in his hometown of Goldsboro, N.C. Through a lot of hard work and perseverance, the restaurant has flourished, allowing Stephen to once again think about his greatest passion – racing.
Now, buoyed by the Collins announcement, Rhodes seeks another opportunity. Brent Brush of A2B Strategies, who's trying to help Rhodes locate the funding to field a full-time NASCAR Camping World Truck Series opportunity for 2014, does have some questions.
"Is NASCAR ready for this? Are the fans ready for this? Is corporate America willing to participate in this?" Brush asked.
Many NASCAR drivers, like defending Sprint Cup Series champion Brad Keselowski and Roush-Fenway Racing standout Carl Edwards, believe the sport is ready. And exclusive to NASCAR Race Hub, NASCAR issued this statement of support as well.
"NASCAR is a community made up of people from every walk of life. Our employees – regardless of their race, age, national origin, gender, ethnic background, sexual orientation, faith or physical abilities – do an outstanding job of helping to bring the best racing in the world to our fans every week and that is what matters. It's a stated goal for our sport to reflect America's diversity. Exclusion or intolerance of any kind – whether behind the wheel, on pit road, or in the garage – is not part of that philosophy."
Questions still remain, however.
For his part, Rhodes has always gone into it with his eyes wide open.
"I don't think going into a sport – having to face the ones that either like me or don't like me – is anything any different than I live any day," Rhodes said to NASCAR Race Hub. "I live in the South. I know that NASCAR has a conservative, Southern fan base, and I'm not going to try and change anyone's minds and their opinions. They're either going to like me or going to hate me. That's just life in general, really.
"I would like people to know, just because we have a different preference and lifestyle, that we're no different from anyone else," Rhodes said later. "We deserve fairness. We're just everyday people."
Is NASCAR ready for an openly gay race car driver? Give us your opinion in the comments below.