Girl Power: NASCAR WAGs Race In Better Half Dash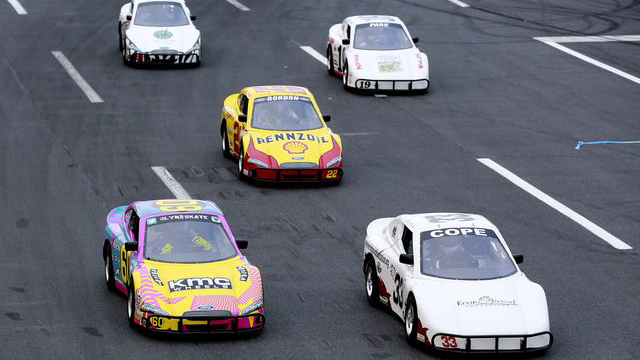 Each weekend, the wives and girlfriends of NASCAR competitors play a support role, standing by their men as they prepare to do battle on the track. Thursday night in Charlotte, the roles were reversed.
In the third annual Better Half Dash, 10 NASCAR WAGs competed in bandoleros on the quarter-mile track on the infield of Charlotte Motor Speedway to battle it out for a giant trophy and raise money for charity.
The girls played nice, right? Think again.
As in years past, the on track action was fierce. Side-by-side battles, beating fenders and multiple cautions brought the crowd — and their husbands — to their feet.
In the end, Ashley Stremme, wife of driver David Stremme, won from the pole position. Although she led nearly every lap, she had to battle hard with Heidi Stoddard, wife of crew chief Frank Stoddard.
"All of us are here because someone we love is in this sport," Stremme said. "But for us to be out here and be the ones in the cars, to do something we all love and to do it for charity…that's even better."
For Stoddard, the near win slipped away in the final laps, when she had a slow restart and allowed Stremme back into the lead and let Kristen Yeley, wife of driver J.J. Yeley, to slip by for second.
"I just screwed up the restart," Stoddard said. "That was a little frustrating and disappointing, but I didn't wreck and I didn't disappoint my husband, so it was a good night."
For Yeley, experience was on her side. Competing in her third Better Half Dash, she used her previous knowledge to come home in the second spot.
"It was a lot more fun this year, starting up front a little bit more," Yeley said. "I was stuck in third a long time, but when we had that last caution, I was like, 'Great, this is my opportunity.' I made it up to second, but I didn't quite have the laps to pass (Ashley). Maybe if I'd had two more."
Pole-sitter Lyn Z Pastrana, wife of Travis Pastrana, did not let recently giving birth slow her down. Pastrana was one of the favorites to win, but she dropped back in the field at the start and was collected in multiple incidents.
Our own Wendy Venturini was also among the favorites, but like Pastrana, was caught up in a late-race spin with Amy Gordon, wife of Penske Racing crew chief Todd Gordon. Venturini would recover to finish fourth.
Final Results: