GIF It Up: Spark Showers, Smoke Screens And Oil Slicks In Charlotte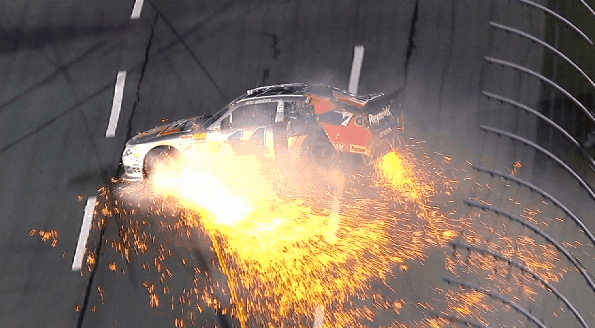 It's time to GIF it Up from Charlotte Motor Speedway!
This weekend's NASCAR Nationwide and Sprint Cup Series saw sparks showering, oil flying through the air and one jack that just couldn't let go.
So, without further ado, let's GIF it Up!
Brian Vickers had the quite the night at Charlotte Motor Speedway, here he limps away after hitting teammate Elliott Sadler, who was exiting pit road at the time.
Later in the race, however, Vickers was relegated to second place in the 'spark shower' category by Eric McClure.
What does it feel like to hit a Mario Kart style oil slick at 180 miles per hour? Ask Jimmie Johnson.
Of course, Brad K cheated in his Charlotte win — he used eight wheels on this lap after taking the jack with him out of the pits.
Apaprently that's not in the NASCAR rulebook, so the win stands.