FOX Fantasy Picks: Kobalt 400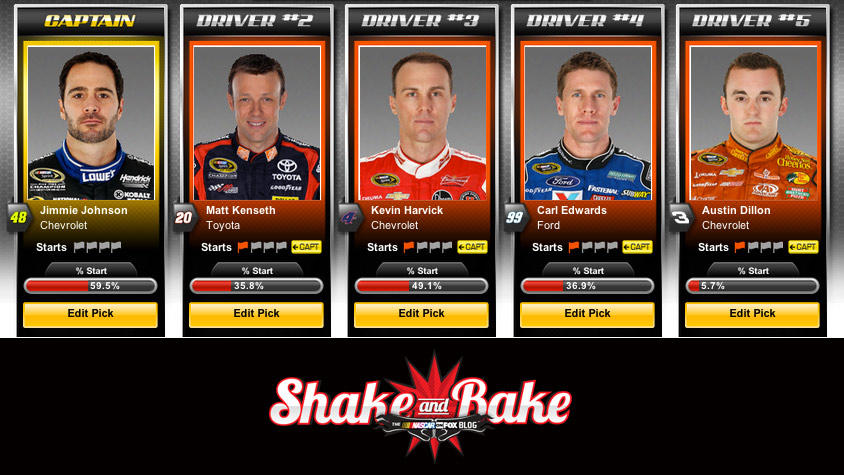 Welcome to another week of FOX Fantasy Racing! This week we're off to 'Sin City' for the Kobalt 400 at Las Vegas Motor Speedway.
Hopefully you played along last week at Phoenix International Raceway and had Kevin Harvick as your captain. The Stewart-Haas Racing driver dominated the day, scoring 120 fantasy points along the way.
It's time to put last week's results to bed, though, and focus on this Sunday's race. Play the odds, take our advice or pick your own team, either way, make sure you have your picks in by Sunday morning.
Remember, these are simply suggestions, so pick your team wisely and best of luck. If you haven't done so yet, be sure to sign up for FOX Fantasy Auto Racing, create your team and start playing today!
Captain: Jimmie Johnson
We're only two races into the 2014 season, but it seems we haven't heard a lot from Jimmie Johnson and the No. 48 crew up to this point.
Well, expect that to change this weekend in Las Vegas.
Johnson is a four-time winner at the 1.5-mile track, with five top 5s, seven top 10s and an average finish of 9.5, the best among active drivers. Not to mention, Kobalt, the same sponsor on the hood of the No. 48, sponsors this weekend's race.
With finishes of fifth and sixth to start the year, Johnson has certainly been no slouch. Consistently running at the front, this may be the weekend the No. 48 breaks through and finds victory lane.
Driver 2: Matt Kenseth
When Matt Kenseth started his stint with Joe Gibbs Racing in 2013, most knew he would be a tough competitor. Few would have guessed he would do it so early and score a victory within the first three races.
One year later, Kenseth returns to the site of his first win for JGR looking to get back to victory lane for the first time in 2014.
A three-time winner in Las Vegas, with six top 5s, seven top 10s and an average finish of 11.6, Kenseth believes all the changes during the offseason, make it difficult to compare to years past.
While there have been a host of changes, Kenseth has found success at Las Vegas in a variety of packages, and this weekend should be no different.
Driver 3: Kevin Harvick
Harvick certainly lived up to his nickname 'Happy' last week in Phoenix, and expect the good vibes to continue this weekend.
While Harvick has never won in Las Vegas, he has three top 5s and five top 10s. More important than the statistics, Harvick and his No. 4 Stewart-Haas Racing team have confidence and momentum on their side.
Harvick topped the speed charts during Thursday test session, but said the best part was the team had to work to make the car better.
"It's good for all of us to have to work at it and communicate and do things that you are going to have to do throughout the year to overcome things," Harvick said. "I would rather of had us struggle at the beginning of the day and have to work through things and communicate well with each other."
This team is firing on all eight cylinders, so they should be a solid pick for Sunday's race.
Driver 4: Carl Edwards
Perhaps the only driver that can hold a candle to Jimmie Johnson's statistics at Las Vegas Motor Speedway is Roush Fenway Racing's Carl Edwards.
With two wins, four top 5s and five top 10s, Edwards has an average finish of 9.7, second only to Johnson.
Edwards indicated the Roush Fenway team has been working hard on the intermediate program, and the No. 99 atop the speed charts in Friday's opening practice session.
The No. 99 team has struggled to find consistency since their strong outing in 2011. Could Edwards and crew chief Jimmy Fennig turn things around this weekend in Las Vegas? If you're the betting type, put your money on Edwards to have a strong run. It may not be a win, but he should secure you some good fantasy points.
Driver 5: Austin Dillon
When you initially set your fantasy lineup for this weekend's race, it's probably a safe bet that Austin Dillon wasn't on your roster. Well, we're in Las Vegas and why not put it on the line and take a risk.
The Rookie of the Year contender will make his first Sprint Cup Series start at the 1.5-mile track, but Dillon has two top 10s in his only two Las Vegas Nationwide Series starts.
The No. 3 was second in Thursday's test session and sixth in Friday's opening practice. So, take a risk, put it all on black (and yellow) and put Austin Dillon in your lineup. You never know, you could leave Vegas a big winner.