Feud Of The Week: Speed Vs. Passing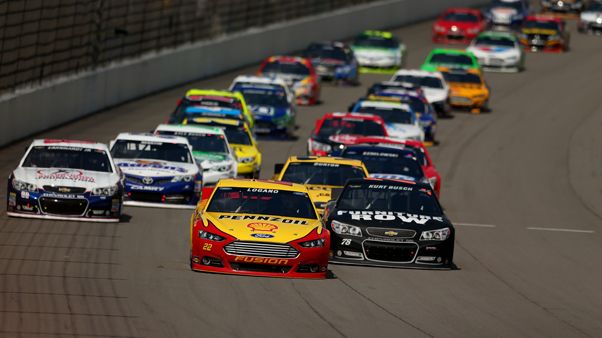 Friday at Michigan International Speedway, the NASCAR Sprint Cup Series made headlines when the top 25 cars all qualified at speeds over 200 miles per hour, a truly remarkable achievement.
Of course, 200 mph is a very sexy and attention-getting number in the context of motorsports, especially stock cars. Unfortunately, high speed does not necessarily correlate to great racing at the front of the field.
Generally speaking, as speeds increase in NASCAR stock cars, so does the aerodynamic advantage the leader has over those stumbling along behind him in dirty air. And the deeper you go back in the pack, the worse the air gets and the harder it is to make up ground.
Which is why Sunday's Pure Michigan 400 at MIS was basically a high-speed game of follow the leader. Whoever was out front was golden and everybody else was simply out of luck.
According to the NASCAR post-race stats from MIS, there were 20 lead changes over 400 miles:
• The first lead change was on the opening lap, when Kurt Busch passed pole-sitter and eventual race winner Joey Logano.
• Lead change No. 2 took place on a Lap 6 restart, when Logano re-passed Busch for the top spot.
• Then, on Lap 33, leader Logano was trying to lap Johnny Sauter's start-and-park entry when he almost ran into him. Logano had to lift, allowing Busch to go to the front.
• On Lap 78, Busch passed leader Denny Hamlin who had stayed out during a prior caution and was on old tires, making him a sitting duck.
• And, of course, on Lap 197 of the 200-lap race, Mark Martin ran out of gas, handing the victory to Logano.
The other 15 lead changes? Every single one of them occurred because of pit stops. Either the leader pitted and surrendered the lead when he did, or he got passed on pit road during a stop.
At no point during the final 122 laps of the race did the second-place car pass the leader under green when both were on track, running full speed. Whoever was out front could pull away easily, but as soon as they got back in traffic they usually got stuck there.
"Our cars are way, way better out front than they are in traffic," said Greg Biffle, who came into this weekend having won the two most recent races at MIS. "That is really tough for us."
Biffle led convincingly from Lap 108-136, building a gap of 2.5 seconds on second place at one point. But then Biffle lost the top spot on pit road and never led again, finishing ninth.
Logano's teammate, Brad Keselowski, led 17 laps during the second half of the race, guessed wrong on pit strategy and ended up 12th.
"We were leading the race and one yellow with the way track position racing is right now, one yellow can either win you the race or lose you the race," said Keselowski. "That really sucks."
He said it, we didn't.