Feud Of The Week: Kasey Kahne Vs. Joe Gibbs Racing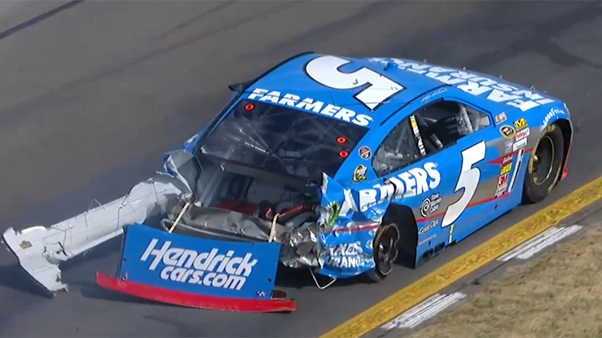 Kasey Kahne has had a pretty strong 2013 season so far – except when somebody from Joe Gibbs Racing wrecks him.
Earlier this season, Kahne got dumped by Kyle Busch in the Daytona 500, the Aaron's 499 at Talladega and the Southern 500 at Darlington.
In Sunday's Cheez-It 355 at The Glen, Kahne was put into the Turn 4 wall by Matt Kenseth on Lap 81 of the 90-lap race at Watkins Glen International.
Afterwards, Kahne was understandably not happy. He Tweeted his displeasure:
Headed to Joe Gibbs racing to talk to whoever will come out front #that's4

— Kasey Kahne (@kaseykahne) August 12, 2013
The accident occurred when Kenseth, one of the cleanest drivers in the sport, was mixing it up aggressively with two-time defending Glen winner Marcos Ambrose. Kahne got the worst of it, though, which Kenseth took most of the responsibility for.
"I guess I must've hit Kasey," Kenseth said. "I don't really know honestly. I went into Turn 1 sort of too wide and came off of (turn) 1 and I was three-wide on top, which was fine. We shoved up the middle and then I went to get back on the track and there's no room to get back on the track. I didn't know where I was supposed to go.
"So, I'm trying to get back on the track – me and Marcos hit a little bit and then by the time we got we got to the esses I wasn't trying to get Marcos back," Kenseth said. "It probably looked like that. I was trying to carry my momentum so I didn't have four more cars pass me and I just lost control of my car and went across and I guess somebody was outside of me. I guess it was Kasey. That part is my fault."
"I was trying to just get through there," Kahne said. "There were some openings there. I'm not sure what happened. I know I got hit in the left-rear. I know the No. 9 (Ambrose) was there and the No. 20 (Kenseth). I don't know how it all happened because I haven't seen it. I felt like I was kind of over on my side of the road, but I would have to see it to know for sure."
Regardless of fault, it was a tough result for Kahne, who was coming off a victory at Pocono last week and a third-place finish at the Brickyard 400. Entering Watkins Glen, Kahne was eighth in the NASCAR Sprint Cup points standings, but his 34th-place finish dropped him to 12th.
Ironically, the winner of the race was Kyle Busch, who has wrecked Kahne three times so far this season.