DAYTONA TRUCKS CRASHES: FRAME BY FRAME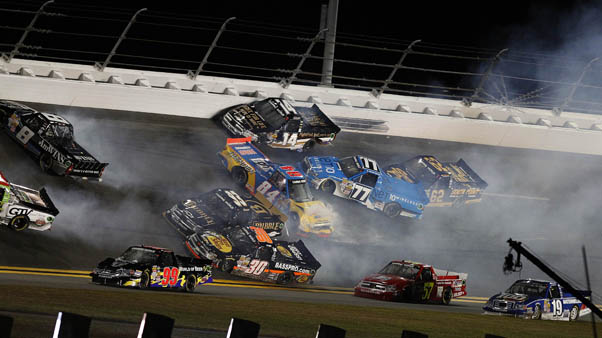 There were a couple spectacular wrecks during the Friday night NextEra Energy Resources 250 Trucks race and we captured them for your viewing pleasure.
First "The Big One" happened on Lap 54. The crash involved 14 trucks in total: #1, #5, #07, #8, #14, #27, #30, #33, #60, #62, #77, #87, #93 and #99. It all started when the #77 and #14 trucks closed up the gap between each other and the #62 (Brendan Gaughan) tried to fill the hole in the middle lane… Oops! Result = 14 truck yard sale!
More carnage happened on lap 92. The #30 truck (Ryan Truex) lost a tire while running 6th. He spun and collected the #7, #17 and #19 trucks bringing out the caution with 8 to go… The late race wreck dropped Truex's strong run to a 28th place finish. How quickly things can change from good to bad during a trucks race….