Daytona Notebook: Heavyweights Battle Again At The Beach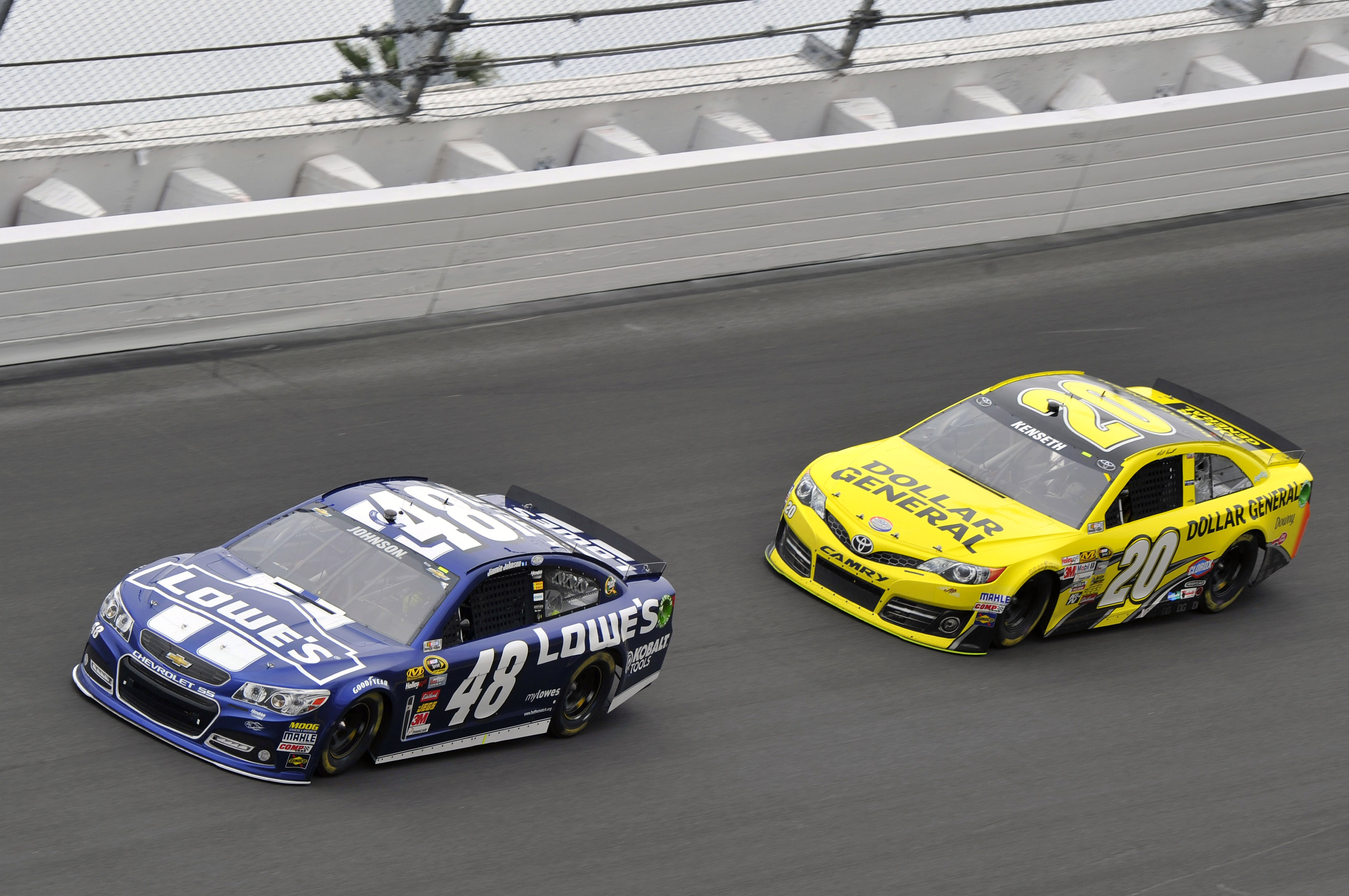 CLASH OF THE TITANS — Saturday night's Coke Zero 400 powered by Coca-Cola at Daytona International Speedway is shaping up to be another heavyweight battle between NASCAR's two dominant drivers of 2013, Jimmie Johnson and Matt Kenseth. To wit:
• Kenseth has four race victories this season, Johnson has three.
• Johnson won the Daytona 500 in February, but Kenseth led the most laps.
• During the first 17 races of the 2013 NASCAR Sprint Cup season, Kenseth has led 18.88 percent of the laps run, to Johnson's 18.21 percent.
• Johnson leads the Sprint Cup points standings and has seven top-five and 11 top-10 finishes; Kenseth has four top fives — all victories — and nine top 10s and is ranked fifth in points.
• Kenseth and Johnson have each won the Daytona 500 twice.
And, oh by the way, both should be pretty damn good again on Saturday night, and they know it.
"Hopefully we can be out front again, make it to the end and if we are out front make it then hopefully I can figure out how to do the right things to have another shot at winning," said Kenseth.
"Our restrictor plate program has been very strong as always," said Johnson. "I think that I've done a nice job with this rules package to race for track position, maintain track position and put ourselves in position to win. Clearly did that with the (Daytona) 500 and then in Talladega we had an awesome weekend too and ran up front."
Johnson said he's not surprised by Kenseth's sensational season, his first with Joe Gibbs Racing.
"Our sport is really about people and the relationships between driver and a crew chief is really the start of that whole process," said Johnson. "Matt is awesome. The guy does a great job driving the car, knows what he is looking for, doesn't let things rattle him and can withstand pressure. He can do it all. He really does a great job. (Jason Ratcliff) has been coming along as a crew chief, growing, learning very smart guy, very well-respected guy in the garage area. The pairing of those two I think the garage area took notice when Matt made the decision to leave and then who he was paired with I think everybody felt they are going to have their hands full over the course of the year with the No. 20 car and that has been the case for sure."
TOYOTATHON AT DAYTONA — Toyotas dominated the proceedings during qualifying for the Coke Zero 400 powered by Coca-Cola at Daytona International Speedway. Joe Gibbs Racing's Kyle Busch claimed the pole for Saturday night's race with a lap of 193.723 miles per hour in his No. 18 Toyota Camry, followed by teammate Matt Kenseth at 193.299 mph. Then it was the No. 15 Michael Waltrip Racing Toyota of Clint Bowyer at 193.158 mph. Completing the top five were Kasey Kahne's Chevrolet, and Martin Truex Jr. in a second MWR entry.
The second five consisted of Paul Menard, Michael Waltrip, Jimmie Johnson, Ricky Stenhouse Jr. and Greg Biffle.
The pole was Busch's third of the year and 13th in 311 NASCAR Sprint Cup starts, but his first at a restrictor plate track.
"This is pretty cool," Busch said. "It's a testament to the bodies and, of course, the engines — everybody at Joe Gibbs Racing being able to build a great race car. … It's cool to have Matt on the front row with us, sharing a JGR front row."
Other notes:
The qualifying order for Sprint Cup races is set by random draw this year, and the order for the was definitely odd: Nine of the first 11 cars to go out were Fords, while only five of the final 32 were from the Blue Oval Boys.
But it's not where you start, it's where you finish, and when qualifying was over, there were three Toyotas on the top of the speed chart and five in the top seven. Meanwhile, just two Fords qualified in the top 10.
Lightning failed to strike a second time for Daytona 500 pole-winner Danica Patrick, who had a good run in the No. 10 Stewart-Haas Racing Chevrolet, but she ended the session a respectable 11th.
"Obviously, it's not going to be the pole, Patrick said after qualifying at 192.930 mph. "But I think it will still give us a decent starting spot. And we found some ways to get better in practice yesterday and that should help us in the race."
Defending NASCAR Sprint Cup champion Brad Keselowski is running a patriotic paint scheme on his Miller Lite-sponsored Penske Racing Ford Fusion in Saturday night's Coke Zero 400 powered by Coca-Cola at Daytona International Speedway. The Twitter-happy driver was asked to described the look of his car in 140 characters or less. "I don't need 140 characters," Keselowski answered quickly. "I call it badass." Hard to disagree with that assessment from Keselowski, who qualified 15th.
MIKEY ON THE MOVE — In 772 career NASCAR Sprint Cup starts as a driver, Michael Waltrip has just four race victories, but three of them came at Daytona International Speedway, where on Saturday night Waltrip will race in the Coke Zero 400 powered by Coca-Cola. And given that Waltrip finished fourth in the most recent restrictor-plate race at Talladega Superspeedway earlier this year, who's to say he couldn't make some noise again this time out?
"Yeah, it's amazing because we've come off of a top-five finish at Talladega," said Waltrip. "We were competitive all day long at Talladega. We were solid at Daytona in February as well, running up in the top five and even led a couple laps so I'm confident and happy and looking forward to … seeing if I can win one more Cup race. I think if I did that I would just quit right on the spot and say, 'That's it. Thanks for coming everyone.'"
PICKING IT UP — Joey Logano moved to Penske Racing for 2013 and so far it's been a good decision for both driver and team. Logano is on course to have a career year this season, and over the last six races has moved from 19th to 10th in points. During that time, his average finish has been 7.667.
Logano and crew chief Todd Gordon have proven to be an effective pairing. And Logano, 23, now in his fifth full season of Sprint Cup racing, is growing up and stepping up, too.
"Todd and I we're at the same level," said Logano. "We both want it a lot. We're both willing to sacrifice the time to do what we've got to do to go out there and win these things and be successful, and this whole team has that same feeling. If we've got to go test somewhere in the middle of the week and they haven't been home in forever, they're not complaining about it. They're out there working and if they're working, I need to be working."
During his time at Joe Gibbs Racing, Logano always was the new kid on the block. Now, with the support and respect from teammate Brad Keselowski, Logano is becoming a leader.
"There are a lot of different ways you can lead," Logano said. "You can lead by example, and I think that's probably the best way, but you have to be somewhat of a motivator and somehow be the glue that holds everyone together."
BIG DADDY'S BOUNCE — The 2013 season has hardly gotten off to the kind of start Jeff Gordon wanted. Four times in the first 17 races, the four-time NASCAR Sprint Cup champion has finished 34th or worse, including Bristol and Texas, two races were mechanical failures robbed him of strong shots at winning.
Despite all the adversity, however, Gordon is 12th in the standings, a mere 2 points behind 10th-place Joey Logano. As such, Gordon is pretty optimistic about the next nine races leading up to the Chase for the Sprint Cup.
"You know, we have just had such an inconsistent year and so many crazy things thrown at us that I am impressed that we are 12th, and I am pretty happy with that to be honest with you," said Gordon. "I feel like we have so much more potential that if we just live up to our potential that there is no doubt that we can get in the top-10."
And Gordon definitely has his eyes on making the Chase again.
"Every year we see where those positions eight through 14 or 15 are just crazy swapping every single weekend," Gordon said. "So we just have to go out there and focus, do our job — do it well, and get to the tracks like New Hampshire that are coming up. We also need to do well at some of these other tracks that are coming up, and get some great finishes and make sure that we do that."