DANICAPALOOZA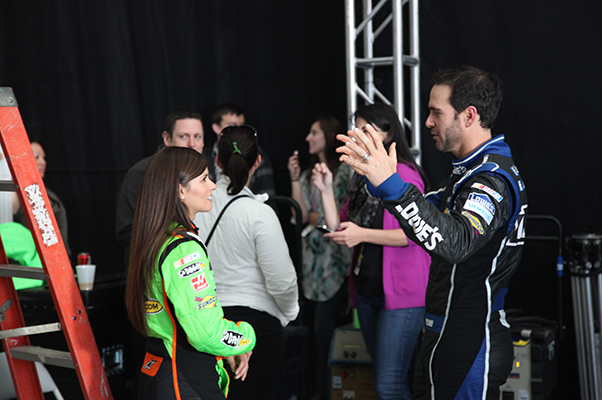 Jimmie Johnson, the only driver in NASCAR history to win five consecutive Sprint Cup championships, was the first interviewee in Thursday's annual Media Day event at Daytona International Speedway.
But the bulk of the first questions thrown Johnson's way weren't about his five championships or his hopes for a sixth. Instead, they were about Danica Patrick, who — this just in – is dating fellow driver Ricky Stenhouse Jr.
Q: Have you every been in a series where there was a romantic relationship between competitors?
Johnson: "I was ready for a lot of questions today, but not that one." Laughing out loud, he added, "I guess I should have been aware of that."
Johnson was then asked if the two made contact on-track, whether that would constitute a domestic dispute; if Stenhouse had as bad a temper as Patrick; whether the relationship was good for NASCAR; and if it will affect the way they race.
"I haven't thought about it all until just now," said Johnson.
Defending champion Brad Keselowski chimed in "we're a creative group; I'm sure we'll come up with some great jokes. It's really a shame the two-car tandem doesn't work anymore, because that really kills a lot of great joke material. They should bring it back just for the jokes!"
Keselowski also pointed out "I don't think it's as much a story that they are dating than as if they were to break up. That would be incredible to watch, to be quite honest! There's so many ways it could go. Imagine if they were to wreck each other for the next six races. That would be way more compelling!"
Even poor Casey Mears, who has won just one race in 344 starts was bombarded with questions about Patrick. "I really don't care at all," said Mears. "Not even enough to comment."
Joey Logano piped in with, "Ray Charles could have seen this coming," earning points among the aging NASCAR media corps by even knowing who Ray Charles was.
For her part, the pixie-like Patrick began her interview time saying she wasn't going to talk about her personal life. "This doesn't feel very racing oriented really," Patrick said. "I don't want to be on this loudspeaker, honestly."
Patrick said she expected to cook for the two tonight.
"Luckily my bags (luggage) came in," she said. "My flight was very delayed out of Chicago, so I caught another flight. They were supposed to be in already. They're hopefully going to be in in time because my Valentine's Day present is in that bag. In fact, there's like a whole bag dedicated to Valentine's Day. So what are we doing? I'm going to bet I'm cooking 'cause I cook and he does not cook."
Hmm … a "whole bag dedicated to Valentine's Day?" Now, that's newsworthy.