Dale Earnhardt: Father of the NASCAR All-Star Race special paint scheme
The NASCAR Sprint All-Star Race at Charlotte Motor Speedway – Saturday at 7 p.m. ET on FOX Sports 1 – is an event where special, one-off paint schemes have been commonplace in recent times.
As he has for the past several years, for the 2014 edition of NASCAR's all-star event Jimmie Johnson will carry a patriotic red, white and blue scheme with sponsor Lowe's on the side of the familiar No. 48 Hendrick Motorsports Chevrolet.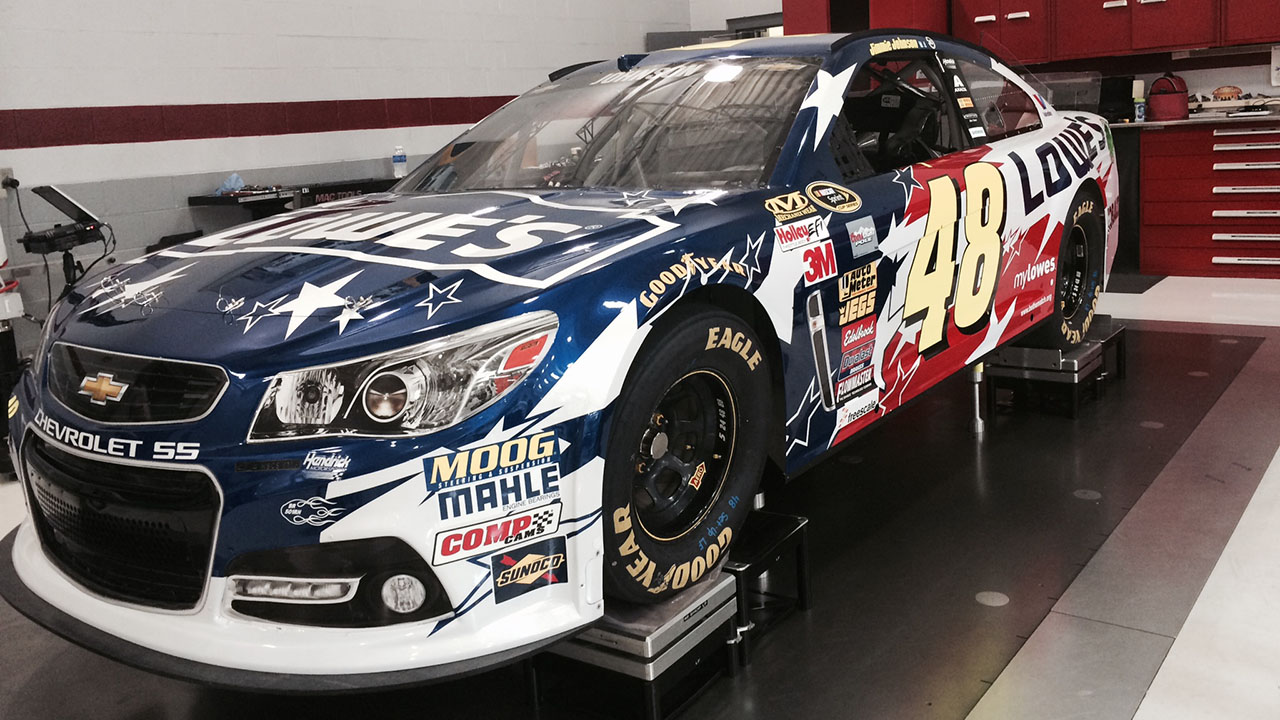 Also going with a patriotic look will be Ricky Stenhouse Jr., who will try to race his way in from Friday's Sprint Showdown (7 p.m. ET on FOX Sports 1) to the $1 million-to-win main event on Saturday night under the lights at CMS.
Stenhouse's Roush Fenway Racing Ford, also trimmed in red, white and blue, will feature "Building for America's Bravest," a program of the Stephen Siller Tunnel to Towers Foundation that builds Smart Homes for our most catastrophically injured service members returning home.
So why all these wild looks for the Sprint All-Star race?
Actually, the roots of special-paint-scheme-mania go all the way back to 1995 and the late Dale Earnhardt.
Back then, the Sprint All-Star Race was known as The Winston, in honor of series sponsor R.J. Reynolds. Just as importantly, back then most every team used one and only paint scheme the whole season long. In those days, there weren't multiple primary sponsors for each car that rotated during the season.
Earnhardt, of course, was known as "The Man In Black," and his fearsome jet black No. 3 Richard Childress Racing Chevrolet was the most iconic and recognizable paint scheme of the day.
So when Earnhardt showed up at The Winston with a silver paint scheme to honor RJR's 25th anniversary in NASCAR, it sent shock waves through the garage. Nobody expected Earnhardt or RCR to ever change colors, especially given the strong connection between the driver and his intimidating paint scheme.
In the pre-Twitter, pre-24-hour-news-cycle NASCAR world, Earnhardt changing colors was one of the biggest stories of the entire season –€" especially since he didn't win The Winston.
In the '95 edition of The Winston, Earnhardt ran well for much of the night, but got loose in the final segment, slid up into Darrell Waltrip and Jeff Gordon dove low to become the youngest winner in the history of the event.
For some, Earnhardt's silver paint scheme was a curse.
"Maybe it was like Michael Jordan wearing No. 45 and losing his jump shot," wrote Charlotte Observer columnist Ron Green.
But in terms of commercial success, it was a bonanza. A limited run of silver No. 3 diecast cars sold out virtually instantaneously.
From then on, the RCR No. 3 has a different paint scheme for every all-star race, and sales of diecasts and t-shirts soared for Earnhardt, who was on the cutting edge of merchandising, even if that wasn't his original intent.
Dale's #AllStar Chevrolets from 95-2000. All in the RCR Museum. #NASCAR #Throwbackthursday #TBT pic.twitter.com/z2W1q866hl

— RCR (@RCRracing) May 15, 2014
So while Earnhardt sadly is no longer with us, his influence is still very much felt in the NASCAR Sprint Cup garage, especially this weekend, when all the new paint schemes you'll see can be traced back to 1995.