Bump 'n' Run: Kenny Wallace joins to talk Denny, Carl, Indy and more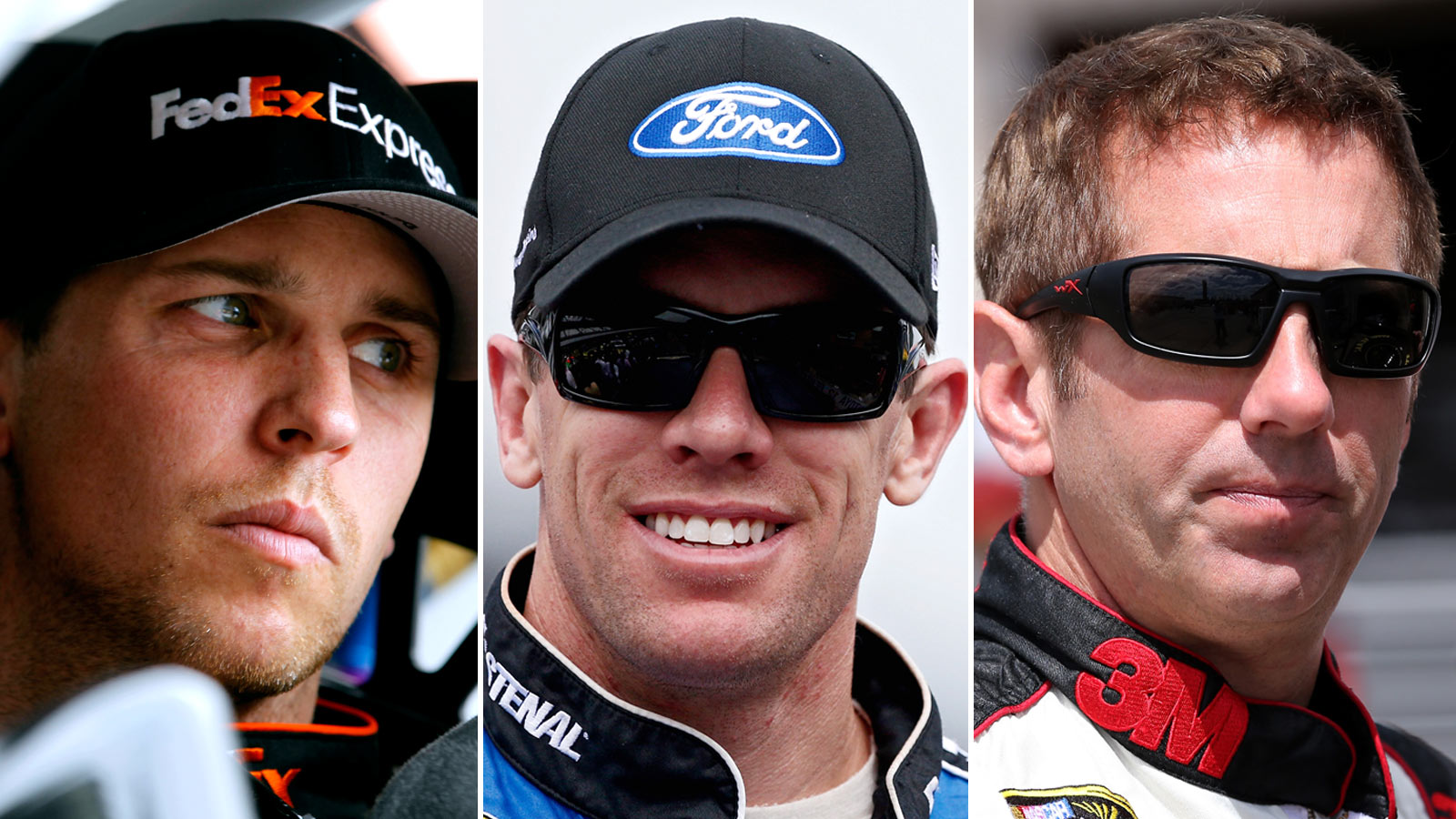 Veteran driver and always entertaining FOX Sports television analyst Kenny Wallace joined FOXSports.com editors Jared Turner and Joe Menzer to debate this week's hottest topics in NASCAR.
1. Denny Hamlin's third-place finish in last Sunday's Brickyard 400 was tainted by the penalties handed down Tuesday by NASCAR for issues with "rear firewall block-off plates" on his No. 11 Toyota. Was this fair and what exactly does it mean for Hamlin and his team?
Jared Turner: Once again, NASCAR hands out a "large" but inconsequential penalty. Remember when NASCAR "threw the book" at Clint Bowyer last year after the Richmond Spingate. Well, the penalty — however harsh it seemed — had no bearing on Bowyer's standing entering the Chase, nor did it keep him from being in the Chase. Same deal here. Seventy-five points sounds like a lot, but Denny was still credited with a third-place Indy finish, gets to keep his race earnings and is going to make the Chase because of his win at Talladega.
Joe Menzer: Yeah, as far as impacting his season, the big hit comes with the fact that his crew chief, Darian Grubb, and car chief, Wesley Sherrill are each suspended for six races. I found it very interesting — and probably smart — that Joe Gibbs Racing said they will begin serving their suspensions immediately, even though they are appealing this decision. That means they don't think they'll win an appeal (they won't) and they want to make sure Grubb and Sherrill are back for the Chase.
Kenny Wallace: We are in a new environment in NASCAR. Years ago, NASCAR sent a message when Dale Earnhardt Jr. had a rear spoiler infraction at Darlington. When these crew chiefs take these chances, it just shows you how much pressure is on the entire team to win.
Menzer: What exactly is a "unsealed rear firewall block-off plate" anyway, and what kind of advantage can it give a driver?
Wallace: There are all sorts of subtle aerodynamic situations — with airflow — that go on underneath the car. So this was a 20- to 30-pound downforce advantage. At least that's what it does in the wind tunnel. The common fan sees the outside of the car. That's just a showpiece. All the functioning parts of the car are underneath and inside the car. It made the car heavier to the ground, made it stick better.
Menzer: Sort of like Jared's mini-van with all the junk he keeps in it?
Turner: Hey, now. Watch the cheap shots. Honestly, though, I think there's something inherently flawed with a points system in which a guy can lose 75 points, and it have no real bearing on his shot at the championship. To me, that just seems counterintuitive. How about making Denny have to win another race to make the Chase? I don't know. And, sure, the fine was hefty by NASCAR standards but, then again, $125,000 is chump change to organizations with the resources of a Joe Gibbs Racing. NASCAR really needs to hit these teams where it hurts, and it's not happening in Denny's case.
Menzer: I don't know, Jared. I don't think you can make Denny win another race to get in the Chase. He didn't do anything wrong in the one he did win. And I disagree about it not hurting, too. I think losing your crew chief and car chief for six weeks when you're trying to get ready for the Chase is a pretty big deal.
Turner: With technology being what it is these days, I'm not sure it really matters. He's not suspended from the race shop or sending Denny text messages, is he? Nope.
Menzer: Well, if they can text, hopefully Darian and Denny have better cellular devices than that flip phone you insist on continuing to use, JT. I'm just wondering if the other JGR cars should be worried. NASCAR didn't take a look at their cars, so that's a moot point now, I guess. But if this is why JGR was suddenly making gains, which we'll talk more about in a minute, they could be back to Square One again.
Wallace: No, they shouldn't be worried. All this does now is send a hard-core message to everybody. NASCAR is not fooling around in this championship chase.
Turner: Yeah, it sends a message, alright — a message that you can blatantly break the rules, and not have your overall season impacted in any significant way. Alas, I digress!
Wallace: The bottom line is these crew chiefs know what they're doing. They're the ones taking these chances. You stop and think about Darian Grubb. He's got all these sponsors and all these people laying a heavy load on him to produce. I don't blame him one bit. This is competition at the highest level and these guys are under pressure to get all they can get. Maybe he thought he could get away with it, but I guarantee you he knew he was at least skirting the issue and taking a chance.
2. Now that Carl Edwards has left Roush Fenway Racing, what does the future hold for him?
Kenny Wallace: The older these drivers get, winning is not enough. They want to win a championship. We just saw Kevin Harvick make this same move.
Jared Turner: The future holds something like this …
Give me a "J"
Give me a "G"
Give me an "R"
What does it spell??
Joe Menzer: Well, obviously it looks like he's going to Joe Gibbs Racing in a fourth car. And I think you're right, Kenny. Drivers today reach a certain age — much younger than you, I might add — where winning a title is what it's all about.
Wallace: Hey, watch it. Be nice. Remember, if it weren't for drivers like me, there would be no one for the great drivers to pass!
Turner: Yes, in all seriousness, Carl obviously wants to win a championship more than anything else right now. Here's the thing, though: Up until about a month ago, JGR wasn't exactly setting the woods on fire itself.
Wallace: The biggest misconception in NASCAR today is just how big the chassis changed over the winter. I keep saying it every week on RaceDay, the chassis change over the winter was the biggest change in our sport in ages. It took Joe Gibbs Racing a little bit to find the new setup. But now they have found it — and they are fast.
Menzer: That was obvious at Indy, where they finished two-three-four in the running order. But I still can't believe Matt Kenseth hasn't won a race this season — or that Kyle Busch and Denny Hamlin have won only one each.
Turner: It definitely seems they have turned a corner, Joe, and the guys from the team I spoke with at Indy — Dave Rogers, J.D. Gibbs, Matt Kenseth, etc. — basically said they've "found something." Of course, if Carl had announced he was leaving Roush a month ago, I would consider this a lateral move. Because a month ago, JGR (assuming that's where he's headed), wasn't running a whole heckuva lot better than Roush.
Wallace: Hey, I want you all to remember what Dale Earnhardt once told me: if you have a good horse, ride it. All these drivers are pretty good right now. But even a great driver cannot make a slow car go fast nowadays.
Turner: You sure about that, Kenny? Dale Jr.'s mom seemed to think on Twitter than her son took a pretty bad car and did something with it at Indy. 🙂
Menzer: I'm not sure what you were smoking or if you ate some bad meat up there in Indy, Jared, but Roush Fenway has pretty much been out to lunch all season. Yes, Carl won two races — at the short track at Bristol and on the road course at Sonoma — but they've been nowhere near where they need to be anywhere else.
Turner: Ironically, Gibbs and Roush have the same number of wins this year. Do I hear "lateral move" again?
Wallace: Let me remind both of you that timing is everything. Can you imagine if Matt Kenseth had joined Joe Gibbs Racing this year and not last year? I believe Roush Fenway Racing is getting stale, and Carl recognized that. He made this move with a team that is more relevant and up to date. Roush Fenway is like the old team on the block right now.
Menzer: Well, let's get back to the question that was asked, fellas. What do you think Carl will do at JGR — or wherever he goes?
Turner: If JGR does not continue to improve, Carl continues to win a couple races a year, but doesn't really factor into the championship discussion. The three dominant teams this year have clearly been Hendrick, Penske and Stewart-Haas. I wouldn't put JGR in that top tier.
For now, that is. Win some races and get back to me.
Menzer: Wrong, JT. Carl hasn't forgotten how to drive and JGR will be better next year. They'll win more races before this year is over, I'll bet, and then look out for that combination going forward.
Wallace: Hey Jared, it takes Joe Gibbs Racing a couple months to make their wrong a right. We are entering August and they are right.
Menzer: And last time I checked, the championship wasn't decided until November. As for Carl, I think you will see him win a title with JGR sometime in the next five years.
3. We touched on this, but can Roush Fenway Racing be competitive in 2015 with a driver lineup of Greg Biffle, Ricky Stenhouse Jr. and Trevor Bayne?
Wallace: I'm concerned that these young drivers have not learned anything from this old team. I think they're going to be in trouble if they don't get some new engineers with this old team — because these young kids have not learned anything this year. Roush Fenway Racing must swallow its pride and look for engineers like Hendrick and Penske have.
Menzer: Don't forget Biffle is almost as old as you are! You have better hair, though.
Turner: I see the lineup of Biffle, Stenhouse and Bayne being on par, talent-wise with RCR's lineup of Newman, Menard and Dillon. How many races has RCR won this year?
Wallace: Jared, I agree with you. Both teams are not on par to win many races or a championship. And Joe, as far as you, Biffle might be 44 years old but at least he knows what he's doing. The other two don't have a chance right now.
Menzer: I go back to 2011 when Carl basically lost the title to Tony Stewart in a tiebreaker. I've heard that some of Roush Fenway's engineers had offers from elsewhere — and they lost some of their infrastructure. It's hard to believe how much further ahead the other Ford team is now than Roush Fenway, and that's Team Penske.
Turner: The point I'm trying to make is even if Roush has the best engineers in the world, this driver lineup is lacking some serious star power, in my opinion. Carl was Roush's only true star … and he's out.
Menzer: Honestly, after the way all the contract stuff went down, I think it's pretty clear that if The Biff had found a better option, he would have taken it. Now he's more or less the old captain of a sinking ship.
Turner: Trevor hasn't been exceptionally impressive for Roush in Nationwide. Are we to really believe he's going to better in Cup?
Wallace: Hey Jared, the one thing that RCR and Roush have in common is this: Kevin Harvick left RCR because he felt he could not win a championship; Matt Kenseth — and now Carl Edwards — have left Roush because they thought they couldn't win a championship. Looks to me like both teams must continue their search for high-end engineers.
Menzer: That's so interesting, Kenny, because our good buddy Larry McReynolds was in the FOX Sports office just the other day and he was saying how important engineers have become. He even went so far as to suggest they might now be more important in some ways than the crew chiefs — which is a stunning statement for a former crew chief to make.
Turner: It makes you wonder when and if these organizations will ever return to the glory days, ya know? Some big things have to happen internally for either organization to seriously factor into the championship discussion. And, I'm afraid you also have to look at bringing in some different drivers, too. With all due respect for Paul Menard, Trevor Bayne and Ricky Stenhouse, these organizations are used to better.
Wallace: When I won my nine Nationwide races, I was able to tell the team what to do to the car. The driver now cannot feel the new NASCAR race cars because they do not make any movement. They're like slot cars. That's why engineers have become so important. I agree with Larry. Unfortunately, and I think by mistake, we've taken the car out of the drivers' hands.
Menzer: So I think we're all in general agreement: Roush Fenway Racing might be headed for even tougher times ahead — despite Jack Roush's contention that he's only doing what he's always done and giving younger talent an opportunity like he did with Carl and others. I would say those were different times, though.
Turner: Well, Jack said he wanted to re-sign Carl. So clearly bringing in "younger talent" wasn't his first choice.
Wallace: Here's the deal: have you ever seen Jack Roush hire a proven driver? Jack gets them cheap and tries to help them start their careers.
Menzer: Jack said he made Carl an offer. But in the end, I guarantee you he's fine with paying Trevor Bayne about, what, $10 million less a year?
Turner: True. Then again, he's also not going to be getting nearly as much in return.
4. The Sprint Cup Series is getting ready to return to Pocono for the second time in less than two months. Why? And what happened to the supposed "robust" look at changing the schedule that NASCAR alluded to but now has backed off of?
Turner: NASCAR needs to be in Pocono twice in less than two months about as much as I need a hole in the head!! And if you've ever been around me, you know I've already got enough issues!
Wallace: About five years ago, Dale Earnhardt Jr. said something that I agreed with 100 percent. The NFL plays 16 games and leaves wanting for more. We race 39 races out of 52 weeks. The fans get tired. We need to race a little less, so we can have our fans want it more.
Menzer: What's the matter with you guys? Don't you like to visit Scranton in steamy August?
Turner: Kenny, you're absolutely right. And, I will just add, Pocono should be the first track to lose a date in the downsizing!
Wallace: Joe, there are only two reasons I go to Pocono now: One, I am forced to go. And two, they have a really nice new casino.
Turner: See there. There's always a silver lining to going to Pocono, right? Usually, it's cloudy, though. If it doesn't rain Sunday, I will eat my keyboard. Seriously. I can't remember the last time NEITHER Pocono race was impacted by weather.
Menzer: Your keyboard? You really do need to start watching your diet. But I also remember talking with Dale Jr. about four or five years ago on the Charlotte Motor Speedway Sprint Cup media tour, and it was the same media tour where Felix Sabates came out and said some of the same things we're saying now. And NASCAR chastised him for it. But he was absolutely right. Pocono is one of several tracks where the Sprint Cup Series only needs to be going once a year.
Turner: Get the scissors. It's time to give this schedule a major haircut, boys.
Wallace: Trim away. It would give me more time to go dirt racing, too!
Menzer: Hey, you'll be racing on some asphalt this weekend in the Nationwide Series race at Iowa, right?
Wallace: I'm running my 901st NASCAR start in Iowa this week. And I'm not kidding or inflating those numbers. It's 344 Cup starts, 543 Nationwide starts, 13 Truck Series starts going into this one.
Menzer: Dang, you must be tired.
Wallace: Yeah, darn right. I am. I feel like I've been in this sport forever.
Menzer: That's because you pretty much have been. That's the most Nationwide Series starts in the history of NASCAR, by the way, folks. No wonder you want to trim the schedule. If only we were in charge. I think they should run about 28 or 30 weeks and end it before Labor Day, so you don't even have to concern yourself with going head-to-head with the NFL.
Turner: February-Labor Day with about five or six off-weeks mixed in? I like it!!!!! Wow, Joe. You are making unusually good sense today. What's up with you?
Menzer: Unfortunately for us and race fans everywhere, we're not in charge. It's very disappointing that Brian France comes out one week and says they're going to take a "robust" look at changing the schedule, and then a few weeks later comes back and says not to expect any major changes. Same old, same old … I guess.
Turner: Funny that NASCAR is willing to overhaul the Chase format but not the schedule. Seems like the ultimate paradox to me.
Menzer: Speaking of the schedule, Jared, can you tweak it at FOX and give me some more time off, too?
Turner: Schedule? Time off? In the middle of the season? Say it ain't so, Joe!!
VIDEO: A look back at Dale Earnhardt Jr.'s win at Pocono in June