Best Tweets: Victory Lane Weddings & A Wanted Outlaw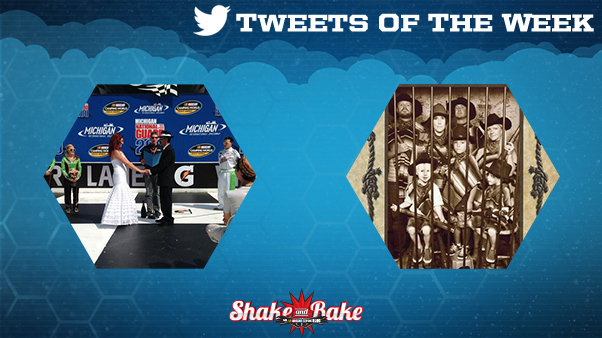 Let's take a look at the best tweets of the week from the world of NASCAR.
Before Joey Logano pulled into Victory Lane, it was Danica Patrick helping a happy couple tie the knot in a NASCAR-themed wedding.
Check out @NASCAR @MISpeedway wedding in victory lane. Beautiful couple with Danica bridesmaids. #smokin pic.twitter.com/MqmZ2EfEpK -awesome!

— Danica Patrick (@DanicaPatrick) August 17, 2013
Staying with Danica, she kicked it old school with Barbies and unicorns.
How about a way back Wednesday!? Yes, I can be girly too….. Unicorns and barbies (dang and some kens)! pic.twitter.com/1xEOpGnFhb

— Danica Patrick (@DanicaPatrick) August 14, 2013
"The Outlaw" Kurt Busch took his nickname to heart while visiting Denver's Casa Bonita restaurant.
Here's another fun pic frm our visit at Casa Bonita the other nt. @KurtBusch matt &his wife from our team & our kids pic.twitter.com/MDJpOqaZYX

— Patricia Driscoll (@Patricia_AFF) August 17, 2013
Samantha Busch and Kyle Busch Motorsports gave Fox Sports 1 a warm welcome this weekend.
So excited #The1IsHere lets get this baby in VL! @FOXSports1 pic.twitter.com/M70ztVqBZC

— Samantha Busch (@SamanthaBusch) August 17, 2013
Country music artist Luke Bryan did everything from drive the pace car to watch the race as a true NASCAR fan this weekend at Michigan.
Here's your official pace car driver, honorary #2 Crew Chief, and racetime @MillerLite live-tweeter @LukeBryanOnline pic.twitter.com/xqcxy4d4Ci

— Miller Lite (@MillerLite) August 18, 2013
Fingers crossed! Go @keselowski pic.twitter.com/TDDVKRgIWX

— Luke Bryan (@LukeBryanOnline) August 18, 2013
Kyle Busch couldn't help but notice the Joe Gibbs Racing teammates put Kasey Kahne in a bad spot once again.
I know it's not funny but it's kinda funny the Gibbs cars have the 5 surrounded. – Kyle

— Samantha Busch (@SamanthaBusch) August 18, 2013
Matt Kenseth offered up some congratulations to race winner Joey Logano…well, at least he tried.
Congrats on a dominating weekend @joeylagono 👍

— Matt Kenseth (@mattkenseth) August 18, 2013
Dang I can't do anything right!! Congrats @joeylogano !! Hope I spelled it right this time….

— Matt Kenseth (@mattkenseth) August 19, 2013
After a blown engine capped a frustrating weekend, Jimmie Johnson knew just where to place the blame.
I thought this would be fitting… #BlameJJ

— Jimmie Johnson (@JimmieJohnson) August 18, 2013