Best Tweets: Swimming Pigs And Other Vacation Pics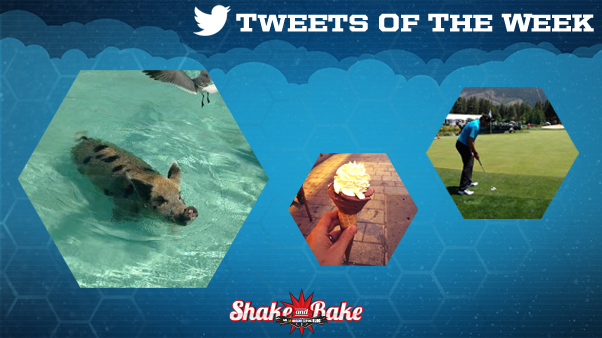 On Friday, we showed you how some of your favorite NASCAR drivers were spending the off-week. Well guess what – we've got more!
Here's a look back at the best Tweets from the week that was.
Bobby Labonte and Steve Letarte were in France, checking out some two-wheel action (and getting some dessert).
I love cycling! At start/finish line of Tour de France enjoying a @CocaCola #GetTheBallRolling pic.twitter.com/OR1YrnclGa

— Bobby Labonte (@Bobby_Labonte) July 21, 2013
@DougDuchardt @tireguyeighty8 @PDuchardt here was me desert. Only in Paris can you get whip cream on a cone pic.twitter.com/ofrE7q20Rm

— Steve Letarte (@SteveLetarte) July 20, 2013
Michael Waltrip and Denny Hamlin went golfing in Tahoe.
Golf Lake Tahoe pic.twitter.com/e49X0mnjr2

— Michael Waltrip (@mw55) July 20, 2013
Had a great week at the @ACChampionship in Tahoe.. 1 day to go. Struggled the first day but made a good recovery today

— Denny Hamlin (@dennyhamlin) July 21, 2013
Sherry Pollex (Martin Truex Jr.'s girlfriend) crossed things off her bucket list while going swimming with various species.
Swimming with the sharks today. #crossthatoffmybucketlist 😁👍 pic.twitter.com/EeOpFFQplf

— Sherry Pollex (@SherryPollex) July 20, 2013
Here piggy piggy. pic.twitter.com/d1rOsBeyZg

— Sherry Pollex (@SherryPollex) July 20, 2013
Clint Bowyer went back home to Kansas.
Thought I'd come back home and check on "Gods Country" pic.twitter.com/mbwcrkzKhi

— Clint Bowyer (@ClintBowyer) July 19, 2013
And Kevin Harvick took a snooze with the little guy.
Vacation's tough… ❤ pic.twitter.com/CqVKTUTmzU

— DeLana Harvick (@DeLanaHarvick) July 20, 2013