Best Tweets: Richmond Controversy Creates Twitter Buzz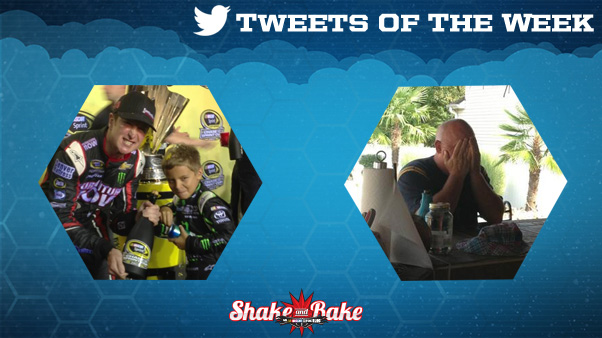 Last week it was the 'slap heard 'round the NASCAR world' that got Twitter fired up. This week it was the controversial finish to Saturday night's race at Richmond.
With so much on the line, a series of events in the closing laps set social media afire for days to come.
From Clint Bowyer's spin, to Carl Edwards' restart, to Brian Vickers' dramatically slow final lap, the NASCAR Twitterverse had plenty to discuss.
It's almost like Kevin Harvick knew the night would be full of drama.
Aside from us wanting to win tonight, this chase stuff could make for an epic night in NASCAR!!! Have fun watching!!

— Kevin Harvick (@KevinHarvick) September 7, 2013
Calling a race as a crew chief is tough, but try being a top-notch NASCAR crew chief watching from home.
Holy cow.. I'm a nervous wreck watching this! This is way worse than sitting on the pitbox…

— Rodney Childers (@RodneyChilders4) September 8, 2013
Wow.. Can't believe how all of that played out.. Crazy!!

— Rodney Childers (@RodneyChilders4) September 8, 2013
Despite the drama, at the end of the night, 12 drivers and teams were celebrating the opportunity to battle for the championship.
We made the Chase! Wooooo

— Joey Logano (@joeylogano) September 8, 2013
Getting ready to get sprayed pic.twitter.com/ykNahTy1sh

— Patricia Driscoll (@Patricia_AFF) September 8, 2013
We are in the chase baby!!! So proud of my @FR78Racing guys! How about them apples:) pic.twitter.com/FXZ5BdZoGG

— Kurt Busch (@KurtBusch) September 8, 2013
Apparently Kevin Harvick's crew chief, Gil Martin, is just happy the champion won't be Brad Keselowski.
The best thing about this Chase is that we are definitely going to have a new champion. Because the one we have now is a real tool.. #loser

— Gil Martin (@GilMartinRCR) September 8, 2013
The controversy surrounding Saturday night's race garnered the attention of IndyCar driver Tony Kanaan.
I'm amazed how people can think that a driver can spin and guess the outcome of the race.

— Tony Kanaan (@TonyKanaan) September 8, 2013
After the comment, some NASCAR fans welcomed the Indy 500 champ with open arms…
Thanks for the advice RT @Hendrick5Fan @TonyKanaan @NASCARONFOX stay in Indy cars don't even think of NASCAR

— Tony Kanaan (@TonyKanaan) September 8, 2013
Too bad Kyle Petty wasn't around to help Kanaan.
Hey @kylepetty now I know how you feel. I'm learning how to respond on twitter with you. lol

— Tony Kanaan (@TonyKanaan) September 8, 2013
Over the next few days, fans and media alike debated the possibility of team orders by Michael Waltrip Racing. Most drivers have remained quiet on the topic, but Jeff Gordon, Brad Keselowski and Kevin Harvick offered a glimpse into their view.
Was feeling pretty bad about missing the #Chase but after seeing all the details coming out now I feel even worse for @RyanNewman39.

— Jeff Gordon (@JeffGordonWeb) September 8, 2013
"@3X824: @KevinHarvick @kaseykahne Waiting 4 you drivers to comment on @MWRteam manipulating the race. #Getsomeballs" I DON'T GIVE A SH#%!

— Kevin Harvick (@KevinHarvick) September 9, 2013
"@EdRose_NASCAR: @KevinHarvick i think you have an opinion on MWR deal but smart enough to stay mute. Maturing sucks but good for you!"<—-

— Kevin Harvick (@KevinHarvick) September 9, 2013
Quite honestly, I don't know what to think… "@JonathanShear: @keselowski hey Brad you must have an opinion on Clint and the spin?!?!?"

— Brad Keselowski (@keselowski) September 8, 2013
Touché @bwilson009 We celebrate a history of moonshining, cheating, & grey areas, but now R surprised when a team bends rules 2 get success?

— Brad Keselowski (@keselowski) September 9, 2013
The suspicious activity by Michael Waltrip Racing wasn't the only incident on the night that got people fired up. The final restart of the night also got social media buzzing, with many claiming Carl Edwards jumped the restart and beat race leader Paul Menard to the line – mainly Menard's crew chief Slugger Labbe.
I guess it is ok for 2nd place to beat 1st place to the line by a car length after getting door slammed. #ballsandstrikes. That is all IMO👎

— Slugger Labbe (@SluggerLabbe) September 8, 2013
How ironic that stone throwers about Fridays NW race were living in glass houses on Saturday night!? #NASCAR

— joey meier (@2Spotter) September 8, 2013
Eventually, NASCAR announced they were looking into Saturday night's race, but offered little more.
OFFICIAL: #NASCAR is reviewing Sat. night's race at RIR per protocol and has no plans for further statement until process is complete.

— Brett Jewkes (@BJewkes) September 8, 2013
During a Monday press conference announcing his move to Richard Childress Racing, Ryan Newman offered his thoughts on the suspicious move that cost him a shot at making the Chase.
"The potential is not there for us to be cordial to each other," says Newman of his future relationship with MWR #NASCAR

— Lee Spencer (@CandiceSpencer) September 9, 2013
Newman adds he believes "it was not an accident" #Nascar

— Lee Spencer (@CandiceSpencer) September 9, 2013
If you thought racing was tough, try being a racer, watching a race at home, with two of your close friends battling for the win. It's OK, you can look, Todd.
Todd is yelling for @RossChastain yelling for @JamesBuescher he won't look!!!! Loves both these kids pic.twitter.com/igvVXu8mYA

— Todd Bodine (@Team_Onion) September 8, 2013
Finally, Jimmie Johnson wasn't the only one to welcome a new addition to the family. A big congratulations to Travis Pastrana and wife Lyn-Z on the birth of their daughter. It's a safe bet she will never say, "Man, my dad is soooo boring."
.@lynzskate & I r stoked 2 have welcomed our baby girl into this world Sep. 2nd, 2013. #199andAhalf #babyPastrana pic.twitter.com/VaLOOtjsYi

— Travis Pastrana (@TravisPastrana) September 4, 2013