Best Tweets: Mullets, Turtleman And Five-Time Tats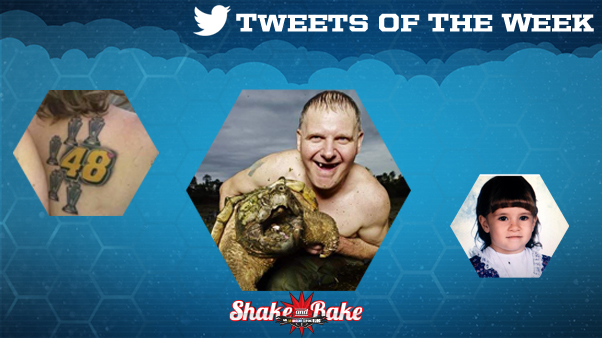 Looking back at the best Tweets from the week that was…
The Chicago Blackhawks won the Stanley Cup. But they still have nothing on Brad Keselowski.
Will be impressed w/ this celebration when one of the players drinks @MillerLite out of the Cup, until then they have nothin on @keselowski

— NASCAR Roast (@NASCARoast) June 25, 2013
It was HOF overload when the NASCAR Hall received a visit from a music legend.
Welcoming Rock & Roll Hall of Famer Mick @Fleetwood & his grandson to the #NASCAR Hall. @rock_hall #halloffamer pic.twitter.com/UgNRZ9nDdN

— NASCAR Hall of Fame (@NASCARHall) June 25, 2013
For some reason, mullets were a key topic of conversation. Not only with Kyle Busch and Darrell Wallace Jr., but also with Ricky Stenhouse Jr. and Danica Patrick.
First ride in a sprintcar, dad was gassin it up #mulletsflappin #throwbackthursday pic.twitter.com/cJb7vQrxsw

— Ricky Stenhouse Jr. (@StenhouseJr) June 27, 2013
#tbt @StenhouseJr had a party in the back and I have one in the front! pic.twitter.com/2Azf7k2uQh

— Danica Patrick (@DanicaPatrick) June 27, 2013
Reality television star "The Turtleman" was at the track, opting to put his hands on a more attractive species.
Yeyeyeyeye LIVE ACTION! Turtleman in the house!! @turtleyaya @KySpeedway #NASCAR pic.twitter.com/sm8g26YAUm

— Rachel Rupert (@rachrupert) June 29, 2013
@turtleyaya Thanks for the "Live Action" dance on stage @KySpeedway Fan Zone! #GoodTimes #QS400 #NASCAR pic.twitter.com/SGP38IjIXR

— Miss zMAX (@zMAX) June 29, 2013
We love NASCAR tattoos. These are twice as nice.
WOW! #Dedication RT @LuvsHMS48: @NASCARonSPEED @JimmieJohnson we got a tattoo @TJeng48 n I #BlameJJ pic.twitter.com/c0fmWhvKgr

— NASCAR on SPEED (@NASCARonSPEED) June 27, 2013
Mother Nature wasn't too cooperative. Rain pushed the Sprint Cup race from Saturday to Sunday. Could this be the reason why?
Mother Nature is a Jr. fan, and she wanted to enjoy the pole award for one more day. #QS400

— NASCAR Wonka (@NASCAR_Wonka) June 30, 2013
Matt Kenseth would find his way to Victory Lane … again. However, Denny Hamlin's rogue tire still hasn't found its way home.
Denny's tire continues its journey. #nascar #qs400 https://t.co/mGLUnpBNZW

— nascarcasm (@nascarcasm) June 30, 2013