Best Tweets: Papis Comes Clean As Samantha Busch Cleans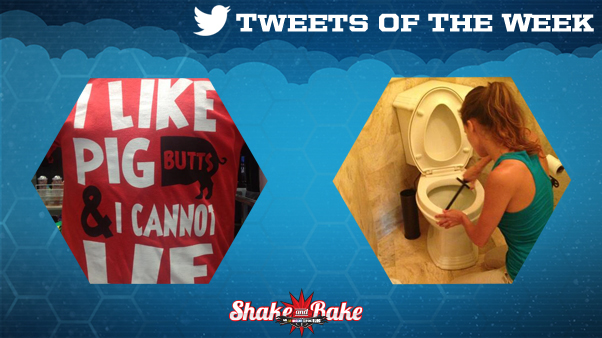 The NASCAR Twitterverse was certainly buzzing this weekend.
Between the 'slap heard around the NASCAR world,' the dramatic finish to the Camping World Truck Series race, and the Labor Day holiday, there was certainly plenty to tweet about.
Let's take a look at the tweets of the week.
With the first weekend of the college football season getting underway, Clint Bowyer really wanted a day off.
Man, it would be pretty easy to just take the day off, pop some cold ones, and watch college football.

— Clint Bowyer (@ClintBowyer) August 31, 2013
Danica Patrick apparently doesn't get the whole "mix" part of trail mix.
OCD trail mix….. pic.twitter.com/O2gVAULY8p

— Danica Patrick (@DanicaPatrick) August 31, 2013
But hey, her man Ricky Stenhouse Jr. won his first Sprint Cup Series pole.
I am so proud of you today baby! @StenhouseJr

— Danica Patrick (@DanicaPatrick) August 31, 2013
We all know drivers tend to think the media can be batty at times, but this just goes too far.
A real BAT on the Media Center Wall here at Atlanta Motor Speedway https://t.co/nld4LgimR1

— Kenny Wallace (@Kenny_Wallace) August 31, 2013
Speaking of the media, defending series champ Brad Keselowski apparently believes you can't please most of them.
The funny thing about talking w/media- Speak open/candidly & you are labeled young and immature. Speak guarded, w/poise & you are labeld a coward or a fraud. Wish I knew how to fix this…

— Brad Keselowski (@keselowski) August 30, 2013
Considering Keselowski was leading when he had motor issues Sunday night, maybe Kid Rock was pretty convincing.
Kid rock blasting in my bus trying to convince me to pull an all nighter… I ran better when I used to listen. #JustSayin

— Brad Keselowski (@keselowski) September 1, 2013
No word if Sam Hornish Jr. will be rocking out to Sir Mix-A-Lot or if he's really just hungry.
Sir mix-a-lot had no idea pic.twitter.com/grOaXUi3O8

— Sam Hornish Jr. (@SamHornish) September 3, 2013
Kyle Busch's Nationwide Series team tried a new way to get their driver's attention on pit road.
We don't need to put out the pit board tonight just wave your shoes they're bright enough! – The Pit Crew pic.twitter.com/ednpEUtjtV

— Samantha Busch (@SamanthaBusch) September 1, 2013
Turning our attention to Sunday's Camping World Truck Series finish in Canada.
Kasey Kahne's spotter Kevin Hamlin saw a bit of a double standard when it came to how people reacted to wrecking the leader for the win.
How come P2 is supposed to wreck for the win last Saturday, it doesn't happen and he's chicken but today it happens & everyone is pissed?

— Kevin Hamlin (@KevinHamlin) September 1, 2013
Keselowski's spotter Joey Meier pointed out a very important lesson young drivers should probably learn before making their way to the Sprint Cup Series.
Racers appreciate a good "bump and run"…not a BOOM WRECK I WIN.!! YOU FINISH LAST. Huge difference. 1 of them takes talent #NASCAR

— joey meier (@2Spotter) September 1, 2013
Nationwide Series driver Charles Lewandoski had some fun word play with the 'slap' on Max Papis.
How would you like to be a driver and have your girlfriend get more press then you have your entire career? What a slap in the face

— Charles Lewandoski (@chalewandoski) September 2, 2013
Speaking of Papis, he clarified his comments about his jaw being dislocated from the slap.
Just to clarify my English my jaw was never dislocated I used that to say it was moved around and sprained ( not from around here guys!)

— Max Papis (@maxpapis) September 3, 2013
Still needed several CHIRO adjustment to be back in place but again NO COMPLAIN !!! Just FYI as English is not my first language ok!!!

— Max Papis (@maxpapis) September 3, 2013
And with this I will conclude the #slap episode,unnecessary, made him and her looked unpro , gave me opp t tell my kids how to behave

— Max Papis (@maxpapis) September 3, 2013
Meanwhile, German Quiroga enjoyed the Shake And Bake Crew's take on the drama at the end of the race.
This is hilarious, I don't know who is taking me pictures with out my shirt. . Lol @NASCARONFOX pic.twitter.com/ORcLn5CPo8

— German Quiroga ® (@gerspeed1) September 2, 2013
It was probably a good thing Clint Bowyer had Monday off, he had a rough night in Atlanta and had big plans to put it behind him.
Found a perfect song for tonight, and it goes something like this…..one bourbon…..one scotch…….and one beer! Any takers???

— Clint Bowyer (@ClintBowyer) September 2, 2013
A nice day on the water didn't go exactly as planned for Martin Truex Jr.
(Warning: Some language may be inappropriate)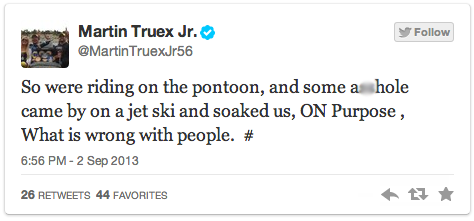 I wish this thing was faster id run his ass down.

— Martin Truex Jr. (@MartinTruexJr56) September 2, 2013
No word on if Jimmie Johnson is really to blame, but hey, why not blame him anyway.
@JimmieJohnson its your fault. Blame jj

— Martin Truex Jr. (@MartinTruexJr56) September 2, 2013
How did Atlanta winner Kyle Busch spend his day off? Watching wife Samantha clean toilets. Hey Kyle, she's a keeper!
Here is @SamanthaBusch from victory lane 20hrs ago to now. Amazing wifey!! pic.twitter.com/Mjjd0N1uwU

— Kyle Busch (@KyleBusch) September 2, 2013