Best Tweets: Bees, Breakdancing & The Blues Brothers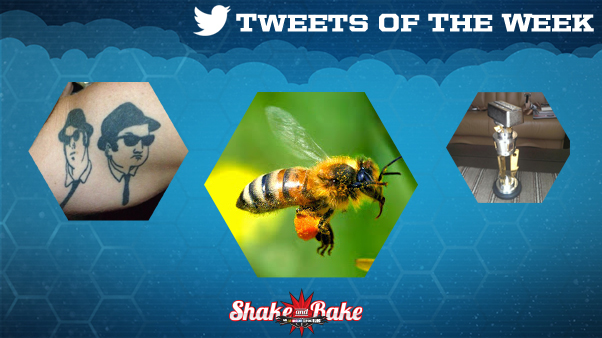 Let's take a look at the best Tweets from the week that was.
Dirt racing at Eldora was all the buzz. Everone seemed to be excited for the historic event, including the Speaker of the House.
Good to see NASCAR's return to dirt track racing tonight @EldoraSpeedway in #OH8 and best wishes for track owner #TonyStewart

— Speaker John Boehner (@SpeakerBoehner) July 24, 2013
Speaking of buzz, angry bees were on the loose at the Charlotte, NC airport. Charlotte Observer NASCAR reporter Jim Utter was in the middle of the action, giving a play-by-play as the insects delayed his flight.
— Jim Utter (@jim_utter) July 24, 2013
Spoke WAY too soon. Now delayed by 'swarm of bees' #cantmakethisup

— Jim Utter (@jim_utter) July 24, 2013
So @USAirways is now calling in 'bee experts' This is not going to end well

— Jim Utter (@jim_utter) July 24, 2013
The beekeeper is here!!!!!

— Jim Utter (@jim_utter) July 24, 2013
Sounds like were Bee Free!!!!!

— Jim Utter (@jim_utter) July 24, 2013
On the ground in Eldora, Clint Bowyer stumbed across some cool ink.
Hands down…..coolest tattoo in Eldora pic.twitter.com/qp2m6vYIGt

— Clint Bowyer (@ClintBowyer) July 24, 2013
After all was said and done, dirt racing was a huge hit with the Cup drivers.
Weekday racing is #awesome. @NASCAR_Trucks #MudSummerClassic

— Jimmie Johnson (@JimmieJohnson) July 25, 2013
Just getting phone service, most fun we've ever had on a Wednesday! @Tulips_MD why so quiet on twitter? What do you think of the race?

— Brad Keselowski (@keselowski) July 25, 2013
Elsewhere, Jeff Gordon busted a move.
Somebody showed his moves again! @JeffGordonWeb pic.twitter.com/yjuWFsGRfh

— Ingrid Vandebosch (@ivandebosch) July 22, 2013
On Sunday, Ryan Newman came away with the victory in Indy.
"Please place all carry-on items under your seat…or if it's really awesome, place in center of cabin." pic.twitter.com/P138ZQP3f6

— Stewart-Haas Racing (@StewartHaasRcng) July 28, 2013
So what does a Brickyard 400 winner do the next morning?
The man wins the Brickyard and the next morning got up early to get his wife a coffee…he's a keeper 😉

— Krissie Newman (@NewmanKrissie) July 29, 2013