Bielema's wife teases Badgers fans
The ending to Arizona State's 32–30 victory over Wisconsin on Saturday night was downright bizarre.
With the ball in field goal range, no timeouts left and time winding down, Badgers QB Joel Stave centered the ball and took a knee, assuming he'd have time for a clock-killing spike on the next play. Only there was no next play.
[PHOTOS: College football's hottest WAGS of 2013]
The Sun Devils jumped on the ball after Stave laid it on the turf, thinking he had not taken a knee and thus fumbled. The refs then took a long time spotting the ball for the next play, so much so that time ran out on Wisconsin and ASU escaped with a victory.
The wife of ex-Wisconsin head coach and current Arkansas head man Bret Bielema, Jen, poured salt in the wound of Badger fans after months of seeing her husband hounded on Twitter by them.
#karma

— Jen Bielema (@jenbielema) September 15, 2013
Needless to say, that didn't go over well in the Twittersphere.
"@jenbielema: #karma" wow, that's really cold for a bunch of players your husband walked out on.

— Colin Benedict (@cbenedict) September 15, 2013
Do you know what karma means? And didn't your husband recruit those players? Dummy RT @jenbielema #karma

— Mitch Moss (@MitchMoss24) September 15, 2013
#Clueless #Classless RT"@jenbielema: #karma"

— Eric Wagers (@ericwagers) September 15, 2013
"@jenbielema: #karma" wow! That's messed up. Plus she just tweeted herself after this. Did you go off your meds again? #bequiet

— Chris Talbott (@catmark) September 15, 2013
@jenbielema thanks for proving us right. #stayclassy

— JackieH (@jlhalvy) September 15, 2013
And those are just the clean responses.
[PHOTOS: College football's hottest cheerleaders gallery]
Is anyone else really hoping for an Arkansas-Wisconsin bowl game now?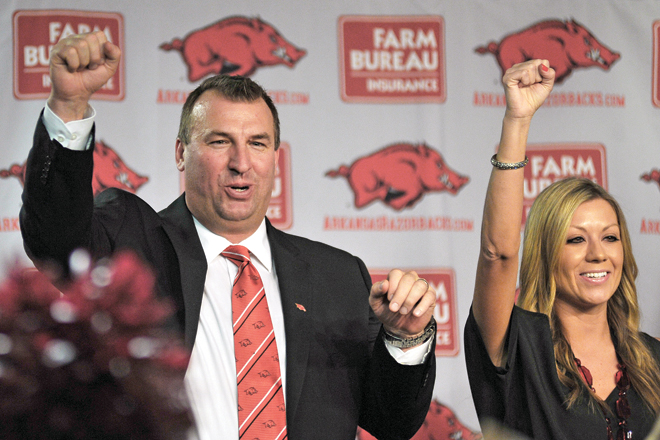 Most popular on LostLettermen.com:
• GALLERY: Grading college football's new 2013 uniforms
• NFL draft's top 50 busts: Where are they now?
• VIDEOS: Top 10 biggest hits in college football history
• PHOTOS: College football Top 20 best helmets
• PHOTOS: College FB Pro Combat helmet concepts go viral
• Top 25 college football player names of 2013
• College football's funniest names ever ft. Jim Bob Cooter
Related Stories
Member Comments
Please note by clicking on "Post comment" you acknowledge that you have read the Terms of Use and the comment you are posting is in compliance with such terms. Be Polite. Inappropriate posts may be removed by the moderator.
Fox Sports Store
| itemName | itemURL | imageSrc | price | itemDescription |
| --- | --- | --- | --- | --- |
| Nike Florida Gators Gridiron 2012 Team Issue T-Shirt - Royal Blue | http://shop.foxsports.com/FOX_Florida_Gators/browse/featuredproduct/759777/source/foxsports_prsp_ca | http://images.footballfanatics.com/FFImage/thumb.aspx?i=/productImages/_759000/ff_759777_xl.jpg&w=100 | 24.95 | Nike Florida Gators Gridiron 2012 Team Issue T-Shirt - Royal Blue |
| Nike Michigan State Spartans Football 2012 Team Issue T-Shirt - White | http://shop.foxsports.com/FOX_Michigan_State_Spartans/browse/featuredproduct/760171/source/foxsports_prsp_ca | http://images.footballfanatics.com/FFImage/thumb.aspx?i=/productImages/_760000/ff_760171_xl.jpg&w=100 | 24.95 | Nike Michigan State Spartans Football 2012 Team Issue T-Shirt - White |
| Nike USC Trojans Fight On My School T-Shirt - Cardinal | http://shop.foxsports.com/FOX_USC_Trojans/browse/featuredproduct/761373/source/foxsports_prsp_ca | http://images.footballfanatics.com/FFImage/thumb.aspx?i=/productImages/_761000/ff_761373_xl.jpg&w=100 | 24.95 | Nike USC Trojans Fight On My School T-Shirt - Cardinal |
| Nike Alabama Crimson Tide Elite Force Coaches Sideline Performance Polo - Crimson | http://shop.foxsports.com/FOX_Alabama_Crimson_Tide/browse/featuredproduct/829709/source/foxsports_prsp_ca | http://images.footballfanatics.com/FFImage/thumb.aspx?i=/productImages/_829000/ff_829709_xl.jpg&w=100 | 64.95 | Nike Alabama Crimson Tide Elite Force Coaches Sideline Performance Polo - Crimso.. |
| Nike LSU Tigers Elite Force Coaches Sideline Performance Polo - Purple | http://shop.foxsports.com/FOX_LSU_Tigers/browse/featuredproduct/829740/source/foxsports_prsp_ca | http://images.footballfanatics.com/FFImage/thumb.aspx?i=/productImages/_829000/ff_829740_xl.jpg&w=100 | 49.99 | Nike LSU Tigers Elite Force Coaches Sideline Performance Polo - Purple |
| Nike Oklahoma Sooners Legacy 91 Dri-FIT Adjustable Coaches Cap - Crimson | http://shop.foxsports.com/FOX_Oklahoma_Sooners/browse/featuredproduct/830935/source/foxsports_prsp_ca | http://images.footballfanatics.com/FFImage/thumb.aspx?i=/productImages/_830000/ff_830935_xl.jpg&w=100 | 21.95 | Nike Oklahoma Sooners Legacy 91 Dri-FIT Adjustable Coaches Cap - Crimson |
| adidas Notre Dame Fighting Irish Hot Sideline Jacket - Navy Blue | http://shop.foxsports.com/FOX_Notre_Dame_Fighting_Irish/browse/featuredproduct/861243/source/foxsports_prsp_ca | http://images.footballfanatics.com/FFImage/thumb.aspx?i=/productImages/_861000/ff_861243_xl.jpg&w=100 | 69.95 | adidas Notre Dame Fighting Irish Hot Sideline Jacket - Navy Blue |
| adidas Nebraska Cornhuskers Sideline Hot Quarter Zip Jacket - Scarlet | http://shop.foxsports.com/FOX_Nebraska_Cornhuskers/browse/featuredproduct/861247/source/foxsports_prsp_ca | http://images.footballfanatics.com/FFImage/thumb.aspx?i=/productImages/_861000/ff_861247_xl.jpg&w=100 | 69.95 | adidas Nebraska Cornhuskers Sideline Hot Quarter Zip Jacket - Scarlet |
| Nike Alabama Crimson Tide 2012 BCS National Champions Players Locker Room Snapback Hat - Charcoal/Black | http://shop.foxsports.com/FOX_Alabama_Crimson_Tide/browse/featuredproduct/1087345/source/foxsports_prsp_ca | http://images.footballfanatics.com/FFImage/thumb.aspx?i=/productImages/_1087000/ff_1087345_xl.jpg&w=100 | 29.95 | Nike Alabama Crimson Tide 2012 BCS National Champions Players Locker Room Snapba.. |
| Nike Alabama Crimson Tide 2012 BCS National Champions Locker Room T-Shirt - Ash | http://shop.foxsports.com/FOX_Alabama_Crimson_Tide/browse/featuredproduct/1093431/source/foxsports_prsp_ca | http://images.footballfanatics.com/FFImage/thumb.aspx?i=/productImages/_1093000/ff_1093431_xl.jpg&w=100 | 24.95 | Nike Alabama Crimson Tide 2012 BCS National Champions Locker Room T-Shirt - Ash |