UConn confused over new conference
The new conference affiliations that took hold on Monday are confusing enough that even the schools involved aren't 100 percent sure who their new conference rivals are.
At least that was the case with UConn. One of 10 schools that will participate in the fledgling American Athletic Conference during the 2013–2014 school year, the Huskies' official website featured a welcome screen announcing its excitement at being in the AAC and showing the logos of its new conference mates.
[Related: Connecticut gets hideous new football helmets for 2013 season]
Alas, UConn made the mistake of failing to include a logo for Central Florida while including logos for Tulane, Tulsa and East Carolina (who don't join the conference until next summer) and Navy (who joins the conference in 2015).
It's an honest mistake but sure isn't a good look for a conference already struggling for respect.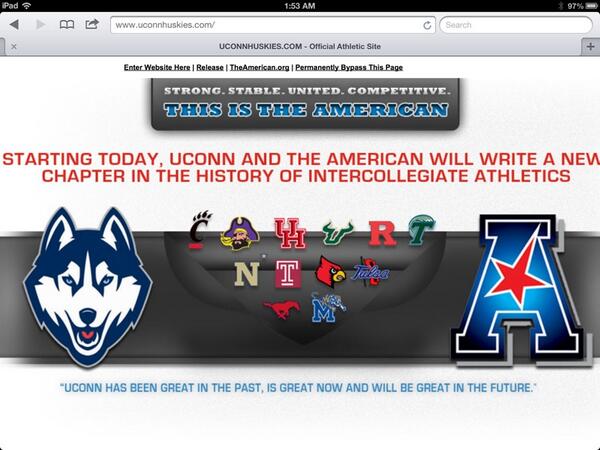 Most popular on LostLettermen.com:
• GALLERY: College Football's 50 Hottest Cheerleader Pictures
• PHOTOS: Grading College Football's New Uniforms of 2013
• PHOTOS: Wives & Girlfriends of College Football Players
• GALLERY: Pro Combat CFB Helmet Designs Go Viral
Related Stories
Member Comments
Please note by clicking on "Post comment" you acknowledge that you have read the Terms of Use and the comment you are posting is in compliance with such terms. Be Polite. Inappropriate posts may be removed by the moderator.
Fox Sports Store
| itemName | itemURL | imageSrc | price | itemDescription |
| --- | --- | --- | --- | --- |
| Nike Florida Gators #1 Replica Elite Basketball Jersey - Black | http://shop.foxsports.com/FOX_Florida_Gators/browse/featuredproduct/885881/source/foxsports_prsp_ca | http://images.footballfanatics.com/FFImage/thumb.aspx?i=/productImages/_885000/ff_885881_xl.jpg&w=100 | 74.95 | Nike Florida Gators #1 Replica Elite Basketball Jersey - Black |
| Nike Georgetown Hoyas #22 Hyper Elite Road Performance Jersey - Navy Blue | http://shop.foxsports.com/FOX_Georgetown_Hoyas/browse/featuredproduct/1030243/source/foxsports_prsp_ca | http://images.footballfanatics.com/FFImage/thumb.aspx?i=/productImages/_1030000/ff_1030243_xl.jpg&w=100 | 119.95 | Nike Georgetown Hoyas #22 Hyper Elite Road Performance Jersey - Navy Blue |
| Nike Duke Blue Devils #5 Tourney Takeover Replica T-Shirt - Duke Blue | http://shop.foxsports.com/FOX_Duke_Blue_Devils/browse/featuredproduct/1032710/source/foxsports_prsp_ca | http://images.footballfanatics.com/FFImage/thumb.aspx?i=/productImages/_1032000/ff_1032710_xl.jpg&w=100 | 27.95 | Nike Duke Blue Devils #5 Tourney Takeover Replica T-Shirt - Duke Blue |
| Nike Oregon Ducks X-Ray Ball T-Shirt - Green | http://shop.foxsports.com/FOX_Oregon_Ducks/browse/featuredproduct/1052002/source/foxsports_prsp_ca | http://images.footballfanatics.com/FFImage/thumb.aspx?i=/productImages/_1052000/ff_1052002_xl.jpg&w=100 | 24.95 | Nike Oregon Ducks X-Ray Ball T-Shirt - Green |
| Nike Ohio State Buckeyes Road Warrior Tri-blend T-Shirt - Scarlet | http://shop.foxsports.com/FOX_Ohio_State_Buckeyes/browse/featuredproduct/1052645/source/foxsports_prsp_ca | http://images.footballfanatics.com/FFImage/thumb.aspx?i=/productImages/_1052000/ff_1052645_xl.jpg&w=100 | 29.95 | Nike Ohio State Buckeyes Road Warrior Tri-blend T-Shirt - Scarlet |
| Indiana Hoosiers 2013 NCAA Men\'s Basketball Road to March Madness T-Shirt - Crimson | http://shop.foxsports.com/FOX_Indiana_Hoosiers/browse/featuredproduct/1124528/source/foxsports_prsp_ca | http://images.footballfanatics.com/FFImage/thumb.aspx?i=/productImages/_1124000/ff_1124528_xl.jpg&w=100 | 19.95 | Indiana Hoosiers 2013 NCAA Men\'s Basketball Road to March Madness T-Shirt - Cri.. |
| adidas Louisville Cardinals 2013 March Madness #10 Premier Swingman Jersey - Red | http://shop.foxsports.com/FOX_Louisville_Cardinals/browse/featuredproduct/1127200/source/foxsports_prsp_ca | http://images.footballfanatics.com/FFImage/thumb.aspx?i=/productImages/_1127000/ff_1127200_xl.jpg&w=100 | 89.95 | adidas Louisville Cardinals 2013 March Madness #10 Premier Swingman Jersey - Red |
| adidas Notre Dame Fighting Irish 2013 March Madness #45 Premier Swingman Jersey - White | http://shop.foxsports.com/FOX_Notre_Dame_Fighting_Irish/browse/featuredproduct/1127218/source/foxsports_prsp_ca | http://images.footballfanatics.com/FFImage/thumb.aspx?i=/productImages/_1127000/ff_1127218_xl.jpg&w=100 | 89.95 | adidas Notre Dame Fighting Irish 2013 March Madness #45 Premier Swingman Jersey .. |
| Nike Gonzaga Bulldogs March Madness Bracketville T-Shirt - Navy Blue | http://shop.foxsports.com/FOX_Gonzaga_Bulldogs/browse/featuredproduct/1155821/source/foxsports_prsp_ca | http://images.footballfanatics.com/FFImage/thumb.aspx?i=/productImages/_1155000/ff_1155821_xl.jpg&w=100 | 24.95 | Nike Gonzaga Bulldogs March Madness Bracketville T-Shirt - Navy Blue |
| Top of the World Miami Hurricanes 2013 NCAA ACC Men's Basketball Tournament Champions Adjustable Hat – Green | http://shop.foxsports.com/FOX_Miami_Hurricanes/browse/featuredproduct/1177723/source/foxsports_prsp_ca | http://images.footballfanatics.com/FFImage/thumb.aspx?i=/productImages/_1177000/ff_1177723_xl.jpg&w=100 | 25.95 | Top of the World Miami Hurricanes 2013 NCAA ACC Men's Basketball Tournament Cham.. |