National Signing Day highlights all in one awesome graphic
As America's best high school players officially committed to schools throughout the country on National Signing Day, college football programs and fans got a sharper picture of next season's rosters.
But we understand if you didn't have time to keep track of Les Miles' and Nick Saban's fax messages on Wednesday. That's why FOX Sports created an infographic to fill you in on the main highlights from Signing Day.
Consider it a cheat sheet for the Class of 2014 stars.
Here's how it works:
Use the legend in the dirt to find a player and his corresponding Scout.com ranking — the map covers Scout's top 25 players in this year's class.
Each ranking number is duplicated on the map inside a blue dot, which marks where a player is from. Then follow the dotted line to the school flag to see where that player signed (each school's logo is also beside the recruit's name in the legend).
Included around the map are some essentials, such as the most creative announcement and biggest steal. Below the graphic are some links to Signing Day content if you missed them. Enjoy.
(To view an extra large version of the map, follow this link and then click the map to enlarge.)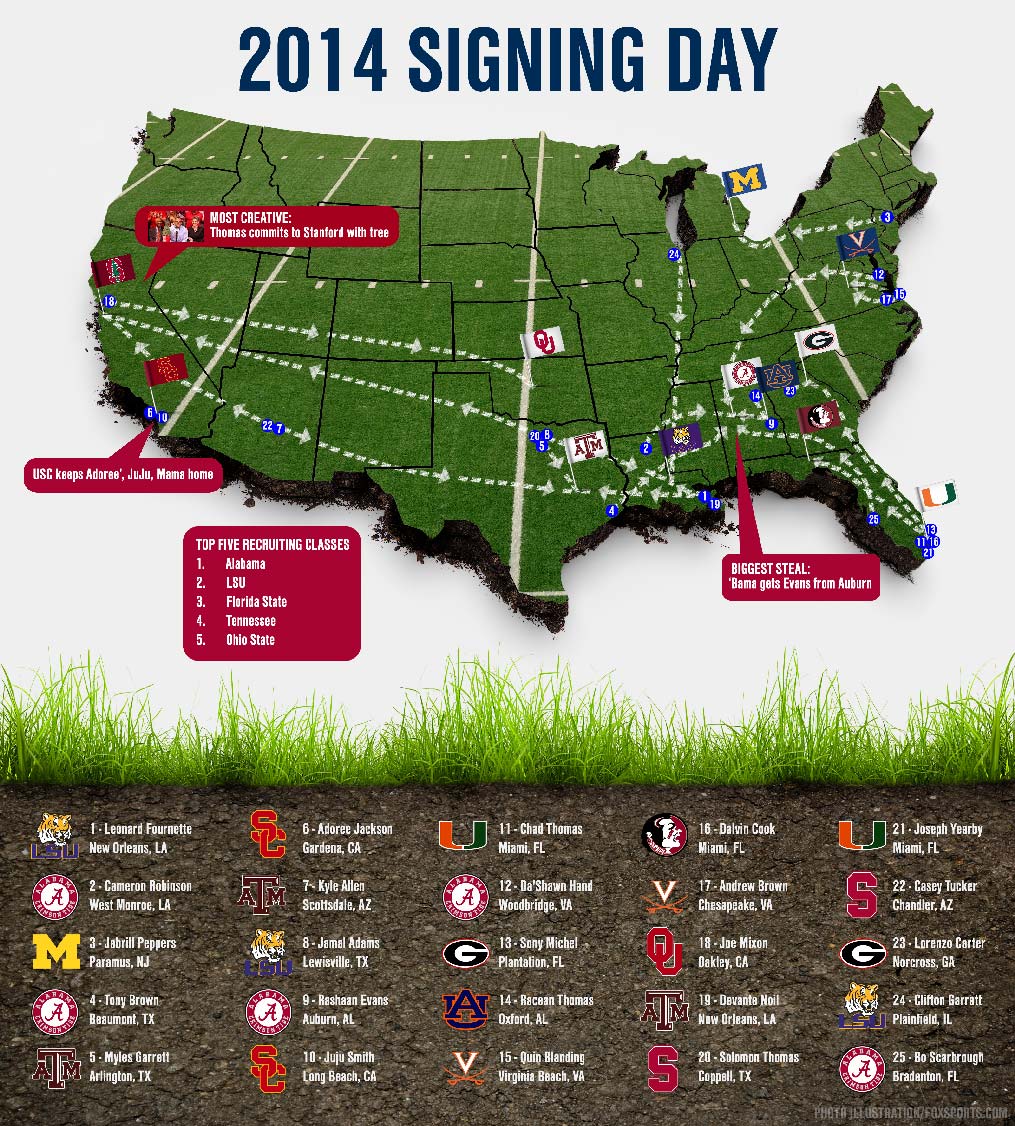 More from Signing Day
Adoree' Jackson kept everyone waiting before joining the crew at Southern California.
Drew Clarkson's last 11 months: Beat cancer and then sign a Division I scholarship.
Alabama signed the nation's top class, and it wasn't that close.
Ohio State loaded up on more stars in hopes of another national title shot.
Here's what you need to know about the Big 12's recruiting classes.
Nebraska signed 23 five-star recruits plus the nation's only six-star prospect, according to Fake Bo Pelini.
At Creekside High, the Berry twins are carrying on a Tennessee legacy.
Outside of getting Jabrill Peppers, Signing Day was mostly quiet for Michigan.
A Stanford recruit used a live tree and nerd glasses to commit to the Cardinal.
National champion Florida State cleaned up on Signing Day.
Auburn's team website claimed a top linebacker, except that linebacker then signed with Alabama.
Scout's Jamie Newberg reveals the nation's top recruiting classes on FOX Football Daily.