The Real MVP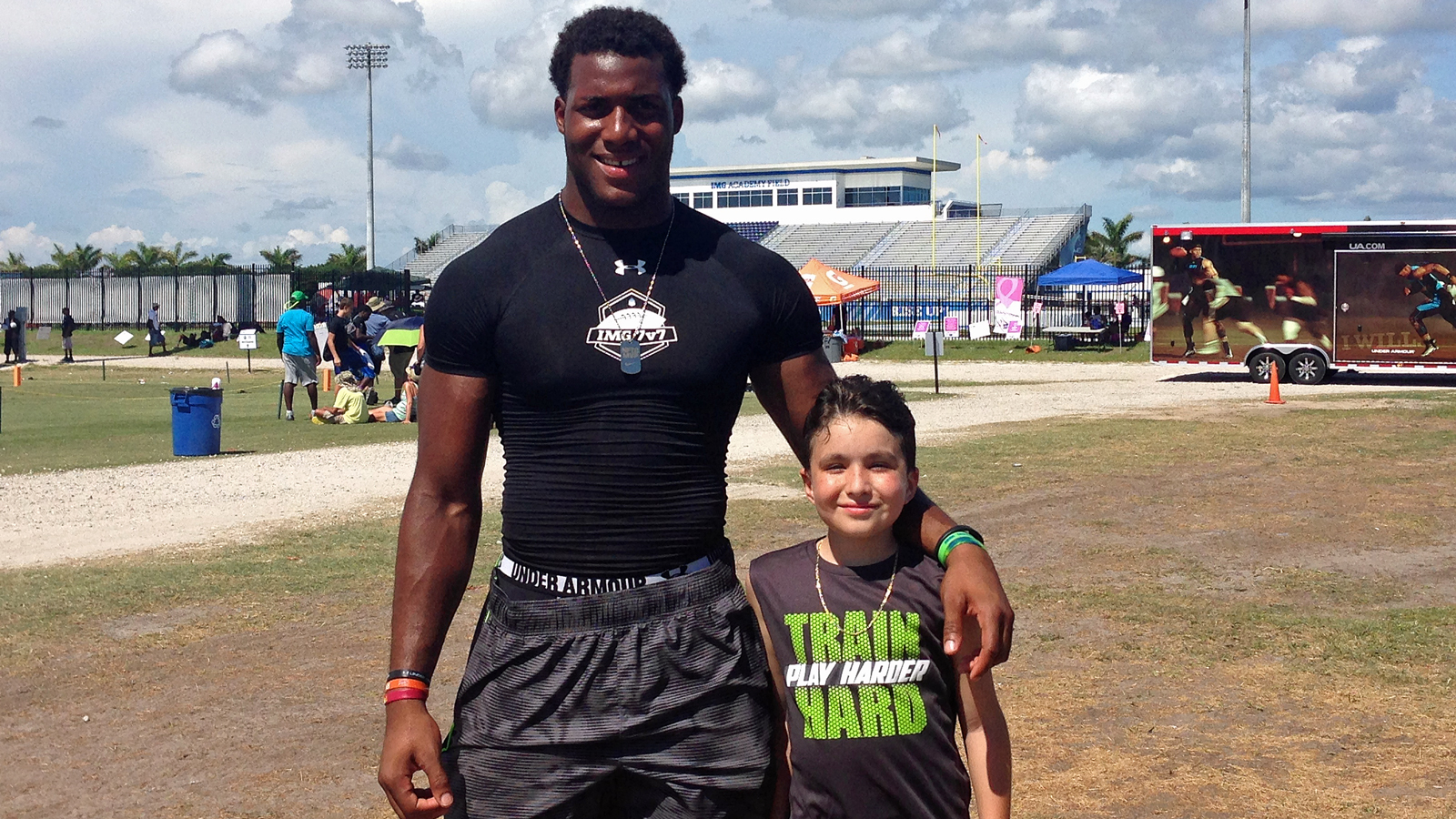 My favorite part of recruiting are the stories; each prospect has their own.
For Byron Cowart, this particular story has just begun.
Cowart was recently invited to a graduation party. There, this Scout five-star defensive end prospect from Seffner (Fla.) Armwood met a 10-year old boy. His name is Jeovani Ortiz. They call him JoJo.
Three months ago JoJo was diagnosed with Crohn's Disease. This is a painful inflammatory bowel disease. It's been an extremely rough time for JoJo and his parents. First there is the unknown and then the discovery that your little boy has an incurable disease. Even worse is seeing your child suffer.
"JoJo has had some pretty good days and some pretty bad days," said Julio Ortiz, JoJo's father. "To see him in so much pain is so hard. There is no cure. We just hope to stabilize him."
It was at Ortiz's niece's graduation where the chance encounter happened between the football star and the boy who dreams of playing quarterback.
"I got pretty emotional when I first saw him," Cowart said. "I remember I was walking from one room to another and saw his mom crying because he wasn't doing well. She didn't want him to see. Before I left I went and talked with JoJo, to see how he was doing. I told him he was so strong."
JoJo thought Cowart was a pro player in the NFL. Cowart told him that's what he was aspiring to be. JoJo has the same aspirations.
"He wants to be a quarterback," Cowart said. "It was funny because I told him I was the guy that wanted to kill the quarterback."
All kidding aside the two have developed a unique and special bond. JoJo needs Byron. You can say he's a good form of therapy in addition to the 22 daily medications he has to take to deal with Crohn's. On the flip side, Cowart is an only child who doesn't have a father. You can say that JoJo has made just as much of an impact on Byron's life as Byron has made on his.
Sean Callahan is Armwood's coach and he's the guy that probably knows Cowart better than anyone. He has seen the impact the two have made on each other.
"Once you see Byron and JoJo together you will get it," Callahan said. "Byron has no brothers and sisters. He has no father. I see him as a big brother to JoJo and another father figure in his life. And I think Byron really, truly enjoys that role. You should see him around here. He talks about Crohn's. He talks to everyone about JoJo. This kid has a big heart and I see it as just another step for Byron in becoming a man. It's healthy and good for him."
JoJo has made progress. Back in April when things were real bad he was down to 42 pounds. Crohn's causes intense stomach pain. It weakens your blood cells and bone and lowers your iron. To stay strong JoJo has feeding tubes each night. After weeks of medication and dealing with this disease as best he could JoJo is back up to 70 pounds.
"At the end of the day I think Byron just wants my son to feel good," Oritz said. "They have spent a lot of time together and Byron has become an important figure to JoJo. Byron tells him that there is nothing to worry about, that he's now his big brother and they will deal with it together. As a father, to see that, it just opens my heart. I don't think you see that in too many 18-year olds. I see the man that he will be."
Cowart is in the midst of a whirlwind. It's called recruiting. When you are one of the most coveted recruits in the nation you get pulled in all kinds of directions. Meanwhile, Cowart is trying to figure out the next step, his future college. He's one of those kids that could virtually name his school. It's not an easy decision because there are so many wonderful choices and options for the 6-foot-4, 260-pound defensive end.
So while Cowart is trying to figure out the decision that will set him up for the rest of his life he wants to take JoJo along for the ride. Cowart came up with the idea of having JoJo make visits to schools with him, starting this fall.
"We are going to the first game at Florida and I know I will take him to the Florida State/Florida game," Cowart said. "There's alsoStanford/Notre Dame. I know if there is one school that I really want to take him to see its Notre Dame. I was just there and I loved it. I know he would. I would love to take him on an official visit."
Earlier this month Cowart went to JoJo's flag football game in Tampa. This past weekend JoJo and his parents traveled to Bradenton and watched Cowart play tight end for Team Tampa in the IMG National 7-on-7. It was the first time he had seen Cowart participate in a football event.
"To see him out here and to smile and have fun was great," Cowart said. "And I think it helps him. I think it really does."
It's funny how life's twists and turns open new doors. For Cowart and JoJo it was a graduation party that changed their lives.
"I am not trying to take credit for anything," Cowart said. "I believe that things happen for a reason. There's a reason that God put JoJo in my life and why God put me in JoJo's life. What JoJo has done for me is incredible and he has helped me build character. He helps me and doesn't even know it. JoJo has made such an impact on me.
"He's the star, not me. Our friendship will never end. I will keep him close to me. I always wanted to start a 'Make A Wish Foundation'. But I'm doing this because he's the real MVP. Look at what that kid is fighting each and every day."
Note – Help Byron help JoJo. To learn more about Jeovani Ortiz's battle with Crohn's disease, you can check out the family's GoFundMe page by clicking, HERE.