Men on a mission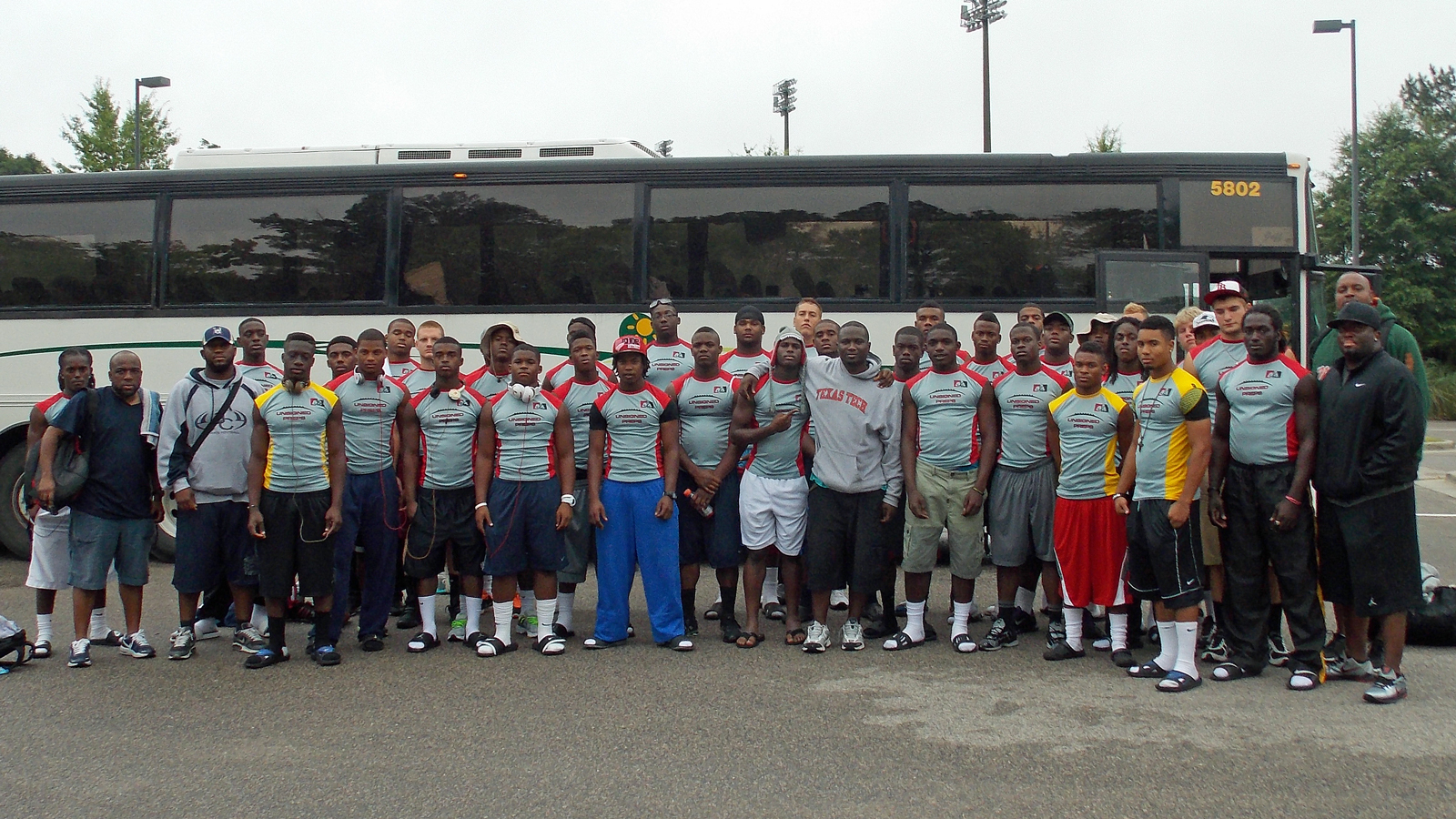 It was a blessing in disguise and there are a lot of recruits that can all thank Georgia running back coach Bryan McClendon.
In the spring of 2010, McClendon came through the Tampa Bay area. One of his stops was Tampa Jefferson to see linebacker/defensive end Ramik Wilson. Ball left the school without offering Wilson a scholarship and that lit a fire under one Bay area coach named Ricky Sailor.
"€œI was pissed,"€ Sailor said. "€œI mean I was upset that Georgia wouldn't offer him. What else did they need to see?"
Sailor responded by chartering a bus and taking Wilson and six other Tampa recruits to the Bulldogs summer football camp a few weeks later. Georgia eventually offered Wilson based on his camp performance. The irony here is that he signed with Mark Richt and the Dawgs. In fact, this past season, Wilson led the SEC in tackles. He's on track to become a high NFL draft pick next year.
McClendon'€™s spring offer snub created a yearly tradition for Sailor and his 7-on-7 team, Unsigned Preps. Each summer Sailor now charters two buses. On Monday, they leave to see eight schools. One bus is going to Clemson (June 10), Georgia (June 11), North Carolina (June 12) and N.C. State (June 13). The other is headed west to Southern Miss (June 10), Mississippi State (June 11), UAB (June 12) and Troy (June 13). Each year they try and see different colleges. Last summer they tripped to Louisville, Kentucky, Tennessee and Vanderbilt.
Sailor and his coaching buddies (Jeris McIntyre, Antez Brinson, Jason Stokes, Frank LaRosa, Romey Battle, and Ray Ray McCloud II) had a mission, get his kids and the area kids out to see as many schools as possible. He wanted to open up the door and create more opportunities for these players.
"€It is a mission of mine that started with Ramik," Sailor said. "These kids need opportunities to get in front of these coaches and to get to these colleges. This is a cheap and affordable way to achieve that. It'€™s hard for these kids to do this on their own and to get to some of these places. So we charter these buses so these kids can physically see these schools. It'€™s different for them to get out and actually do it. For most of these guys they are leaving the state for the very first time. It'€™s eye opening for them."
You have to commend Sailor and his coaches for what they are doing and the mission they have. Clearly, they have these kids best interest at heart. One such player is Tampa Sickles four-star running back prospect Ray Ray McCloud. For McCloud, next week€™s trip will be his third on the Sailor bus tour.
"€œIt'€™s been a great experience for me," McCloud said. "I had never seen a college before this so that was big for me and all the other guys. We are all in the same boat. Now, I tell the younger guys that they need to embrace this chance and make the most out of it. It'€™s fun to and we have built a lot of friendships through this experience as well as playing 7-on-7. The best part is going on this trip and hanging out with your boys."
There'€™s no doubt that McCloud is one of the stars on the bus. So too are prospects like Deon Cain (Tampa Bay Tech), Tyree St. Louis (Bradenton IMG Academy), Tony Jones (Bradenton IMG Academy), and Nate Ferguson (Tampa Gaither). In all there will be three dozen or so players on the first bus.
The second bus is more of the under the radar guys from Tampa Bay. Right now, there are two dozen recruits in the next few classes on that one.
For each player, the cost is $450. That covers the bus, gas, hotel, meals and the camps at each school. Sailor also has sponsorships for the Florida Medical Clinic in Zephyrhills, the Davin Joseph Foundation and All Sports Community Service.
"Everyone understands our mission,"€ Sailor said. "After this tour a guy like Ray Ray will have seen 16 different schools. That'€™s huge for him. It'€™s huge for the others. It'€™s a great experience for everyone. They see new places, get in front of the coaches and they go to these camps and compete. They bond. We mentor.
"€œIt's a mission that we all feel very strongly about."
And you can thank McClendon for this mission getting accomplished each summer.
For Sailor and his crew, Bus Tour 2014 starts on Monday.