I'm so mad I could ... Coach K gets T'ed up after throwing his marker
Duke lost the ACC tournament championship to Virginia on Sunday 72-63, and Blue Devils head coach Mike Krzyzewski wasn'€™t having a great time in the process.
And sometimes when the coach isn't enjoying himself, he gets frustrated.
He might throw a chair, like Bob Knight.
Or run onto the court like a wild man, like Jim Boeheim last month.
Yet again, a coach might, say, grab an entire bench and throw it onto the ice ...
Beside showing superb strength in the clip above, former New Jersey Devils bench boss Robbie Ftorek also proves college hoops coaches aren't the only ones who sometimes misbehave.
But in perhaps one of the tamest-looking protests from the sidelines by a coach, Mike Krzyzewski did this: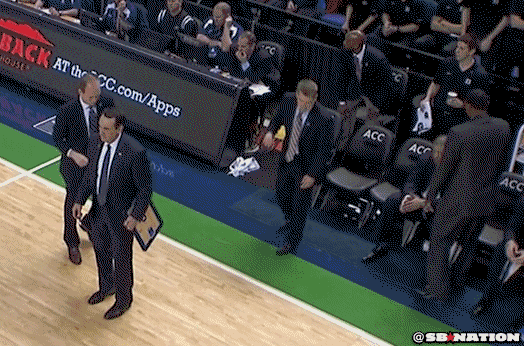 That'€™s right, he threw his pen. Yeah, take that, refs!
The projectile harmlessly skipped to the feet of one of his assistants, Steve Wojciechowski, "earning" the head coach a technical foul from referee Jamie Luckie late in the first half. Coach K called the penalty "ridiculous" and "shameful," and said he has "no clue" why he was T'ed up.

"Yeah, but I mean, you can throw a clipboard, too," he said. "I didn't do it in reaction to anything. I mean, I could hit my head on the floor. I can do a handstand. I can tumble. As long as it's not in reaction to anybody.
"There's no way that there should be a technical foul on that. I mean, it was ridiculous. Absolutely ridiculous. Shameful. Shameful."
The pen-flinging didn'€™t seem to be all that over-the-top, especially compared to this aforementioned moment:
The Associated Press contributed to this report.