Blair Walsh: How the NFL draft process led to my redemption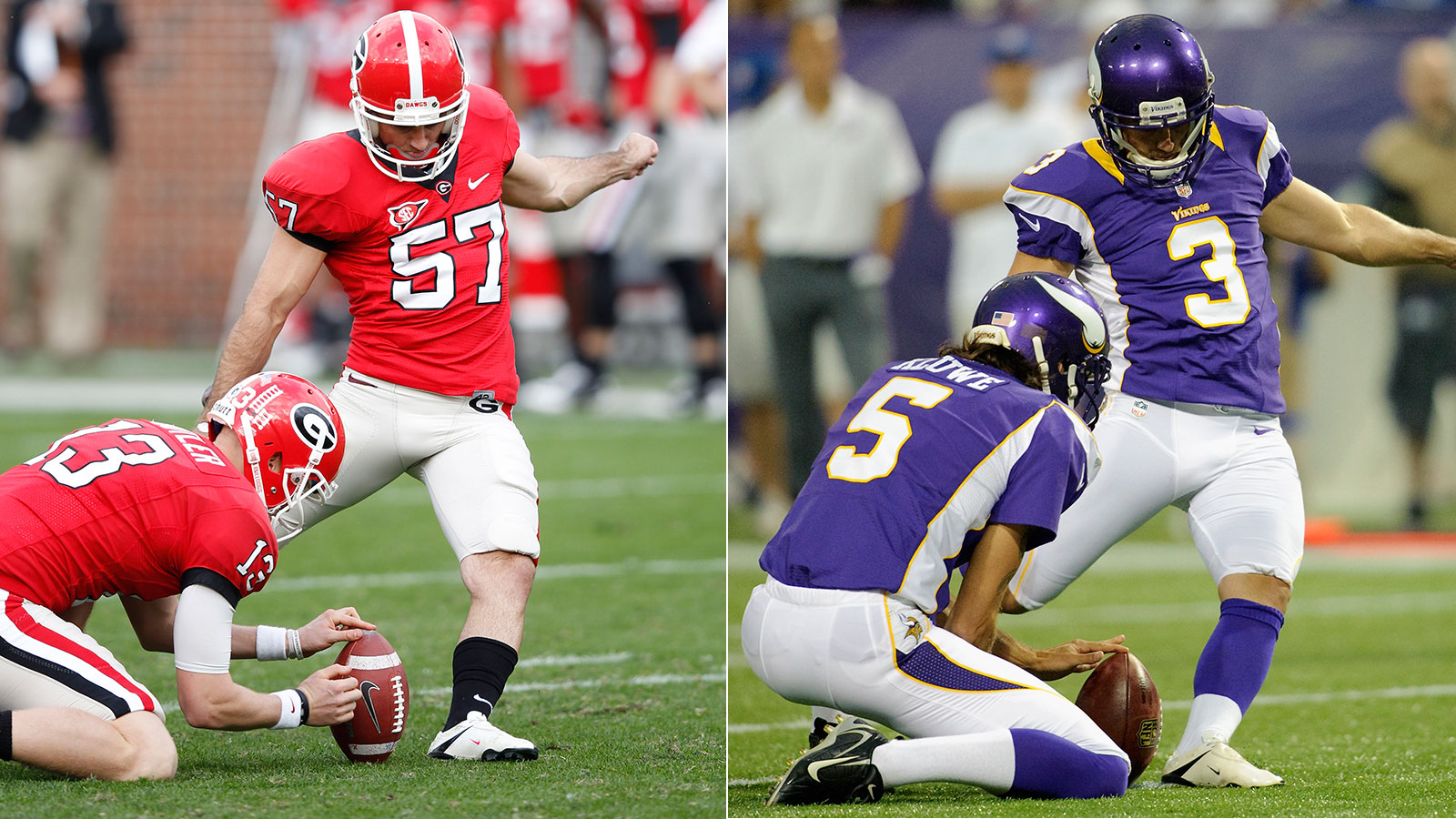 Much is said about the NFL draft process and not a great deal of it is positive.
From January to May, it saturates all sports media outlets. The "stock" of prospects falls, rises and then falls again in a never-ending cycle. The draft process is portrayed as a modern day meat market of 20- to 22-year old men who are trying to play in the NFL.
Sports analysts, newspaper columnists, radio hosts, former players, you name it, are quick to criticize the draft process and the relevancy of the drills it encompasses, whether it's over scrutinizing a players' measurables (height, weight, Wonderlic score, 40 time, bench press, etc.), or over analyzing a players' particular shortcomings on the field of play.
My story is one of failure, uncertainty, opportunity and most of all, redemption.
The NFL draft process gave me an opportunity to prove my abilities and realize my childhood dream of making it in the NFL. I believe my story is a direct testament to the validity of the draft process and the countless opportunities GM's, scouts and coaches are willing to give to players coming out of college.
My journey started on Jan. 2, 2012. With my Georgia Bulldogs down 33-30 in the third overtime of the Outback Bowl, I trotted onto the field alongside my holder Drew Butler, as I had done hundreds of times over the previous four years, to attempt a 47-yard field goal. I took my last step to the side and gave one final look at the uprights before the ball was snapped. Shortly after the ball left my foot, it met the outstretched hand of a Michigan State defensive lineman, sending it spiraling off toward the sideline, rendering the ball dead. The game was over, and so was my collegiate career.
It was my 14th miss of the season, and by far my most painful. While the Spartans rushed the field in jubilation, I couldn't help but wonder if my NFL aspirations had gone the same fate as my blocked kick.
Immediately following the game, I had a plethora of texts messages, voicemails, Facebook posts and tweets of both support and pure, utter hatred. These ranged from long-lost youth soccer coaches telling me to keep my head up to disgruntled fans telling me that their 8-year-old son had a better shot of being a kicker in the NFL than I did.
After converting 90 percent of field goals my sophomore year and 88 percent my junior year, I connected on a paltry 64 percent my senior year. Needless to say, my future was uncertain.
That changed a week later when I got a call from my agent, Brian Mackler. The news he delivered, along with the brutal honesty of what he said during that call saved my NFL career.
With eloquence that only a native New Yorker could deliver, Mackler said, "Blair, if you don't perform well at the East-West Game, kill it at the Combine and kill it at Pro Day, you may as well go back to school and work in your dad's dental practice, because you will never get another chance."
Two weeks after the Outback Bowl, I packed up four years of Georgia memories and made the 10-hour drive back to South Florida. I moved back in with my parents to train for the draft process.
The first opportunity I received was to play in the East-West Shrine Game. As anticipated, the first question every scout or coach asked was, "What the heck happened during your senior year?"
This wasn't the time to run from the question or be embarrassed by my obvious shortcomings. Rather, this was the perfect opportunity for me to explain what had happened and to sell them on my ability, work ethic and determination to learn from previous failures and successes.
I told the scouts and coaches that overly fast operation times were what had caused the inaccuracies and struggles that I endured my senior year at UGA. I had been rushing to the ball too quickly and not allowing enough time for my holder to place the ball in the proper spot. I was hitting the ball in a different place each time. I also let them know as soon as the season ended I regrouped, fixed the problem by slowing down my approach and was confident that my struggles were going to make me more mentally tough at the next level.
After getting to the stadium for practice, I quickly learned that my field space during the week to "show off" in front of coaches was going to be extremely limited. There was only ONE field for all 76 players to practice on.
Once practice began, I went over to the sideline where the coaches and scouts were standing, politely asked them to step aside and started to kick field goals from the sideline toward the uprights. I could clearly hear a few scouts mutter, "What is this kid doing?" under their breath. In my mind, I had to do something to get their attention A few pre-practice kicks in front of a handful of scouts wasn't going to do it.
A week later, a letter stamped with the NFL Combine's logo arrived. NFL scouts, GM's and coaches had seen enough from me that week to give me a chance. I was heading to the Combine.
On Wednesday, Feb. 22, I arrived in Indianapolis for the Combine and was immediately escorted to the local hospital for a myriad of physicals, X-rays and doctors appointments.
Ironically, the kickers and punters are traditionally grouped with the offensive lineman for hospital visits. As if kickers aren't already socially perceived as being different from the rest, imagine being the 5-foot-10, 183-pound guy in a room full of offensive lineman around the 300-pound mark! One of the linemen even mistook me for a male nurse.
Regardless, this was the beginning of the second major opportunity given to me in the draft process. After my debacle during my final year in college, I realized how fortunate I was to be given a chance to showcase my skills both on and off the field at the most important event of the draft.
Georgia's Pro Day took place on March 5 in Athens. For many athletes, Pro Day is the final opportunity to show what you do well and to improve your draft stock. Run a fast 40 time, bench press the house, look smooth in drills, etc.
For me, the tests and circumstances were a little bit different. Being a kicker, I was at the mercy of whatever the coaches and scouts wanted to see. I was prepared to kick a ball from the roof of the adjacent coliseum if they had requested (thankfully they didn't).
A current NFL special teams coach almost always runs the Pro Day drills for specialists. Ironically, the first thing this coach asked me to do was to kick a set of 15 field goals from different areas along the sideline. This is a drill that many coaches put their kickers through in order to test both their accuracy from poor angles and their mental ability to kick from a completely foreign part of the field.
Pro Day came and went without a hitch and I left feeling confident that I had yet again put my best foot forward.
Two days after my Pro Day, I woke up to a peculiar voicemail. A current NFL special teams coach called at 2:05 AM and left the following message: "Hey, Blair, just finished watching all 14 of your games from last year. I think if you slow your approach down a little to better help your timing, I believe that you can be successful in this league. Hope all is well."
This voicemail was not from a special teams coach who had interest in drafting me, but rather from a coach of one of the best kickers in the league. His team was in no way, shape or form in the market for a kicker, yet he took the time to watch all 149 plays that I was involved in that year and give me constructive criticism.
In the following weeks, I had about 10 scheduled workouts with special teams coaches from prospective NFL teams. Every coach was fair and offered honest opinions about my performance and what they thought I could work on. I was shocked. I had always imagined (or heard) that these workouts were cutthroat and that the coaches were going to leave you guessing about your performance and what they thought of you. Needless to say, by the end of the workouts I had a good idea of what teams would be interested in drafting me.
Finally, April 26, 2012, Draft weekend had arrived. Due to the nature of the position, kickers rarely get drafted in the first three rounds, so I knew that Day 3 would be the day where I would possibly be selected, if at all. There was zero pressure on Day 1 and 2 of the draft. I spent the days relaxing with the family poodle in my parents living room, playing golf and sporadically watching the draft picks be announced on TV.
By the time Day 3 rolled around, my family and I were glued to the television coverage. I was more than ready to see if I had convinced just one team that I was worthy of being drafted and that I had what it takes to make it in this league. At the end of the day, that's all it takes: ONE team.
As the fifth round was coming to a close, a kicker's name popped up on the screen. It wasn't mine. The team had shown interest in me, but, as I came to find out later, didn't fully believe I had put my senior year behind me.
Ten minutes later, another kicker's name popped up on the screen. Again it was not mine. This was another team that doubted my ability to overcome failure.
By this time, I began to wonder if any team was going to look at my entire body of work and not judge me solely based on one bad year. Another 10 minutes passed and my phone vibrated. It was a Minnesota area code. Momentarily after I accepted the call, I saw another kicker's name pop up on the screen. This time, it was mine.
The Minnesota Vikings decided to take a chance and select me. I was ecstatic. Just four months earlier, I wasn't sure if I was going to even be invited to a mini-camp tryout, let alone get drafted.
My dream had become a full-fledged reality. After a long embrace with my parents, my two role models and heroes, I called my brother, my sister.
A little later, I received a call from my agents, Mackler and Jon Perzley. The first thing Mackler said to me was, "Hey, Blair, do you still have that piece of s–t car with 100,000 miles on it?"
I laughed and reluctantly said yes. I could anticipate his next comment, which was to suggest I use some of my signing bonus to get a car made post Y2K.
Sure enough, I was right. He then somewhat jokingly told me to not give away my bedroom in my parent's house yet because the NFL sometimes means Not For Long.
As you can see from my story, throughout the entire NFL draft process, I was given a multitude of chances to prove why I belonged in this league. Without the willingness of coaches, scouts and GM's to give those second chances, I would not be a member of the Vikings today.
The draft process is designed to give players of all skill sets, abilities and walks of life a chance to prove their worth to NFL personnel. The draft process gave me my chance. For that, I am forever grateful.
To this day, I am occasionally asked what it felt like to be in New York and hear my name be announced by the commissioner. I always have a good natured laugh and explain that since I am a placekicker and not Andrew Luck or RGIII, I had to settle for pacing back and forth in my parents living room anxiously awaiting one team, any team, to call.
But to really answer their question of what it felt like to be drafted by the Vikings, I felt joy. I felt blessed. I felt appreciation. I felt challenged. I felt redemption.
And in my first game as a pro, I hit a 55-yarder to force overtime and a 38-yarder to win the game.