Peyton Manning, David Letterman throw footballs at taxis; Bryiana Noelle is Fox-y
Broncos quarterback Peyton Manning appeared on last night's "Late Show with David Letterman." The two gentlemen stepped outside the studio to throw footballs into the windows of moving taxis. Manning also discussed his team's debacle against the Seahawks in Super Bowl 48.
Gilbert Arenas and Tracy McGrady took to social media last night to rip Pacers center Roy Hibbert after he put up 0 points and 0 rebounds in nearly 18 minutes of play in Indiana's 102-96 Game 1 loss to Washington.
Here is Knicks forward Carmelo Anthony seriously eyeing up pop star Rihanna.
You have to see Arkansas shortstop Michael Bernal making an over-the-shoulder, barehanded catch.
Pirates outfielder Andrew McCutchen had to chase ducks off the field last night, making for his very enjoyable GIF.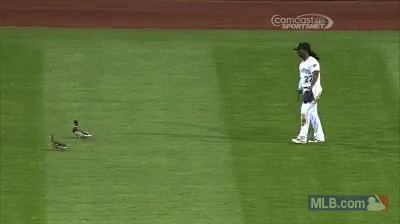 Comedian Kevin Hart pulled an Eddie Murphy by playing every cast member (Ernie Johnson, Charles Barkley, Shaquille O'Neal and Kenny Smith) in this spoof of TNT's "Inside the NBA."
Floyd Mayweather posted this photo on his Instagram account last night with the following caption: "$32,000,000.00 for 36 minutes. I'm waiting for the PPV numbers to come in so I can make another $38,000,000.00 on the back-end… making it a grand total of $70,000,000.00."
Several members of the Detroit Tigers were sporting Zubaz pants in the locker room before their game last night.
You'll never look at Sally Field the same way after seeing her battle Julia Roberts in a curse off.
Model Bryiana Noelle gets today's Fox-y Lady honors.
Got a link, comment or question? Email Jimmy.Traina@fox.com.