Astros nail choreographed dugout dance; Georgia Salpa is Fox-y
How about we start the first weekend of summer with a little dancing? Check out the sweet moves that Astros teammates George Springer and Jonathan Villar showed off in the dugout during last night's game against the Rays. Even better than the dancing, though, may be the Astros broadcaster asking if they were doing karaoke. Huh?
There are few things more exciting in Major League Baseball than a walk-off grand slam. Nick Swisher hit one for the Indians yesterday to give them a 5-3 win over the Angels. You can watch the video below, but, more importantly, you absolutely should listen to the radio call by Cleveland play-by-play man Tom Hamilton.
The hottest item the World Cup-hosting country these days is a rum-flavored condom.
That is how Reds second baseman Brandon Phillips signed a baseball for a special fan on Wednesday night.
The A's have the best record in baseball (45-28), so it's all fun and games for their players and fans, as you can see with this picture from last night's win against the Red Sox.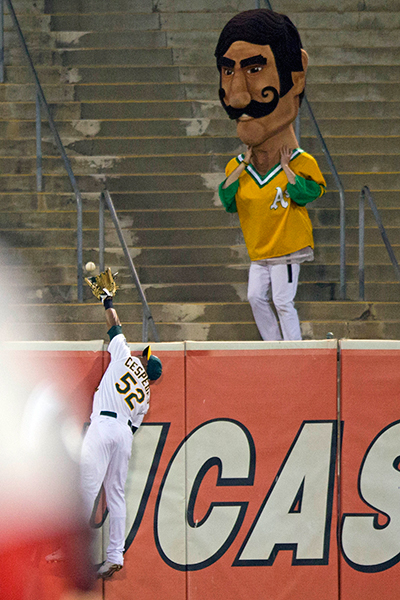 During batting practice last night, Rays DH Matt Joyce hit a ball INTO to the pitching machine, which quickly did its job and pitched the ball to Joyce.
Braves pitcher Gavin Floyd broke a bone in his right elbow during last night's game against the Nationals. The result was a truly gruesome image.
You should watch Don Draper try to convince LeBron James he should return to Cleveland.
Check out this couple who recently had an Air Jordan-themed wedding.
The Seahawks got their Super Bowl rings and partied with Usher last night
Model Georgia Salpa gets today's Fox-y Lady honors.
Got a link, comment or question? Email Jimmy.Traina@fox.com.